In a previous post, I explain what a semi-annual progress report means if you're continuing on in homeschooling. You don't necessarily need a report card. But, there are times when you will want to prepare an official report card. Many accountability associations provide assistance to their members whenever they are dealing with public schools and court officials.
Note: The SC Homeschooling Connection is *not* an accountability association. I am offering assistance as an independent consultant to prepare/format your report cards. It is a small fee for this service. So, I strongly encourage you to check with your accountability association to see if they offer assistance that may already be included in your membership dues.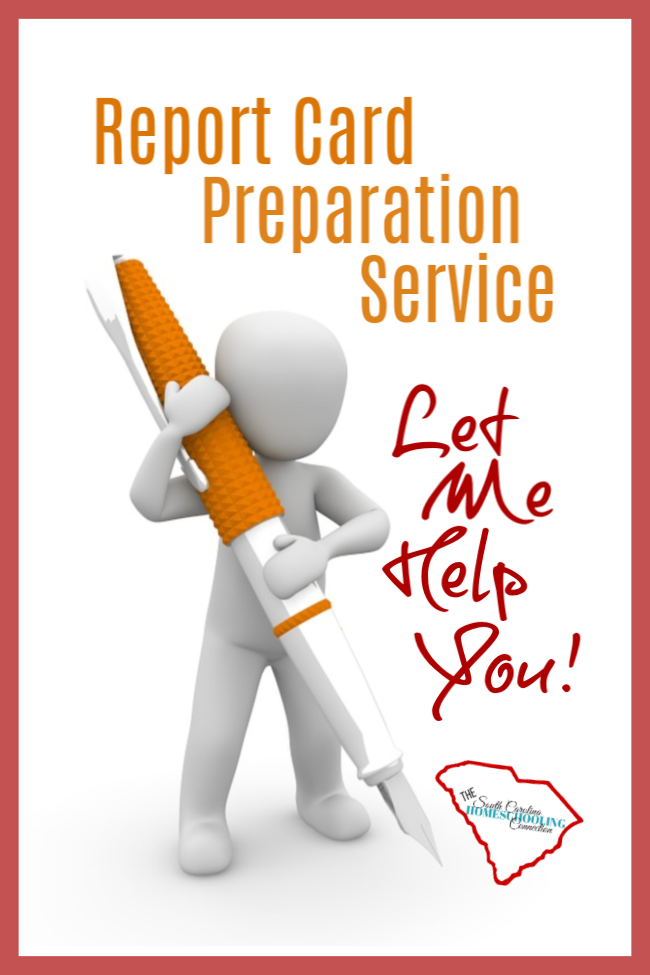 Report Card Preparation Service
If your student will be transferring enrollment to public, private, online, or governor's school–you may need an official report card. Many schools do not understand homeschooling, so we can format your records and "translate" what you have done in a way the makes sense to school officials.
Please submit your student's courses. Include the basic 5 mentioned in the homeschool law: Reading, Writing, Math, Science and Social Studies. You can be specific about any of the subjects. For example Social Studies might be Ancient History or South Carolina History. Add on any additional courses you wish: Art, Music, World Languages, PE, etc.
And designate a grade. Even if you have not kept grades, please specify a numeric grade that reflects your student's ability and achievement. We need to translate what you have done so the school officials can understand. This will help the school with placing your student in appropriate courses and levels.
For students Kindergarten-2nd grade:

E=Excellent
S=Satisfactory
N=Needs Improvement

For students over 3rd grade:

A=90-100
B=80=89
C=70-79
D=60-69
F=50-59
Once your format your grades into this format, you should not need to submit your curriculum or daily lesson plans for evaluation. That is not the type of records that private schools or out of state schools have to submit. Know your rights and your responsibilities. Read more about The Show Me Response–When Officials Overreach