In a previous post, I explained *how* to get started homeschooling in SC. Now, let's talk about what homeschooling means. There's a variety of at-home education options now that sometimes get confused with homeschooling.
>Click here for Easy Tips and Advice from the Experts<<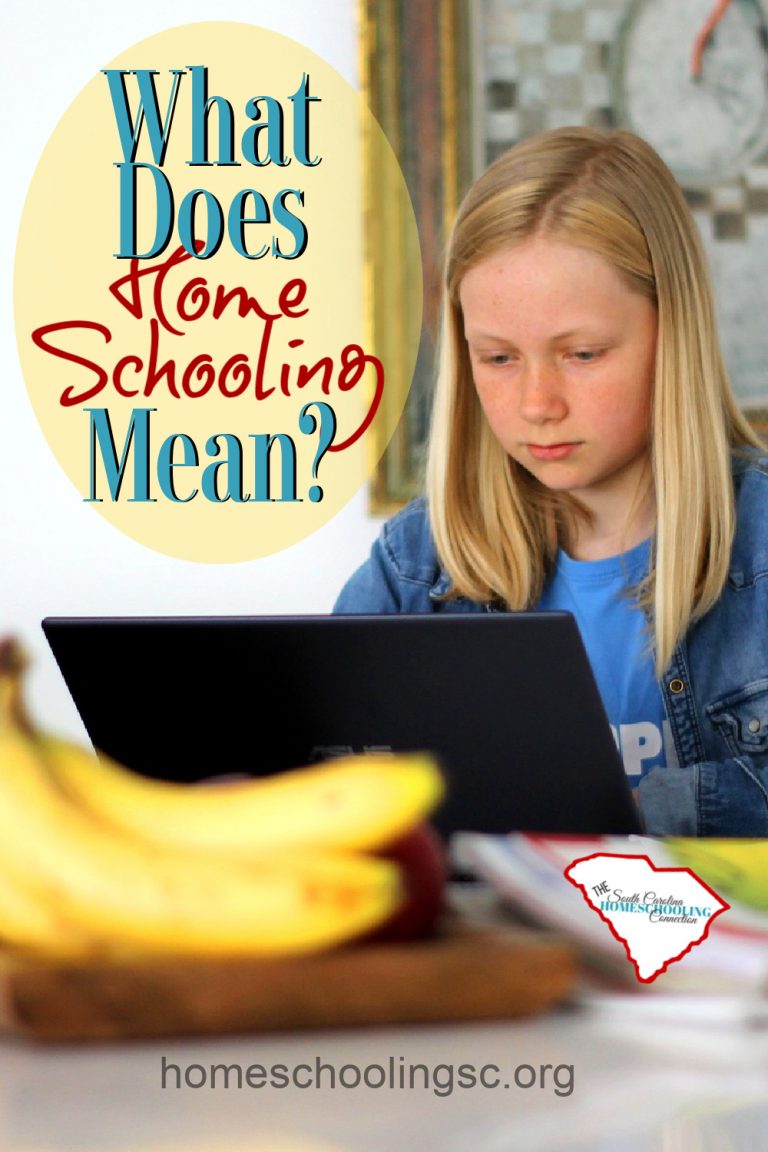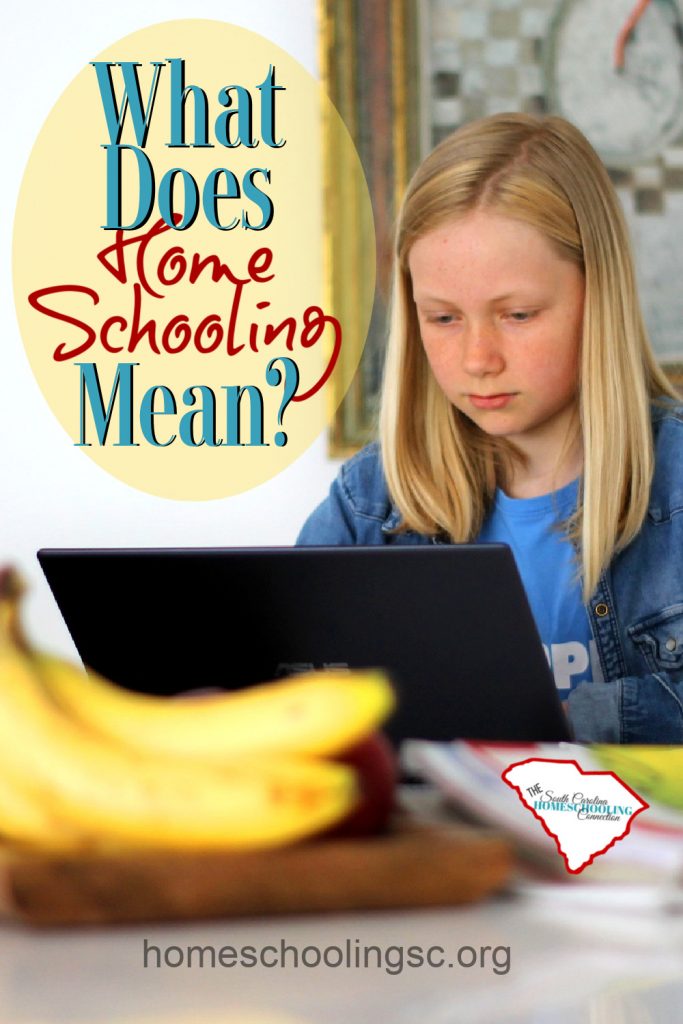 Homeschooling in SC is an exemption to compulsory attendence at the local public school. When our kids turn five, they are required to attend school. Parents may choose to educate at home if the instruction is conducted under the auspices of an association.
What Homeschooling Means
When we say homeschooling, this is what it means. Homeschooling means the parent/guardian is responsible to DIY your own child's education. You choose the curriculum, learning materials, and learning activities. You set the pace and schedule. You keep the track of the progress.
The law in SC is fairly specific about the how you keep track of the progress. You cover some basic subjects you must include: Reading/writing (or Language Arts), Math, Science and Social Studies. There's no requirement for how many hours nor how many subjects to include each day. Then you keep these 3 types of records:
Daily log of learning activities. We all suffer from CRS (can't remember squat), so write it down or you'll forget.
Some samples of the student's work. This could be worksheets/papers, but it could also be pictures and videos.
Periodically look back to evaluate what's working and what's not working. The law says it's a "semi-annual progress assessment."
It's pretty common sense stuff that you would want to do, even if the law didn't say so. But, I think the seat belt law makes good sense too. Apparently there are people who don't do it, so there's a law that says you have to. Then, there's signs on the highway that say click-it-or-ticket and a beeping noise in the car as reminders.
So, we also have to join an accountability for some oversight that verifies we're doing the record-keeping requirements. Associations offer a variety of services to support your efforts to DIY your child's education. The association reminds you to do your record-keeping requirements. Beep-beep-beep!
Parent-Faciliated Education
This DIY approach to education seems completely bizarre to many people. Because our society is conditioned to think that someone else owns education. The "experts" who know better should be involved somehow. Right?
I'm going to let you in on a secret that nobody talks about. Here it is: parents are responsible for their child's education. No matter what educational setting you choose, parents own education.
You're the one making sure the homework is getting done
You're the one worrying if your student needs a tutor
You're the one advocating for your child's best interests
The schools know this. Well, they should know, but may have forgotten. They're sending home report cards to tell you how they're doing with your child's progress. Grades and report cards are just part of the overall growth and development you are in charge of.
Options, Options, Options
There are 365 learning days in the year. You really do learn something every single day. But, there's only 180 days of compulsory attendance "school days." That leaves 185 other days in the year.
So, by my calculations. Everyone is a part-time homeschooler. You're already learning outside of the classroom.
Once you decide to take that weight of responsibility on yourself, it suddenly feels very heavy. There's curriculum and activities and scheduling and record-keeping requirements. You might feel like overwhelmed–like you're freefalling out of an airplane.
There are a variety of programs and services that can be guide rails to hang onto, in addition to your accountability association. You can do-it-yourself or consider outsourcing some of the responsiblities. Always check with your accountability association about their policies and requirements.
Some programs and curricula have teachers who implement the lessons and set the pace of the assignments.
Some programs track the student's assignments and grades.
Some programs offer full course of study–and may even be "accredited".
The lines are getting more and more blurry between the various options that are now available outside of the brick/mortar traditional school.  The law has not caught up with all the variations. Resource centers,  learning co-ops, learning pods, microschools, virtual programs and classes and private tutors.
Ultimately the parent is still overseeing these various learning activities. You get to evaluate what's working and what's not working, always making adjustments to the schedule and programs that are the best for each student.
All of these fall under the umbrella of homeschooling–"under the auspices of an association." Remember: Beep-beep-beep!
Read more about What's the Point of Homeschool Record-Keeping:
Homeschooling and Working While Shaping Amazing Learners

The Call of the Wild and Free: Reclaiming Wonder in Your Child's Education

Weirdos: A Homeschool Documentary

The Brave Learner: Finding Everyday Magic in Homeschool, Learning, and Life

Minimalist Homeschooling: A values-based approach to maximize learning and minimize stress

The Knowledge Gap: The Hidden Cause of America's Broken Education System – and How to Fix It

Everything You Need to Know about Homeschooling: A Comprehensive, Easy-to-Use Guide for the Journey from Early Learning through Graduation

Class Dismissed: A Film About Learning Outside of the Classroom

Why I Love Homeschooling: 24 Parents Share the Joys & Challenges of Educating Their Children at Home

Homeschoolers Are Not Hermits: A Practical Guide to Raising Smart, Confident, and Socially Connected Kids (Not Hermits Series)