Online Course programs for high schoolers are a great way to cover subjects that you don't feel qualified to teach or don't want to learn. Some of these programs are self-studies, while others have teachers/tutors included.
Updated 4/2023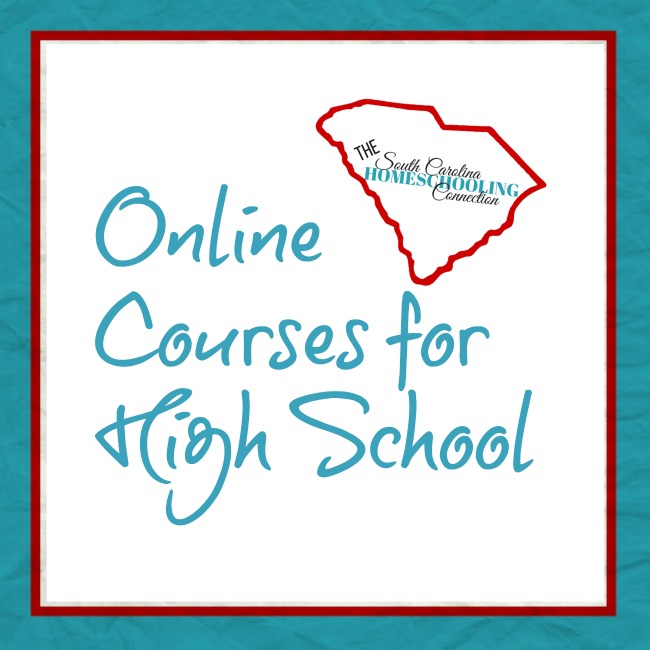 As your student moves toward high school level, you find some of the online courses are useful supplements to your homeschool program. Some parents are not comfortable teaching some upper level subjects, so it's great to outsource the learning to an expert in the field. While other parents are working to develop student's independence.
Whatever your reasons, here's some great online courses for your homeschool teen.
ALEKS
ALEKS (Assessment and Learning in Knowledge Spaces) can provide you with the instruction and support you need to homeschool your children in mathematics, business, science, behavioral science for grades 3-12.  ALEKS is accessible from virtually any computer with Internet access, making it a flexible and mobile educational solution for your children. Monthly access fee.
Blue Tent Online
Blue Tent offers rigorous core subjects for high school. Honors and College-Board Approved AP courses in Math, Science and English. Synchonous (live instruction) and asychronous (self-paced instruction). Secular/Non-religious.
Brave Writer
Brave Writer is designed to enhance the parent-child relationship through the teaching of writing. A variety of programs include self-teaching guides or online classes with instructors. All worldviews, belief systems, and religious perspectives are honored and protected. The writer is guided in finding the best words and formats to communicate his or her worldview and/or beliefs. Courses for 3rd grade and up.

CK-12 offers free high-quality, standards-aligned, open content in the STEM subjects through an integrated set of tools for learning including digital textbooks, concept-based learning resources, simulations, interactive practice and more. All content is created and curated by teachers, for teachers and students.
Chemistry with Amanda covers topics from any high school chemistry course, any introductory general chemistry course, and any introductory general, organic and biological chemistry course (also known as allied health chemistry). Free/non-religious
Coursera 
Coursera provides universal access to the world's best education, partnering with top universities and organizations to offer courses online.
CTC Math
 presents the concepts of the math lesson step-by-step in short video tutorials, with interactive questions and a printable worksheet. Courses are self paced so students can learn at their own speed. Grades 3-12th.
Discovery K12
 uses the best-in-class, open-source technologies that are familiar and easy-to-use for any age. Student accounts are FREE. You can start anytime and go at your own pace.
Homeschool College USA
offers 26 courses comprising the four years of study are based on a selection of typical requirements for freshman admissions in many colleges and universities. Pick and choose the ones you want to do. All FREE.
Homeschool STEM
offers online courses created by a local SC homeschool dad on computer science and cybersecurity. Discounts for multiple kids in the same family who take the same class.
Kahn Academy: 
A personalized learning resource for all ages. Khan Academy offers
FREE
practice exercises, instructional videos, and a personalized learning dashboard that empower learners to study at their own pace in and outside of the classroom. You can tackle math, science, computer programming, history, art history, economics, and more.  SAT prep course can also be linked to your SAT results so you can do targeted remediation.
Mango Languages:
Learn new languages and meet new cultures from near and far. 71 languages and counting: Spanish and French to Azerbaijani, English, and even Pirate. From elementary to high school levels. $20/month or
FREE
thru participating local libraries (
Check here if your library has Mango
)
Math Planet is an online resource where one can study high school math for FREE. Plus, prepared practice tests for the SAT and ACT.
Mr. D Math
helps take the worry out of Math. Anyone who has struggled with the hard concepts will finally "GET IT"! Even on subjects that your child hates —and you hate it even more. Math readiness courses, summer bootcamps and full high school credits at-your-own-pace.
Next Level Home School:
Unique and innovative online classes on your schedule! Explore science and history through lessons, videos, images, and hands on projects. All courses are 100% secular.
Open Stax:
OpenStax publishes high-quality, peer-reviewed, openly licensed textbooks that are absolutely free online and low cost in print. High school Math, Science, Social Studies textbooks. Work at your own pace, jump in anytime of year.
Outschool
:
Online classes for any age, any subject. Choose from one-time lessons, short courses or semester length courses. A great way to supplement curriculums you already have or when you need to switch curriculum. Quick intro to a subject or really get into it. Prices vary, pay per course.
An online program intended to aid parents in homeschooling their student. Parents may choose up to 7 courses at a time from numerous courses (grades PreK-12). Students are able to learn at their own pace under the supervision and assistance of their parent. Allows students to learn at their own pace and on their own schedule. When a student struggles, the system provides additional instruction and practice as needed. When a student excels, the system quickly moves them forward as they demonstrate mastery of each concept. Pay monthly or annually.
SchoolhouseTeachers.com
 Ala Carte courses or build an entire curriculum. One low, monthy fee for the whole family, including all course materials. Over 300 self-paced courses to choose from. The classes are not live, so you can jump in at anytime. No contracts, so you can cancel at anytime. (Contains Christian Worldview).

Shmoop  speaks student. Shmoop is a Yiddish term that means "to move something forward a bit." That's right, it's a real word! And this is exactly what we do: move education forward (which takes some real chutzpah). Shmoop's four core products support grades 6-12 and include The Shmoop HeartbeatTM, Courses & Content, Test Readiness, and Intervention.
Study.Com for homeschool.
Complete curriculum for 3rd-12th grade. Instruction made easy with simple lesson planning, video learning, automatic grading and progress tracking. Pay month to month or annually.
Suburban Science has teaching tips, supplemental resources and online courses by local SC home educator.
TED-Ed
TED-Ed Originals short, animated videos that are designed spark the curiosity of learners everywhere. These TED-Ed free lessons include questions and additional resources. Students can join TED-Ed Clubs in order to work together to discuss and celebrate creative ideas.
TEL Learning offers these unique opportunities to earn dual credits: Courses on Demand, Micro-Collegiate Academy and VC Academy. The price and pace of the program is a great deal! Get college credits while you're in high school.
Typing.com
Improve typing skills and prepare your students for the future with our comprehensive curriculum and typing games. Typing.com is, and always will be, free.
Virtual Homeschool Group
Virtual Homeschool Group is 100% volunteer-run. VHGC has been serving free 'at your own pace (ayop) and live online courses for home school families. There's also a FB group where you can get answers at light speed!
VirtualSC
Virtual SC is a free state-sponsored online program serving students currently attending public, private and home schools in grades 7-12 and Adult Education Programs. VirtualSC offers free rigorous online courses aligned to state standards that are developed and taught by Highly Qualified, SC licensed teachers.
Write At Home
Write at Home is an online writing course for middle and high school homeschoolers. Each student is assigned a writing tutor who will assist with the assignments and also does all the grading of the assignments. All course materials are non-religious.
The Write Journey challenges students to read, write, and communicate more clearly and eloquently. Using small online class sizes to give  individualized instruction and positively challenge the completion of the best work possible. 

Find more about local high school resource center classes
or local places to find high school curriculum: