You can create your own high school course for anything. In a previous post, we talked about course credits in basic record-keeping for high school. Let's talk some more about how to document your own course for high school credit.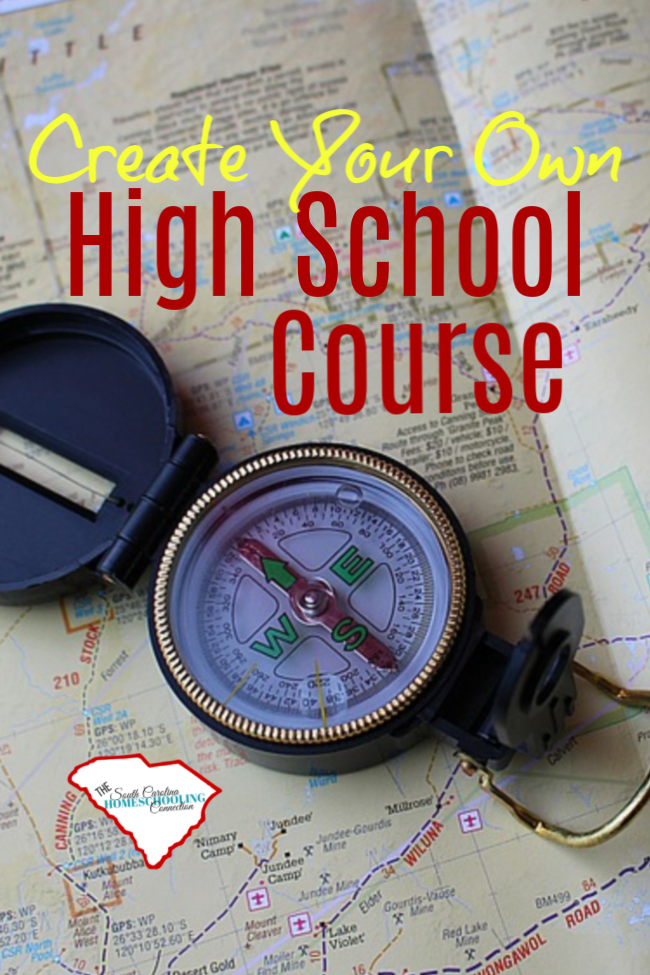 There are two basic ways to think about a high school credit. One is covering a certain amount of material, like a textbook. The other way is to spend a certain amount of time on the subject.
Example Course: PE
Physical Education is the perfect example of a course that is earned on TIME invested. You cannot read through a certain amount of material and say that that you have done Phys Ed. You have to get out there an move your body. Say, you're learning about tennis. You can't go out to the tennis court for one day and say that you've learned tennis either. It's a repetition of the same skill sets over time that counts as learning tennis.
So, you can create your own course in PE covering the various skills in Tennis. Rules/scoring, basic swings/strokes, singles/doubles. Create a PE course using whatever physical activity you want. It could be basketball, volleyball, soccer, running, swimming, you get the idea.
Or do a combination of several sports and physical activities. You could spend 6-9 weeks focusing on each sport as a "unit." Then, combine your units together for a PE credit.





Create Your Own High School Course
The concept works for other subjects, as well. Your student is probably already doing some kind of self-directed learning in something. Making YouTube Videos, Organizing a party, Starting a business…anything that is project based learning. The time they are spending can count as a high school credit. You just have to document it as such.
The learning is real. Consider a desktop publishing course that has a project for the student to "pretend they are hosting a party" and make a flyer for that. Or what if your student *really is* hosting a party and they make a flyer for that. The skills are the same: choosing appropriate fonts and images. Working with spacing and layout. Which one will they likely learn more and do better?
The real life project is real learning. And it counts. So, we just have to create the documentation to "prove it."
Start with a google search for the high school course you have in mind. I mean…why re-invent the wheel? It is easier to follow someone else's plan as a guide. (That's why we have so many curriculum options too!)
First, that will help you figure out what to call it. The course titles do matter in the way that our transcripts are viewed. Should your student ever transfer back to public high school or go on to college, it's beneficial to have a course title that the school/college would already recognize.
Once you've found a course, print off a course description and a syllabus for your records. You can use it as a guide to see what is covered in the course so you can determine an appropriate amount of work to do in your home version. Modify it and add on to it to include what your student is already doing and learning.
I would keep a copy of that, in case you should ever need to make a syllabus of your own later. Scribble your notes on it so you can remember your modifications later on. I wouldn't worry about making the syllabus till someone wants to see that (it's really rare that you would need to).




Tracking Time/Evaluation
To keep track of the time, print off this handy time tracking sheet (or find your own one page blank calendar printable.) For each half hour of work, draw a diagonal slash mark in one of the boxes. For a full hour, draw an opposite slash to make an X. Accumulate 120-150 hours of project based work to count as a credit.
Then, designate a grade that speaks to the student's abilities and accomplishments in the subject. Expert level is an A between 90-100, Proficient is B somewhere between 80-89. Novice is a C between 70-79. (Look for more about assigning grades in upcoming post.)
You can also set a rubric chart for the accomplishments and skills that would earn a passing grade or  C. In order to get a B or A, you would list additional requirements for the grade to be earned/assigned. The internet syllabus you found might have a rubric to guide yours.
Now you're all set to create your own high school course. This also works great for co-op class and resource center. Choose a course title. Create (or find) an outline/syllabus and course description. Designate the student's grade as a reflection of their abilities and accomplishments in the subject.  You can do it!
Let me know what courses you have created, too!
More help about Parent-Made Transcipts: