Deschooling is the mental adjustment period when you leave the school system. In a previous post, we talked about some quick start curriculum ideas. Today, let's also consider some deschooling activities to do while you adjust to your new homeschooling lifestyle.
Check out my guest post at Homeschool.com
–>What is Deschooling?<–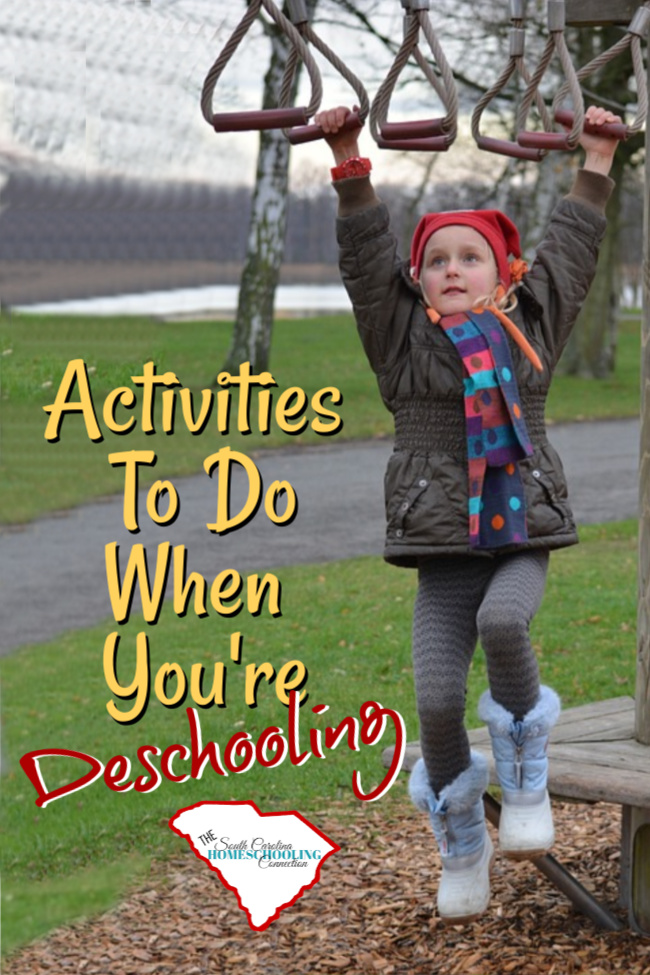 I am a graduate of the public school system. I have a degree in elementary education–and I taught in the public school before homeschooling my kids. I came to homeschooling with some preconceived ideas about what it would be like. My daughter and I anticipated our "first day" of school with great excitement. But, that first day's plans crashed. melted down into a screaming match and lots of tears.
Homeschooling was not what I thought it would be. Because I tried to replicate school, at home. The lesson that we learned that day: Homeschooling is not the same thing as School at Home. But, it took some time to rethink–and relearn–what I believe about school. I had to deschool my way of thinking.
Deschooling Activities
Many new homeschoolers feel like it's safer to stick to curriculum and "doing schoolwork". It takes some time for your mindset to shift and let go of your preconceived notions and ideals about home schooling. How much time varies from a few weeks to a few months.
Some people take time off from all formal lessons and assigned school work. Others set limited assignments and shortend schedules. The point is to make time for non-schoolish activities while you adjust your mindset and figure out your own homeschool style:

Games and Hobbies: Learning does not have to follow a curriculum guide. The best kind of learning is so much fun that you lose track of time. What are your favorite games and hobbies that you enjoy doing? Make a list of all the fun stuff you and your kids want to do.
Board games, card games, puzzles
Art: drawing, sculpting, painting
Crafts: Knitting, crochet, scrapbooking, coloring books
Sports: Tennis, swimming, skating, basketball
Unstructured Play: Learning doesn't have to be scheduled or assigned by adults in order to "count". Valuable skills are developed when kids are allowed to use their sense of imagination in free play. They co-operate and collaborate with others. They develop their own common sense rules to play by and self-regulation.
Nothing: They will tell you they're bored, because they are conditioned for adults to tell them what's next. Don't do it though. You might make suggestions of unstructured play activities or hobbies/games, in case they are looking for permission. Let them sit and do nothing. They can daydream or fall asleep if they're so inclined. Let them be bored.
Books and Movies: Go to the library and ask the librarian to recommend something entertaining and enjoyable. Whether you choose chapter books or picture books, be sure to read for the sheer love of reading. Watching movies and videos also are valuable learning opportunities that don't feel schoolish.
Movies and TV shows
SC Discus has lots of great resources to explore for fun too. BrainPop Jr, DK Eyewitness Books, Magic School Bus and more!
For Parents/Teachers: Watch Class Dismissed and some Education Reformers on YouTube to encourage and empower you.
Explore Nature and Other Local Places: Go hiking, camping, kayaking, geocaching. Visit museums, state parks, farms, festivals, theaters and zoos. The world is our classroom, so go explore anyplace that you want to go.
It's okay if your homeschool doesn't look schoolish. The learning counts, that's the point. Retrain yourself to see learning that happens in non-traditional ways, untraditional sources, and even without a teacher.
Read more about What Counts as School: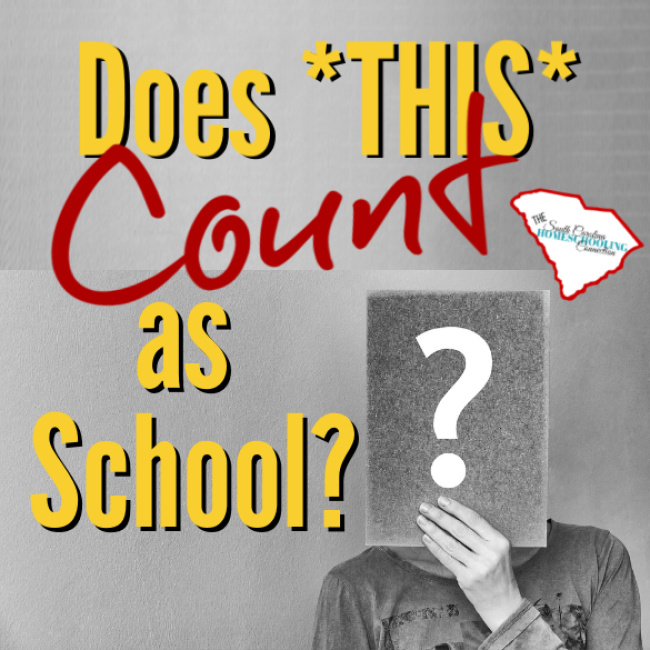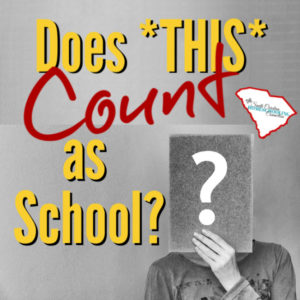 More Deschooling Activities: