In a previous post, I explain about how to write your own parent made transcript. You should compile a final transcript for your homeschool grad. It is a forever document that will open the doors of opportunity–now or later. Even if your student's current plans do not require a transcript. Their plans may change later and you will save yourself a lot of headache if you create a transcript now.
Note: The SC Homeschooling Connection is *not* an accountability association. I am offering assistance as an independent consultant to prepare/format your report cards. It is a small fee for this service. So, I strongly encourage you to check with your accountability association to see if they offer assistance that may already be included in your membership dues.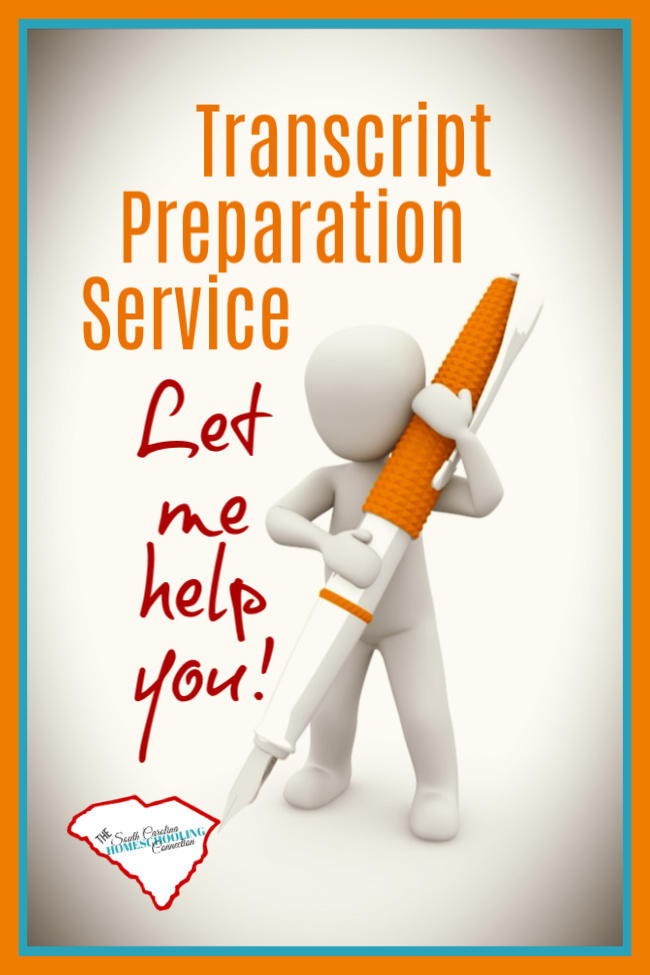 Transcript Preparation Service
This transcript preparation is considered a parent-made transcript. In the same way you might hire someone to assist with creating a resume, I am here to help format an academic resume of your student's abilities and accomplishments. We want to be sure to include details that you might not know about or might have recently changed.
GPA Calculations: We are using the SC Uniform Grade scale. I will calculate your student's GPA on the SC weighted GPA scale and also on the standard (unweighted) 4.0 scale. The SC grade scale is important for state scholarship eligiblity.

For Honors, AP or dual credits, please be prepared to answer a few questions or submit additional information to verify this value.
We need number values on a scale of 100, not just the letter grade.

An A is range between 90-100. Please reserve 100's for truely exceptional work.
B is between 80-89
C is between 70-79
D is between 60-69 and F is 0-59 (It is unusual for homeschool grades to be this low though).

Rank: We cannot provide rank. If your student needs ranking eligibility, that must come from the accountability association (and only if your association provides ranking service).
Accuracy: The goal is to create an academic resume that opens the doors of opportunity for your student. It does not help them to arbitrarily inflate their accomplishments by putting all 100's or all honors. Let's just be honest about what we have accomplished.
Uniqueness: The beauty of homeschooling is an individualized education. So, we want to present your student's unique interests and accomplishments. Subject titles can reflect this with chosen electives and also variations of the core subjects. For example, English courses can be labeled as 1, 2, 3, 4. Or more specifically identified by the type of Literature studied.
Please submit the following form so we can begin preparing transcripts. We reserve the right to verify or modify submissions. Cost is $75. Please allow at least one week to get the first draft formatted. Questions? Contact Kim at [email protected]