Thanks for your interest and concern on current SC legislation 2023-2024 session.  This blog began in 2013 when our homeschool rights came under fire here in South Carolina. It's a work in progress for us to keep watch and protect our rights. I encourage you to look back at previous sessions to see what bills were previously introduced because we can anticipate variations of them will likely be reintroduced in this session: 2021-2022 Session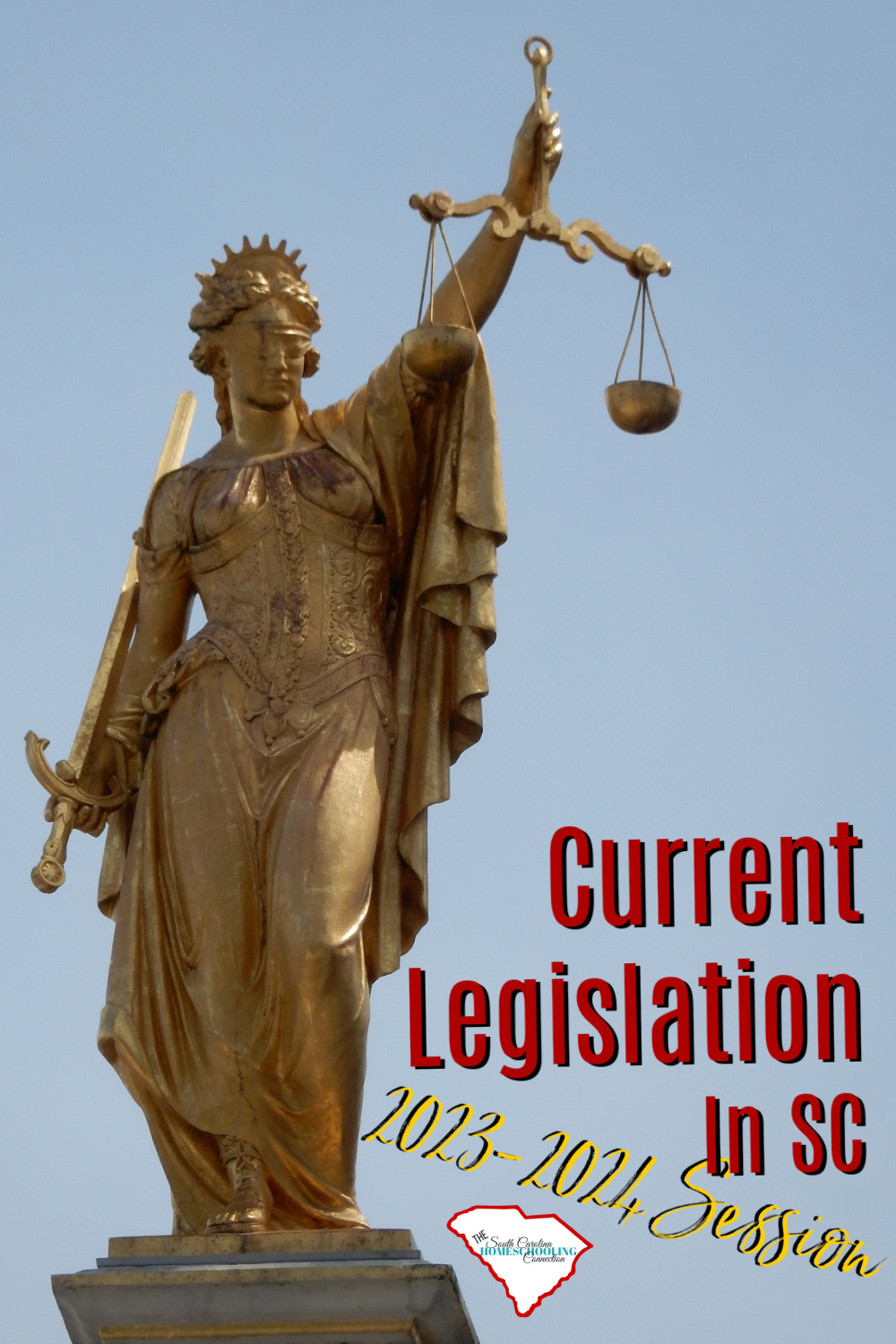 I provide this information to help us all keep informed and offer my perspective. If you have information on pending legislation that might affect homeschooling or want to discuss another perspective, please email the [email protected] or Facebook message the SC Homeschooling Connection. 
We begin a new legislative session in 2023. It's a 2-year session, actively meeting from January-May. So, bills that are introduced here will remain on our watch list and mentions thru May 2024.
I provide the direct link so you can read the legislation for yourself and see where it is in the process. I want us all to be informed and empowered to get involved in this process.
SC Legislation 2023-2024 Watch List
This legislative session has several concerns designed to fuel fear and outrage. My biggest concern is the divisiveness that pits us against one another under the guise of "parents rights". I cling to the hope that we will see through that and strive to maintain connection with each other.
Please remember that the legislative process is usually long and we have key opportunities to give feedback in the process. So I will also include or update that information, who and when you should contact. Depending on where the bill is in the process, your rep may not be informed on the issue. Many times, we need to contact the committee and/or the committee members where the bill has been referred instead of our local reps.
When bills are first introduced, they get referred to a committee. They may or may not make it out of committee, depending if they get a hearing. Please contact the committee chair, the sponsors of the bill and/or your local representative with your feedback.
*******
Equal Access "One Year Prior Clause": H. 3698 Green light! We want this one to move forward! (Actively/Enthusiastically Support)
Referred to Committee on Education and Public Works 2/1/2023

This bill would remove the "one year prior" loophole that is being used to disqualify eligible athletes for a year for switching to homeschooling. We are absolutely in favor of this bill moving forward! I invite and encourage the homeschool community to join me in petitioning our Education Subcommittee legislators to  give a hearing. This is an idea that has come up before and was even passed for 2-years during the pandemic disruptions. I believe if we push together, we can make it happen this session for a permanent change.
Similar: S. 515 Referred to Education Committee 2/09 Note, many bills have similar companions that are introduced in the other chamber as an effort to facilitate the progress. 
Individual Tax Credit: S 519 (Support/Monitor)
Referred to Committee on Finance 2/9/2023
This bill provides tax credits for individuals who choose to educate their child outside of the public school system.  I know many homeschoolers are concerned about strings attached to "government money"–so here's an article about tax credit concerns.
*******
PACE Scholarship: S. 285 (Neutral/Monitor)
Passed Senate 3/16/2023
This is a tax credit for contributions specifically to PACE Scholarship program. Tax credits are currently only available for contributions to the state-run Exceptional Needs Children's Fund.
Homeschoolers are named in this, so some activists are alarmed about it. However, organizations would have to apply in order to be approved as a "qualifying non-profit scholarship funding organization" for the calendar year.
Then, individual parents would apply to that specific organization for the scholarship funding. I don't really see how that affects the homeschool law though. Most homeschooler are leery of funding as a lure to change the regulations later on. So I'm not sure if any homeschool programs would apply for it.
The main point of this bill is to offer the donors a private alternative scholarship, rather than the one that the state runs. A bunch of private scholarship providers were shut down when Exceptional SC was established, so this is an effort to re-establish those private scholarship providers.
Similar H. 3422 Referred to Committee on Ways and Means 1/10/2023
*******
Education Scholarship Accounts: S. 39 (Oppose/Monitor)
This bill would provide ESAs to eligible students currently enrolled in public schools. Eligible applicants include children from low-income, military or foster families, children with specific special needs and children who are homeless. With an ESA, parents can direct the state's portion of education funding for their child into school tuition, books, therapies and services of their choice.
It does not affect current homeschool law (even expressly excludes ESA participants from utilizing current homeschool options). ESA participants will be accountable to the Education Oversight Committee for standards of education and approved funds. Individuals and programs may apply as providers to offer services for ESA participants.
I have previously supported the idea of Education Scholarships with certain reservations and concerns. I have continuing and expanded concerns about this "opportunity" and how it will affect us all. (*More coming soon in another blog post).
This legislation has been proposed for many years and nearly passed last session. It's flying through this session, already crossed over from the Senate to the House.
Referred to the Committee on Education & Public Works 2/2/2023
Other Legislation to Mention
Parent Bill of Rights S. 234 (Monitor)
Referred to Senate Committee on Family and Veterans' Services 2/8/2023
Similar: H 3197 referred to House Committee on Judiciary 1/10/2023
Similar: H 3485 referred to House Judiciary 2/7/2023
This bill recognizes the ultimate responsibility to direct the upbringing, education, healthcare and mental health of their children. Amends the age of consent from sixteen to eighteen concerning public education and health care providers. I mention this legislation because many homeschool advocates support all aspects of parental rights. This is not directly affecting homeschool rights.
Transparency and Integrity in Education Act: H 3728 (Monitor)
Passed House–Referred to Senate Committee on Education 2/9/2023
Similar: H.3304, referred to House Committee on Education and Public Works 1/10/2023
This bill provides expectations that parents are the primary source of their child's education regarding morals, ethics, and civic responsibility. Prohibits certain concepts from being included in public school instruction and professional development.
Abolish Education Oversight Committee: S 189 (Monitor)
Referred to Senate Committee on Education 1/10/2023
This bill proposes a solution for restructuring public education by removing this oversight board.
This session is likely going to be a busy one. With all the attention on education and parent's rights, there's plenty of concerns about how to fix our educational system and how to ensure equal opportunities for all our students. Stay tuned for updates on this post. And I welcome others to jump in to help us keep watch together!
Read more about Understanding the Legislation Process: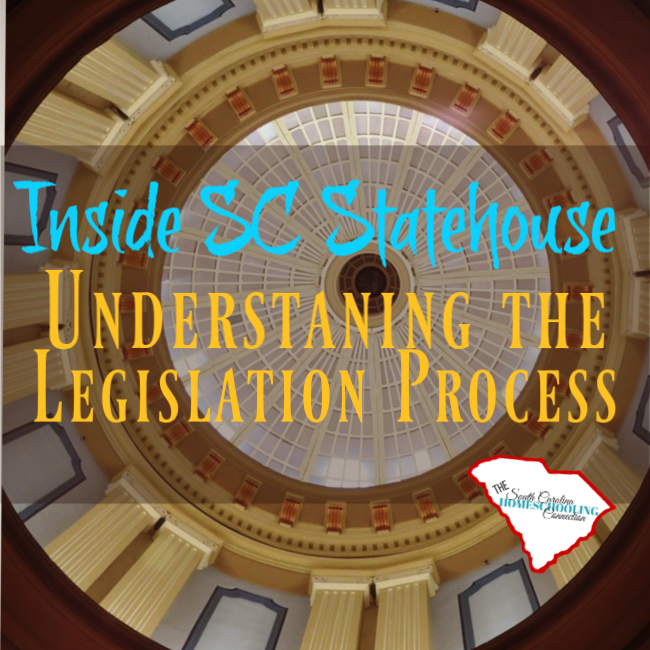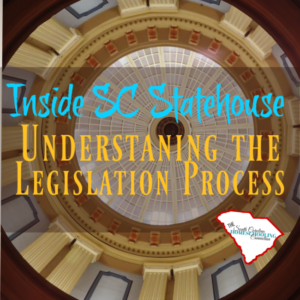 Going Political: The Definitive Guide to Getting Involved in American Politics

How to Change a Law: A Do it Yourself Guide for the Average Person

Stand Up!: How to Get Involved, Speak Out, and Win in a World on Fire

Legislation and Regulation in a Nutshell (Nutshells)

talkGov – Political And Legislation Social Discussion. Chat and vote on issues!