These Local Support Groups organize mom's meetings, field trips, park playgroups, workshops, curriculum advice, buy/sell used books and more. All things socialization. Find a group where you can meet up and make new friends.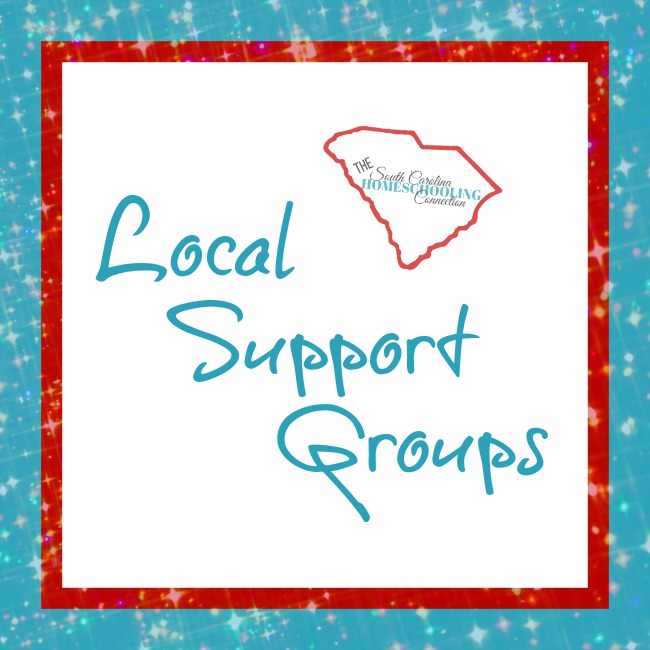 Local Support Groups for Homeschoolers
Anderson Homeschool Support, Anderson
Offers field trips, educational classes, sports opportunities, and many group activities, friendly and fun homeschooling community to both beginning and veteran homeschoolers. Christian statement of faith.
Contact: ahsainfo@gmail.com 

Catholic Homeschoolers, statewide
This website lists contacts around the state for Catholic support groups and co-ops.
Contact: Jennifer Fitz 
Carolina Homeschooler, statewide
Carolina Homeschooler coordinates many field trips, park days, camping trips, and events. Priority registration for Carolina Homeschooler Accountability members, then available spaces for all homeschoolers. Also, offers National and International Trips to all homeschoolers at Traveling Homeschoolers.
Contact: director@carolinahomeschooler.com
CHEFS, Chesterfield & Marlboro County
CHEFS is Carolina Home Educators Family Support. Local support group encouraging educational opportunities & social support for independent homeschooling families in Cheraw, Chesterfield, Bennettsville, Rockingham, Hamlet, Wadesboro, and the surrounding areas.
Contact: admin@chefsgroup.org
Choice Homeschool Group, Anderson County, SC
CHOICE is a homeschool support group providing services for homeschoolers in and around Anderson County, South Carolina.  It is run completely by volunteers.  Each member family contributes in some way to the success of the group.  Membership in CHOICE will allow you to participate in any CHOICE activity and will also allow you to join our co-op if you choose.  
Contact: choicehomeschoolgroup@yahoo.com
Christian Home Educators of Camden, Camden/Kershaw County
CHEC is an informal homeschool support group in the greater Camden, SC area. The purpose is to provide local homeschooling families with opportunities to support one another in the day-to-day challenges of homeschooling through meetings and activities. Offers small group activities, co-ops and field trips. Christian statement of faith, biblical perspective and approach.
Contact Form
CSRA Home Educator's Christian Resources, Augusta, GA and Central Savannah River Area
The Central Savannah River Area (CSRA) is a region surrounding Augusta, Georgia–including 5 South Carolina counties: McCormick, Edgefield, Aiken, Barnwell and Allendale. Offers socialization and fellowship, testing services, Honor Society and Graduation. Members sign a Christian statement of faith and code of conduct.
Email: csrahea.web@gmail.com or csrahea.mail@gmail.com
Phone: 762-233-5432
Eta Sigma Alpha Honor Society Homeschool chapters in SC
Eta Sigma Alpha is the first honor society established exclusively for homeschooled students in Grades 9-12.. Founded in 1999 by Joanne E. Juren, M.Ed., Executive Director of the Home Education Partnership of Texas Inc.,  it has grown into a national organization.
Contact a group near you: South Carolina
Easley Home Educators; Easley
Easley Home Educators is a support group seeking to provide support and encouragement to those families who are homeschooling their children in an environment conducive to good moral and philosophical instruction, with a traditional Judeo/Christian emphasis.
Contact: eheboard@yahoo.com 
Fort Mill Area Homeschoolers, Fort Mill/Tega Cay/Indian Land/Rock Hill
Fort Mill Area Homeschoolers offers encouragement and support to educate your children at home. Members contribute talents and special interests to our group. General members are not required to sign a statement of faith.
Contact: info@fortmillhomeschoolers.com
Hartsville Home Educators, Hartsville, SC
Known as HHE, Hartsville Home Educators is a non-profit, multi-denominational, member-run support group for families who homeschool throughout the Pee Dee area of South Carolina. A diverse group of families united together to provide support, educational programs through co-op and fun activities for the whole family. Welcomes all homeschool families who are comfortable within a Christian environment.
Contact: hhesupport@hhefamily.com  
Hear His Heart Ministries, Fort Mill, SC and Charlotte, NC
HEAR His Heart Ministries works with middle school age children that would like to grow in their relationship with the Lord. Located in the Fort Mill area with outreach in the Charlotte region. Most participants are homeschooled, though not all.
Contact Form and Facebook Page
HERALD5, Lexington & Richland Counties
Home Educator's in Richland And Lexington District 5 offers Christian support and encouragement for families who educate, have educated or intend to educate one or more of their children at home. Fall and Spring groupwide meetings, testing services, small group meet-ups and closed Facebook discussion forum.
Contact: info@herald5.com

HUGS: Myrtle Beach
Homeschoolers United for Growth and Support (HUGS) is a  Christian support group that provides enrichment opportunities, field trips, and family events.
Contact form

Lowcountry Christian Home Educators,
Christian homeschool support through the many LCHEA activities and meetings offered to you. Field Trips, Parent Get-togethers, Park Days, Spelling Bees, and much, much more! Homeschool life together as we share in Christian fellowship with one another.
Contact: form here
National Home Educators Research Institute (NHERI)
NHERI conducts homeschooling research, is a clearinghouse of research for the public, researchers, homeschoolers, the media, and policy makers, and educates the public concerning the findings of all related research. While not technically a support group–it offers great informational resources to bolster your own homeschooling journey. Knowledge is power–and that's the best kind of support.
Contact: mail@nheri.org
NICHE: Coastal Carolina from Myrtle Beach to Pawley's Island
Network of Inclusive Home Educators seems to be inactive, though there is still a website. No other details or contact information is currently available.
Ninja Homeschool Group, Myrtle Beach/Georgetown
Ninja Homeschoolers are skilled educators who are strong in the desire to educate their children, astute in knowing what is best for them, and disciplined in pursuing excellence (all Ninja qualities). Offers encouragement, field trips, park days, moms' nights out, and other fun activities!
Contact Form
Our Lady Of the Hills Catholic Homeschool Support, Columbia
The OLH Homeschool Support group assists parents in their role as the primary educators of their children. Offers a weekly parent-run educational cooperative and hosts special events year round. All events are open to all members of the parish.
Contact Form

PeeDee Christian Home Educators, Florence
PeeDee Christian Home Educators Association is a Christian homeschool support group. Offers support and encourage families who have chosen to take on the challenge of homeschooling their children. Some of the programs offered are Monthly Mom's Meetings, Weekly Science Labs and Enrichment Classes, High School Outings, Science Fair, History Fair, Group Field Trips, Holiday Parties, Field Trips, and Annual Iowa Testing.
Contact Form
REACH, Columbia/Midlands
REACH is an acronym: Resources, Encouragement, Activities for Columbia Homeschoolers. Secular, inclusive support offers lots of meet-up opportunities, field trips, co-op classes, student council, holiday parties, graduation program, volunteer opportunities, annual used book sale/homeschool expo. No statement of faith to join or to serve on the board.
Email: reach@reachgroup.org

REACH of Florence, Florence/Darlington
Reaching and Encouraging Area Christian Homeschoolers offers quarterly workshop events, mentoring/discipleship,  field trips, weekly recreation activities, testing, academic fairs and co-op classes.
Contact: Tammy Moreau at tj.moreau@live.com
Rock Hill Area Homeschoolers, Rock Hill/Chester/Lancaster
Rock Hill Area Homeschoolers is an inclusive local support group that offers events and activities. Provides meet-up opportunities for our children to create relationships outside of church, co-ops and any field trips that they may do.
Email: info@rhah.org or Contact Form
SCHEA: Statewide
South Carolina Home Educators' Association is called by its initials: SCHEA. SCHEA's primary mission is to monitor legislation in order to preserve homeschool rights in South Carolina. Hosts annual homeschool day at the capitol, provides a weekly newsletter of resources and upcoming events.
Email: SCHEA@SCHEA.net
SHIELD, Lexington County
Supporting Home Instruction Encompassing Lexington District is a support group made up of homeschool families dedicated to teaching their children for the glory of God. SHIELD offers support, encouragement, resources and activities for our members: group meetings, mom's night out, teen activities, seminars, educational materials, standardized testing and membership in SCHEA.
E-mail Mandy at sixdufries@gmail.com
Sumter Area Family Educators (SAFE), Sumter
Sumter Area Family Educators is to offer information and support from a distinctly Christian perspective to all families interested in homeschooling in Sumter and the surrounding areas.  Field trips, skate days, monthly meetings, and much, much more! Experience homeschool life together as we share fellowship with one another.
Contact: Cheryl Chandler (803) 495-2110
Tri-County Homeschoolers, Westminster/Walhalla
Like-minded Christian home educators dedicated to observing the Biblical commands to promote home education as the Scriptural design for education.
Contact: tricountyhomeed@gmail.com 
United Christian Homeschoolers Unlimited, Upstate/
United Christian Homeschoolers Unlimited is a large family of Christian homeschoolers growing together, seeking to nurture, train and raise up children in the Lord while home educating them. UCHU offers helps, resources, encouragement, creative ideas to homeschool, Scriptures to encourage along the away, opportunities to have live chat with fellow homeschoolers and more.
Email: ownermoderator@yahoo.com
Phone: 864.300.2236
Vine and Branches, Myrtle Beach
Vine & Branches offers academic and enrichment co-ops, book clubs for boys and girls, First Lego League, field trips, small groups and much more. Established to support through fellowship in a cooperative, Christian environment to Grand Strand homeschoolers.
Contact: Kim Mitchell
York Education at Home, York County
YEAH exists to support and encourage Christian homeschooling families in York and Chester Counties, South Carolina, and Gaston and Mecklenburg Counties, North Carolina. Opportunities to participate in student clubs, YEAH enrichment classes, workshops, field trips, and other organized activities including YEAH sponsored Senior High Cap and Gown Graduation.
Email: emailYEAHsc@gmail.com or Contact Form