Let's talk about Education Savings Accounts in South Carolina Legislation. We currently have two bills that have already been introduced in 2017 session and are awaiting our state legislature to open session again in January 2018. S.622 and H.4308, if passed will create "Equal Opportunity Education Scholarship Accounts." This funding account is also known as Education Saving account or ESAs.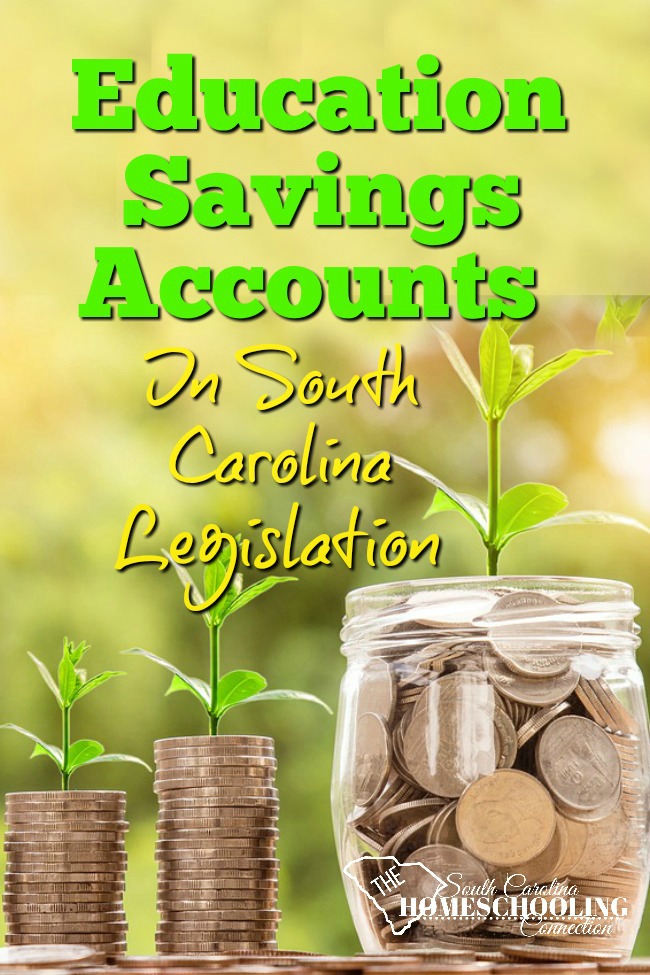 I've heard some concerns that ESA's will affect and encroach on homeschool rights. Before we sound the alarm that our rights are at stake, let's take some time to find out what ESAs are and what problems does the policy try to solve. It should not come as a surprise to you that the State of SC ranks pretty low for the quality of education. In 2017, we ranked at #50.
That's a problem.
Some children are stuck in the local school where they are zoned. That is the only option for them, because the parents cannot afford private school tuition or private therapies. They can't afford a home computer or home curriculums to DIY a home education.
That's a problem.
Education Savings Accounts Solve a Problem
The proposed bills would provide ESAs to eligible students currently enrolled in public schools. Eligible applicants  include children from low-income, military or foster families, children with specific special needs and children who are homeless. With an ESA, parents can direct the state's education funding for their child into school tuition, books, therapies and services of their choice.
ESAs are a different way to educate than homeschooling. The ESA law is completely separate from the homeschool laws we have. So, those of us who are currently homeschooling and considering homeschooling will not be affected by the ESA program at all.
But, the program expands educational opportunities for those who would not be able to homeschool. ESA legislation has a component that satisfies the compulsory attendance law–so the students would also be exempt from public schools attendance. They won't be in public school. They're getting funding to go anywhere else they want to go–and pay for the programs and tutors and buy computer equipment, etc.
You might think of it as a "4th option" to homeschool. In the way the 3rd Option doesn't encroach on Option 1 or 2. The goal is to give more students a chance to succeed!
Educations Scholarships in Other States
ESAs are already working in other states. Arizona's program has been going since 2011. Nevada and Florida also have  established ESA programs. More and more states are following this model, with some variations. One of the key points we have to understand is that these programs are optional. If anyone is concerned about the oversight that comes with government funding, they shouldn't apply for this program.
Program participants are able to access a spending account, kind of like a debit card. There is an oversight committee that reviews and approves the expenses. They are verifying the ESA funds are used for educational expenses. So, participants can't spend it fraudulently, for example on a pizza party. There are appeals processes in place to reconsider any expenses that are denied.
The oversight is primarily concerned about the educational expenses. The allowable expenses vary from state-to-state. But, the lists that are recommended in the legislation should be broad to include assistive technology, private (even religious) schools and programs, private tutors, online classes and lots of resources inside and outside the classrooms. And more.
Maybe they will want to join some of our support groups or enroll in our resource centers and co-ops. Or maybe they will start their own support network, like online charter schools have. It's supposed to help low income families who couldn't afford private school or home education curriculum. And also for special needs families who can't afford the therapies outside of school.
Again, the point is to personalize the education, so that more students have a chance to succeed.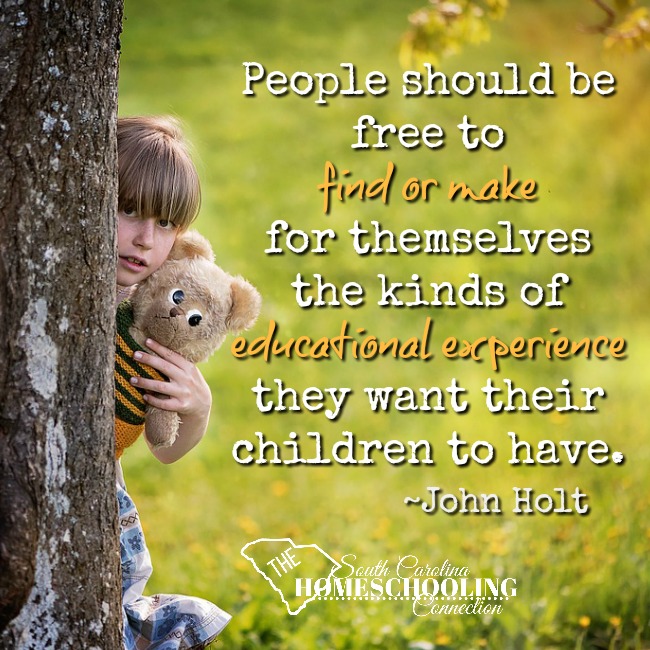 ESAs Expand the Opportunities for Success
Nobody wants one program to suffer at the expense of the other. Of course we don't want Education Scholarship Accounts to encroach on Homeschool rights and freedoms. We also should not want to stand in the way of expanding the rights and freedoms of others.
The goal is to allow more students the opportunity to succeed. 50th no more!
But, what happens if an official overreaches their oversight responsibilities? It's hard to prevent overreach…though it's always possible to occur. It's also hard to prevent fraud on the part of participants. So, there are safeguards in the policies to address overreach and fraud.
We have allies that will push back whenever our rights and freedoms are at stake–as individual homeschool families and as a collective homeschool community. We are not alone.  There's a long list of supporters for the ESA program and advocates for homeschool rights, too. We will be vigilant and safeguard our rights together.
Palmetto Promise Institute
The Palmetto Family Council
My SC Education Coalition
The American Federation for Children
EdChoice
The Goldwater Institute
Harris Foundation
ExcelinEd in Action
Institute for Justice
For a full explanation on how ESAs work  and how they are working already, read this article Primer on Education Savings Accounts by Jonathan Butcher. If you have more questions and concerns about the proposed legislation on Education Scholarship Accounts in South Carolina, please contact Palmetto Promise.
Do you support or oppose this ESA legislation?
Tell me in the comments
Read more about Palmetto Promise