The Department of Education has developed a profile of a South Carolina graduate. It stands as the goal of the public education system to produce a well-rounded, productive citizen. Let's see if our homeschool grads fit the profile, too.
As homeschoolers, that's our goal too. I think it's beneficial to take a look at the common goal. How we get there may differ, but the goal is essentially the same.
Profile of a South Carolina Graduate
There are 3 categories of development in the educational goal. World Class Knowledge, World Class Skills and Life & Career Characteristics. (Can we just point out that Socialization isn't any of the goals?!)
This is the terminology that professional educators are using. If you ever decide to transition back to public school system they will be evaluating your education by this standard. It's the basis for a College Prep level course credits in high school.
World Class Knowledge:
This category includes
Rigorous standards in language arts and math for career and college readiness.
Multiple languages, science, technology, engineering, mathematics (STEM), arts and social sciences
The South Carolina diploma standard details more of the course of study required for what the Department of Education considers World Class Knowledge. The Commission on Higher Education also has a guideline for pre-requisites for admissions in most 4-year colleges.
We tend to focus our attention on these academic requirements for high school graduation. This is what goes on the transcript. Homeschoolers and non-homeschoolers are both concerned with credits and courses.
As homeschoolers, we are concerned with rigorous academics. We strive to prepare a quality transcript representing the graduate's abilities and accomplishments. Read more about preparing a transcript here: Parent-Made Transcripts
World class knowledge is one of the keys to open the doors of opportunity.
Need more help with rigorous subjects? Find a local tutor at Wyzant 
World Class Skills:
This category includes:
Creativity and innovation
Critical thinking and problem solving
Collaboration and teamwork
Communication, information, media, and technology
Knowing how to learn
The leading experts in education reform agree that the future job market is changing…and unknown. Yet, the public school system was designed for the industrial age of the past. Education must find a find a way to prepare students for the unknowns of the future.
Think about the jobs and technology that did not exist just a decade ago. We have to realize that will be true again in another decade. Many of our children will end up working in jobs that do not exist today.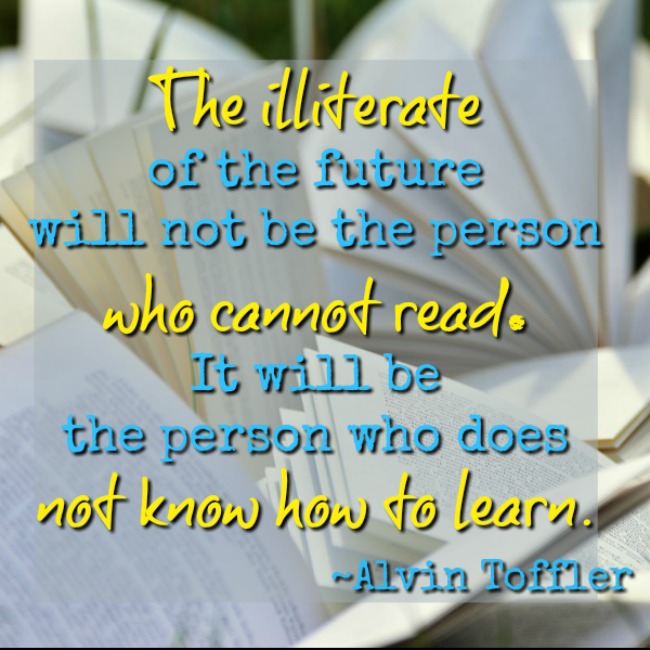 The ability to find information is more important than memorizing facts. Knowing how to learn and creativity are more desirable qualities than the what you already know.  Alvin Toffler said, "The illiterate of the future will not be the person who cannot read. It will be the person who does not know how to learn."
World class skills set our homeschool graduates on the path to success.
Life and Career Characteristics:
This category includes:
Integrity
Self-direction
Global perspective
Perseverance
Work Ethic
Interpersonal skills
Successful education produces good citizens. That has been the goal from the beginning. Motivated, honest, and hard-working citizens.
In many ways, homeschooling excels at developing these character qualities. No matter where you go in life, you'll need to figure out what's next. There's no one telling you what to do next. Self-direction is part of being an adult.
The movie Class Dismissed explores learning outside the classroom. What does it look like when we leave the weight of responsiblity on the student to figure out what's next? Learning is a lifelong process. Read more here about: Class Dismissed
Life and Career Charteristics establish the pattern for lifelong learning and productive citizens.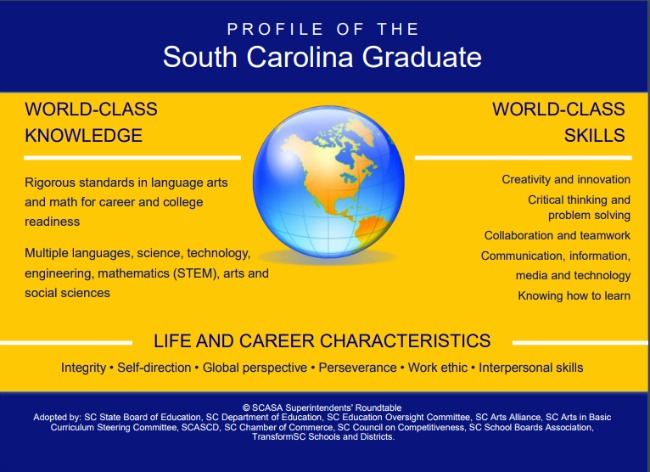 Photo credit: SC Department of Ed 
There you have it. The profile of a South Carolina Grad with 3 categories of educational development goals. World Class Knowledge, World Class Skills and Life & Career Characteristics.
Do you think homeschool grads fit this profile, too?
Tell me in the comments.
Find out more about homeschooling High school: