Thanks for your interest and concern on current SC legislation 2019-2020. I provide this information to help us all keep informed. If you have information on pending legislation that might affect homeschooling, please email the [email protected] or Facebook message the SC Homeschooling Connection.
Note: This post was last updated 4/19/2019. Any bills that have been proposed must already have crossed over to the opposite chamber for consideration–in order to pass this year. The only bill that has made the crossover point is H3759 The South Carolina Career Opportunity and Access for All Act.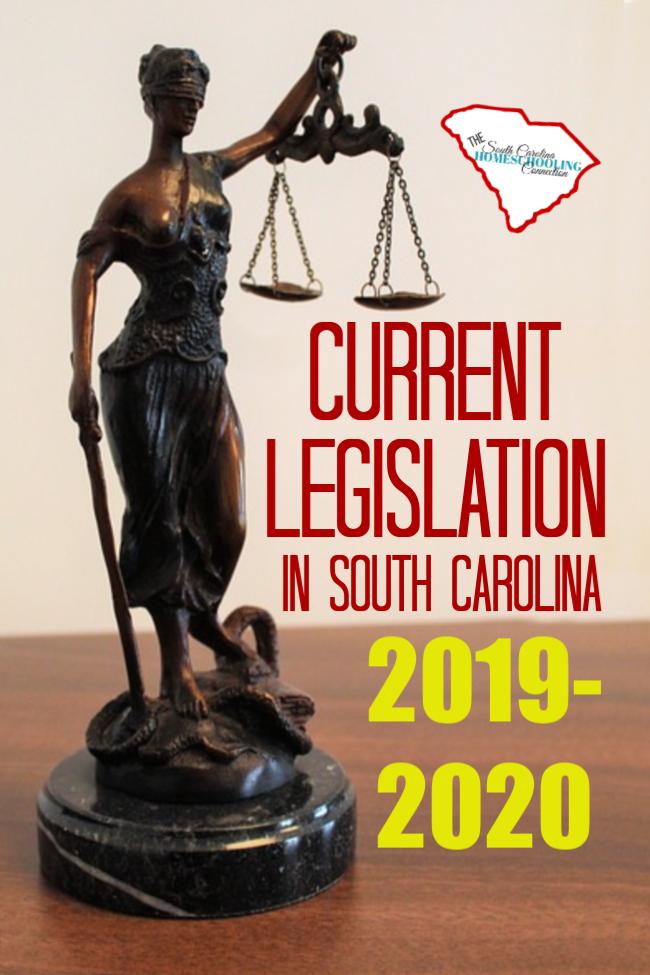 We begin a new legislative session in 2019. It's a 2-year session. So, bills that are introduced here will remain on our watch list and mentions thru May 2020. This blog began in 2013 when our homeschool rights came under fire here in South Carolina. It's a work in progress for us to keep watch and protect our rights.
SC Legislation 2019-2020 Watch List
These are not a red-alert situation. The legislative process is long–and we have key opportunities to give feedback in the process. So I will also include or update that information, who and when you should contact. Depending on where the bill is in the process, your rep may not be informed on the issue. Sometimes we need to contact the committee and/or the committee members where the bill has been referred instead of our local reps.
H3681 and S556 and S523: Education Scholarship Accounts
The proposed bills would provide ESAs to eligible students currently enrolled in public schools. Eligible applicants include children from low-income, military or foster families, children with specific special needs and children who are homeless. With an ESA, parents can direct the state's portion of education funding for their child into school tuition, books, therapies and services of their choice. It does not affect current homeschool law. ESA participants would sign an agreement not to participate in a home instruction program under Option 1, 2 or 3.
Similar bills have been initiated on both sides of the legislature. They do this to see which side will gain traction better and help fast-track it through the process. Both sides are still currently in committee. S556 referred to Education Committee since 2/26; H3681 referred to Committee of Ways and Means since 1/26/2019; S523 referred to Education Committee since 2/14/2019
Read more: Education Savings Accounts in SC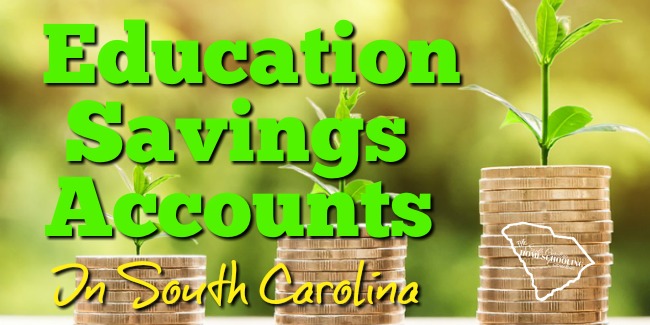 H3202 and S131: Income Tax Credit
This bill would create a dollar-for-dollar tax credit for taxpayer contributions to 501(c)(3) nonprofit scholarship funding organizations. These organizations may use the contributions to provide reimbursement to homeschooling parents for up to $1,000 per child for homeschool curriculum fees and up to $11,000 for tuition at an independent school for exceptional needs or disadvantaged children.
H3202 referred to Committee on Ways and Means 1/8/2019, a number of co-sponsors have signed on since then.
S131 referred to Committe on Finance 1/8/2019
Homeschoolers are divided on the idea of tax credits and tax breaks. Many see it as a baited hook to require more oversight. If it helps you decide what to think about this issue, HSLDA supports both versions. Currently homeschoolers in SC do not have tax credits unless you have paid college tuition for dual credits.
It's currently stuck in committee. So, your input can help push it forward or stop it. Depending on what you say.
Contact:
S79: Child Protection and Exception to the Definition of "Child Abuse or Neglect"
This legislation modifies abuse and neglect definitions in order to protect responsible parents who allow their children to engage independently in appropriate activities. The bill narrows those abuse and neglect definitions so parents will not be charged when children of sufficient age and maturity – whose basic needs are met – engage in independent activities. I included this bill as a homeschool related interest since many homeschool philosophies seek to allow children the freedom to play outdoors unsupervised (as is age appropriate).
The bill passed the full Senate vote 3/6, currently referred to House Judiciary Committee since 3/7/2019
H3759 or S419: The South Carolina Career Opportunity and Access for All Act
This legislation includes many significant reforms to the public schools to strengthen and streamline Read to Succeed's early literacy efforts, reduce state testing, boost teacher pay, and consolidates small school districts. Similar bills have been initiated on both sides of the legislature. This bill specifically includes homeschoolers in scholarship eligibility requirements for the Palmetto Fellows and LIFE scholarships. It would require (beginning in 2024) that students earn at least one unit of credit in mathematics or computer science and one unit of credit in English/language arts during their senior year of high school.
HSLDA is neutral on these bills.
H3759 passed the full House vote 3/6, currently referred to Senate committee on Education since 3/12/2019
S419 referred to Committee on Education 1/24
H3972: Online Course Access
This legislation would give wide access to high-quality teaching and content for public school students in every community in our state. I mention this for parents who may be looking for alternatives to their local public education, but not ready to DIY an entire homeschool program. This expands the options of public schools. Referred to the Committee on Education and Public Works 2/13/2019
Other Legislation to Mention
LIFE/HOPE/Palmetto Fellow's Scholarships: Since the Department of Education changed the grade scale in 2016, there has been discussion about the overall GPA eligibility for state funded scholarships. Homeschoolers just want to be included in the eligibility with fair and equitable qualifications. I anticipate a number of bills to come up this session about these scholarships.
H3140: This bill would do away with the HOPE and LIFE scholarships in favor of providing additional funding for educators or future educators who wish to further their education or repay student loans (up to $30,000). Referred to Committee on Education and Public Works 1/8/2019
S419: LIFE and Palmetto Fellows eligibility would require Math and English credit in the senior year. Other Public School reforms listed elsewhere in the post.
CPS related/Child Abuse and Neglect: Since the Turpin Case in California last year, there has been discussion and debate about the homeschool laws and how to detect abuse within the homeschool community. South Carolina's Children's Trust advocates to protect children and does not believe that there is any significant correlation between homeschooling and abuse. So, these abuse/neglect legislations are not geared at homeschoolers, but still may affect us as parents.
H3582: This bill would require parents, stepparents, and legal guardians to report child abuse or neglect when–in their professional capacity–they receive information that gives them reason to believe that child has been or may be abused or neglected. Note: HSLDA opposes this bill
Referred to Committee on Judiciary on 1/15/2019
S79: This bill modifies abuse and neglect definitions in order to

protect responsible parents

who allow their children to engage independently in appropriate activities. (see more elsewhere in this post).
H3826: This bill amends code of law regarding public school courses for parents right to courses with some religious content be designated as elective credits, including Origins of Life and World Religions Survey. HSLDA supports this bill. Referred to Committee on Education and Public Works 1/31/2019
S34: This bill would allow homeschooling parents to claim a tax deduction of up to $2,000 per student for qualifying homeschool expenses.  HSLDA supports this bill. Referred to Committee on Finance 1/8/2019
Support Homeschool Rights in SC: Send $1.50 per sticker per sticker to: Paypal Here
Include your name and mailing address in a "note" with Paypal payment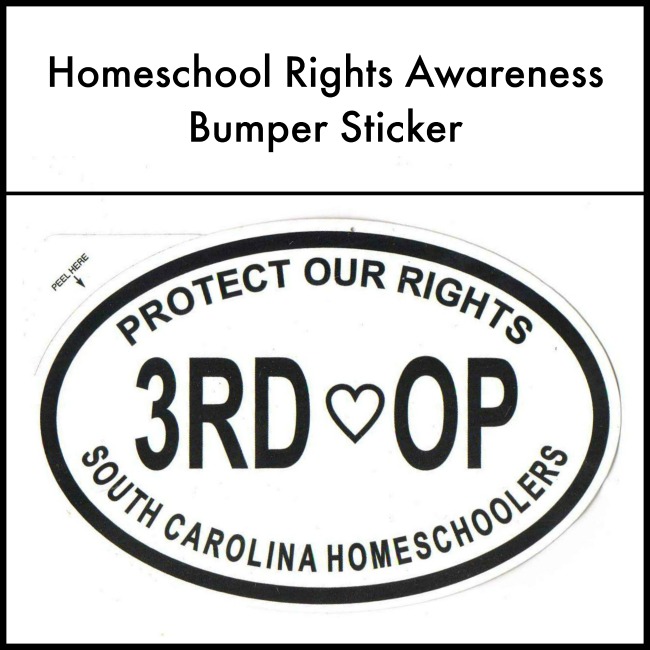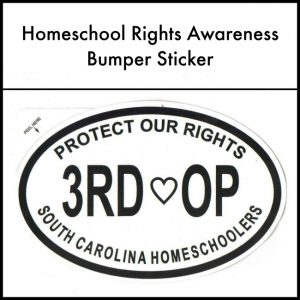 Read more about Understanding the Legislation Process: