In a previous post, we talked about exploring the various regions of South Carolina.  Midlands region. The Geocache challenge at Harbison State Forest is in the Midlands region. But, once you get hooked on geocaching, you'll find it's a great way to explore anywhere and everywhere.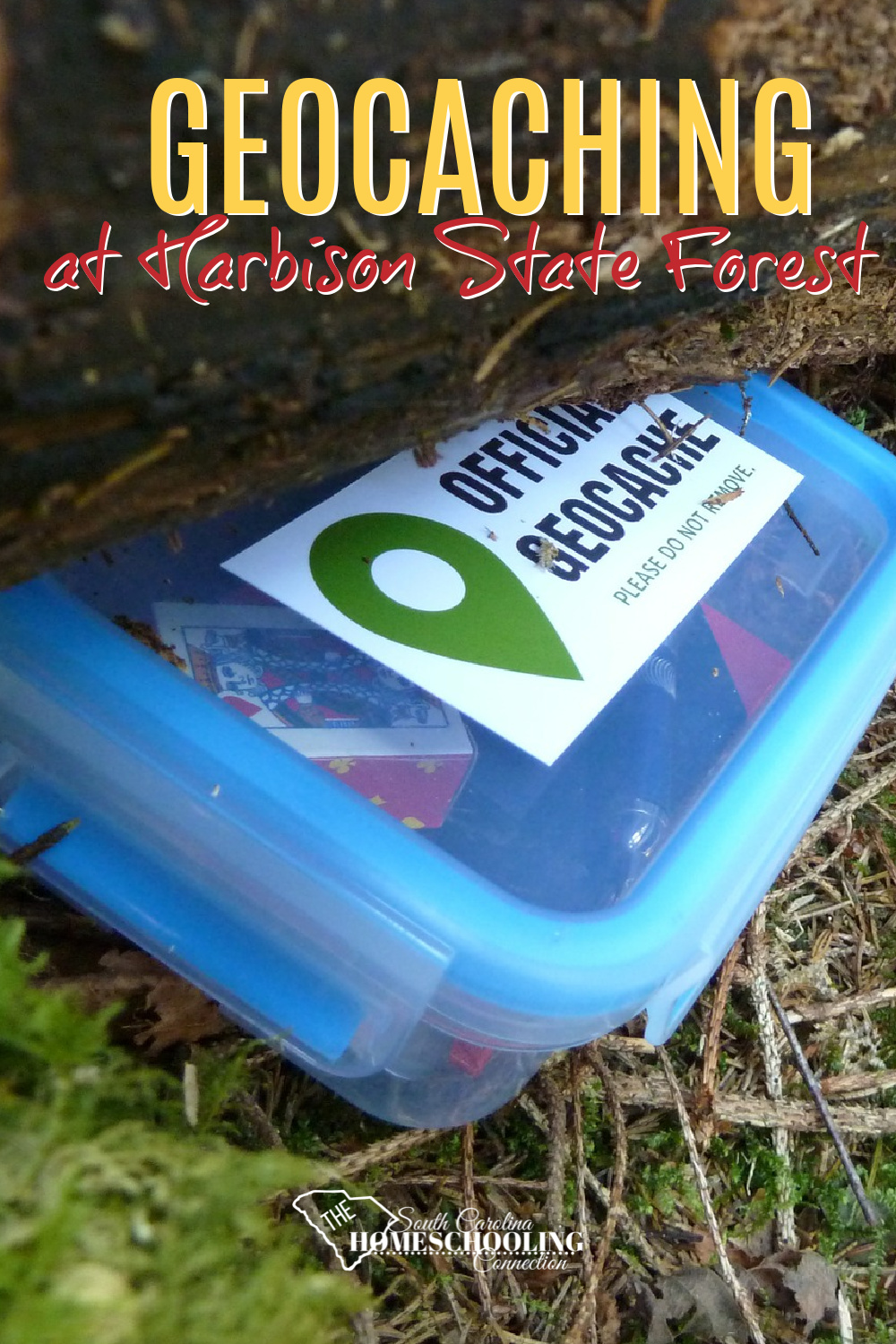 Geocaching is a real-life treasure hunt. People hide little treasures in containers all around. Just off the beaten trail, often in plain sight.
Geocache at Harbison State Forest
If you've never tried geocaching before, this is a great one to start. The Geocache challenge at Harbison State Forest is a series of seven caches to locate along the learning trail near the education center. The worksheet that goes along with it includes questions to answer with each cache. When you find them all, you can turn in your worksheet for a souvenir coin.
It costs $5 for parking in the Forest for the day. NOTE: The ed center is not open during Covid and you cannot go inside to use the restroom. But, the ranger says that we could knock on the door to turn in the worksheet for the coin. Someone should be inside the office there to assist with that.
You can use a geocache app to help you find the caches. I used the free version when we went a few years ago with our homeschool group. Some of the participants had the paid version and seemed to do better finding the caches. The coordinates are listed on the worksheet, so you could use a coordinates app to find the locations of the caches instead. Or both apps.
Geocache for Beginners
If you're a total novice, you might not find all seven caches in the first trip out there. There's a learing curve to following the clues and knowing what to look for. (Hint: one of the caches is up in a tree, not laying on the ground.
The app I used got me close…but, not exact. It showed me 10 paces away. Then, I paced that direction. And now it's showing me 18 paces past the cache.
Once you find the little hidden container, the answer for the worksheet written inside. But, also people leave tokens in there. You can take your own things to trade for what's in there. Some tokens have special tracking features that you're supposed to log on the app where you take it. That's another layer of difficulty to the "game".
It's enough to just track down the answers for your State Forest Commemorative Coin.
Geocaching Benefits
This is a fun activity. But, guess what? It's also a learning activity–and should be counted as part of your school day!
The learning benefits of geocaching, include:
knowledge and skill building,
practical problem-solving,
strategy, team-work,
following directions,
environmental awareness,
and also social connections.
Plus, being outside in nature has great benefits for mental and emotional well-being. You can take up the 1000 hours outside challenge to see how much time you can spend outdoors.
It builds resilience too, because you don't have to wait for good weather. Bundle up if it's cold. Raincoats if it's rainy. Sunscreen and bug spray when it's hot.
There's also a box near the door of the ed center (log cabin building) with more worksheets if you don't have access to a printer
Let's explore more with Geocache at Harbison State Forest and around South Carolina!