Welcome to South Carolina! Let me be among the first to say, "We're glad y'all are here!" Let's talk about some of the locational terms of South Carolina Regions.
This glossary of terms will help you get connected to the homeschool resources nearby you. Find some local field trip ideas to get you started. You can explore your region for a while…and then explore the other regions too!
Which South Carolina Region are you in?
South Carolina Regions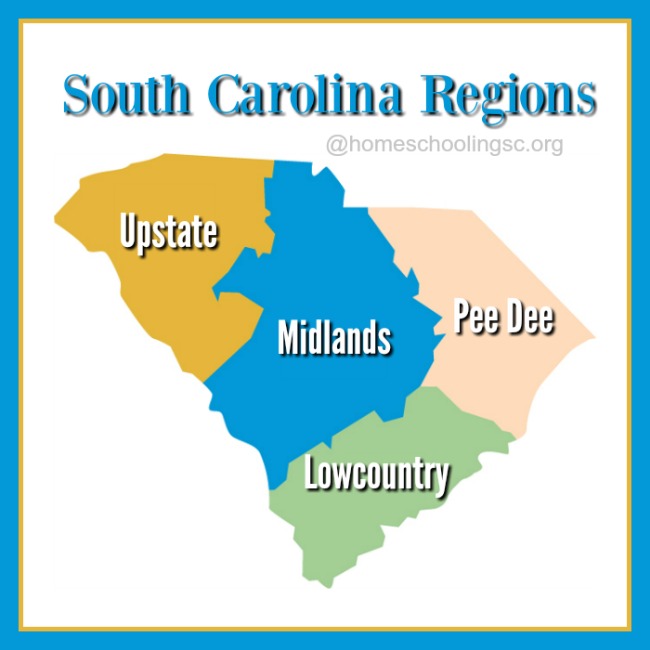 Lowcountry Region
The entire coastline is at a lower elevation. Nearer to sea level. So you'd think that all the coastal counties would included. But, when we say "Lowcountry", we mean specifically the south-east area of the state. The salt-marsh is located here. These counties are located in the Lowcountry region:  Allendale, Bamberg, Beaufort, Berkley, Calhoun, Charleston, Colleton, Dorchester, Hampton, Jasper, and Orangeburg.
Field trip ideas to get you started:
Homeschool resources to get you connected:
Pee Dee Region
The north-east quadrant of the state is referred to as the Pee Dee. Pee Dee River in this region was named after the Pee Dee Native American Tribe. The 60-mile Grand Strand is located here too. The counties that are part of the Pee Dee region: Chesterfield, Clarendon, Darlington, Dillon, Florence, Georgetown, Horry, Lee, Marion, Marlboro, Sumter, and Williamsburg.
Field trip ideas to get you started:
Homeschool resources to get you connected:
Midlands Region
The central area of the state is called the Midlands. Sometimes also called the Sandhills. The State Capitol is located here. The counties that make up the Midlands: Aiken, Barnwell, Chester, Edgefield, Fairfield, Kershaw, Lancaster, Lexington, Newberry, Richland, and York.
Field trip ideas to get you started:
Homeschool resources to get you connected: