Read the Compulsory Attendance Law for yourself. The source is here: SC Code of Law Title 59 Education, chapter 65 Attendance. I have highlighted the parts that are helpful for those considering homeschooling or those considering Kindergarten waiver.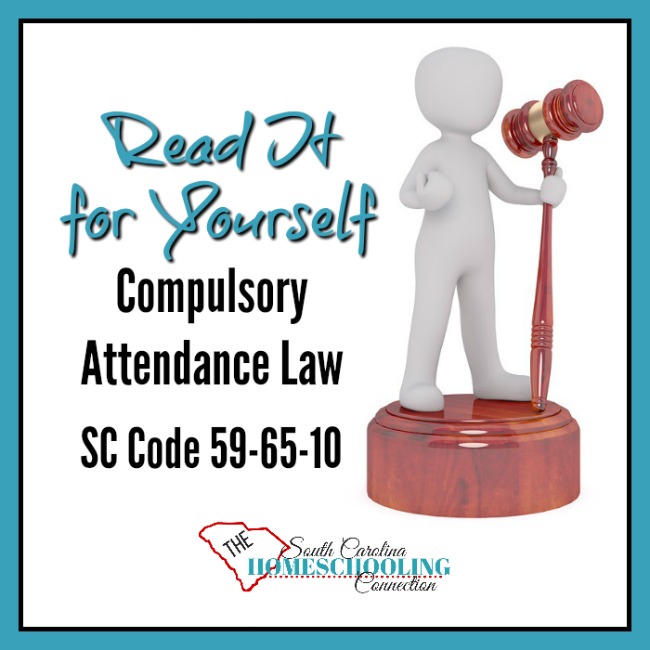 59-65-10 Kindergarten and Compulsory Attendance Requirements
(A) All parents or guardians shall cause their children or wards to attend regularly a public or private school or kindergarten of this State which has been approved by the State Board of Education or a member school of the South Carolina Independent Schools' Association or some similar organization, or a parochial, denominational, or church-related school or other programs which have been approved by the State Board of Education from the school year in which the child or ward is five years of age before September first until the child or ward attains his seventeenth birthday or graduates from high school.
A parent or guardian whose child or ward is not six years of age on or before the first day of September of a particular school year may elect for their child or ward not to attend kindergarten. For this purpose, the parent or guardian shall sign a written document making the election with the governing body of the school district in which the parent or guardian resides. The form of the written document must be prescribed by regulation of the Department of Education. Upon the written election being executed, that child or ward may not be required to attend kindergarten.
(B) Each school district shall provide transportation to and from public school for all pupils enrolled in public kindergarten classes who request the transportation. Regulations of the State Board of Education governing the operation of school buses shall apply.
More explanation about Compulsory Attendance requirements: