When you register with your accountability, you'll be issued some important documents that verify you are legally compliant. These are some of the important documents to obtain from your association director. Some of these documents are not automatically issued, so you might need to request them. Talk to your association director about their procedures for obtaining these important homeschool documents.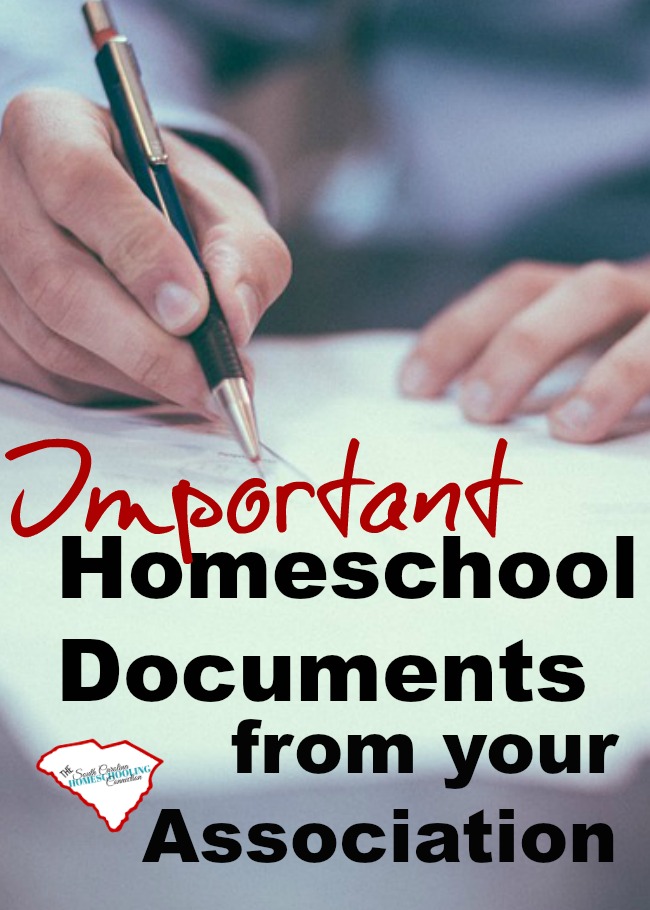 This post may contain affiliate links. Any purchases thru my links will pay me a small commission. 
1. Membership Letter and/or Membership Card
The membership letter is the most important document that you need. Some associations email it. Others snail mail it. Whatever way it comes to you–you need to file it where you will be able to find it again. This document is the verification that you are legally compliant with homeschool laws in South Carolina. This is the proof that your are exempt from compulsory attendance.
You can use this letter to obtain educator and homeschool discounts. Some associations will also issue a wallet card so it's easier to carry with you. In the really rare encounter with a DSS agent or court official, this letter is necessary proof for your legal status. Read more about what to do when you encounter officials who overreach.
2. Withdraw Notice 
If your student was never enrolled in another school, then you will not need a withdraw letter. South Carolina homeschoolers do not file a letter of intent with the school district. In fact, the school officials will be very confused if you stop by  just to say "Hi, I'm new in the neighborhood…and I just want to tell you that I'm not going to enroll my students in your school."
But, if your student was enrolled in another school, you do need to notify them where you are enrolled as a homeschooler. They are technically not supposed to take your word for it that you are "homeschooling" now. They need some verification of where you have gone, so they can officially withdraw your student from their attendance rosters.
The membership letter actually is enough proof, so you could make a copy of that to give to them when you return all the school-issued materials. However, many school officials need a little more explanation of homeschool compliance. So, your association may have a form letter specifically for this purpose–in the verbiage that clarifies the process.
3. DMV Letter 
If your student is going to get a state issued ID, a driver's permit or driver's license, you will need to provide proof of enrollment. School attendance is a condition for issuing the license. The documentation needs to demonstrate that the students "are currently enrolled in school (not suspended or expelled) and have satisfactory school attendance." (pursuant to SC Code of Law 56-1-176 ).
The membership letter is proof that your student is exempt from the compulsory attendance law. So, it should be enough proof for the school attendance condition. However, each DMV seems to implement this policy inconsistently from one location to the next. Some locations will require the letter of proof to have a current date (not the one from the beginning of the school year) with the wording about satisfactory attendance, plus an original signature of the director (not a copy). Although, they will accept the letter as a fax, sent directly from the association.
Plan ahead by contacting your Association director about the DMV letter. Your association may have a form letter specifically for this purpose. It could save you from the panicked call to try to get it while you're still standing in the DMV…or save you from making a return trip back on another day.

4. Dual Enrollment Letter 
If your student is taking college courses for high school credit, you might need this dual enrollment letter. The college may ask for proof from your association that the courses and grades will be acceptable for high school credit–and will be included on the transcript. Colleges have become more accustomed to homeschoolers earning dual credits, so sometimes they just want the parent to create this sort of letter.
Be sure to ask the instructor for the final numeric grade, so you can include that on your transcript. Ask during the course, because they will dump the grades and not be able to give you the actual number afterward.
5. Diploma/Transcript
The transcript is a forever document. You (the parent) can create your own transcript and diploma. Parent-made transcripts are supposed to be acceptable for opening the doors of opportunity–where ever your student wants to go after high school. If you create your own transcript, you may need a letter verifying your association membership.
Some associations offer transcripts and diplomas for additional fees, which may or may not be included in the price of the membership.  Many times, it is helpful to get assistance in getting your transcript in a professional format. You don't know what you don't know–and your association director can help you avoid some of the common homeschool transcript mistakes.
Bear in mind that homeschool diplomas are NOT recognized as official State of South Carolina diplomas. No matter which accountability option you choose, homeschool diplomas are not certified by the state of SC. No matter whether you or your association issues the diploma, it's not a state diploma. That doesn't matter, though. I'm not sure where anyone would ask to see your diploma anyway. Get the transcript right…and that's the key to open the doors of opportunity.
***Need help with transcripts? Click here for my Transcript Preparation Service
READ more about Homeschool Diplomas: Click HERE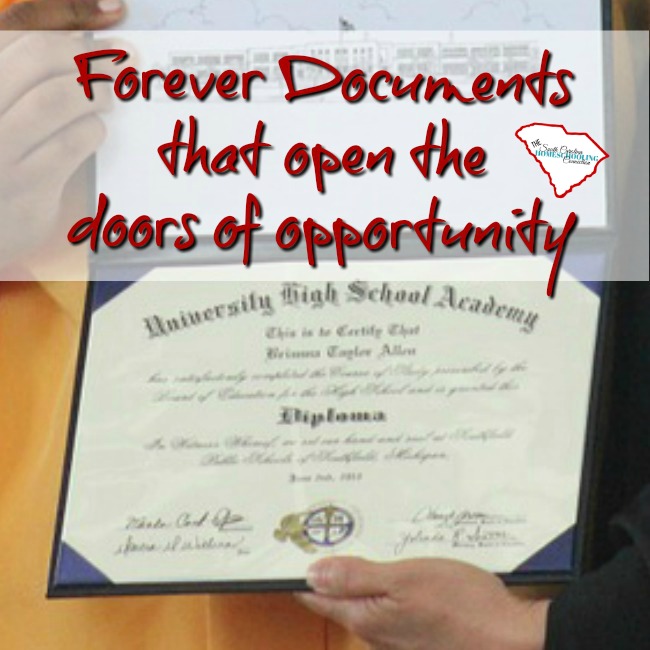 6. Enrollment Letter/Report Cards 
If your student is transferring to another school setting, you may need some verification about your homeschooling compliance. The membership letter is the proof. AGAIN! You can create your own homeschool report card.
However, some schools prefer to speak office to office. So, your association may have a form letter that explains about the homeschool law. They may be able to format your homeschool grade report on association letterhead. These documents can help transition your student from homeschooling.
We want to present homeschooling as an equitable educational option. If you make your own reports, be sure that you are presenting professional quality documents. Talk to your association director if you need to obtain any of these important homeschool documents.
***Need help with Repord Cards? Click here for my Report Card Preparation Service or Click here for Free Printable Report Cards.