The Red Cross offers a variety of educational opportunities that homeschoolers might utilize. I met with local volunteer coordinators and learned about how to get our homeschool youth involved. The Red Cross wants to work with you!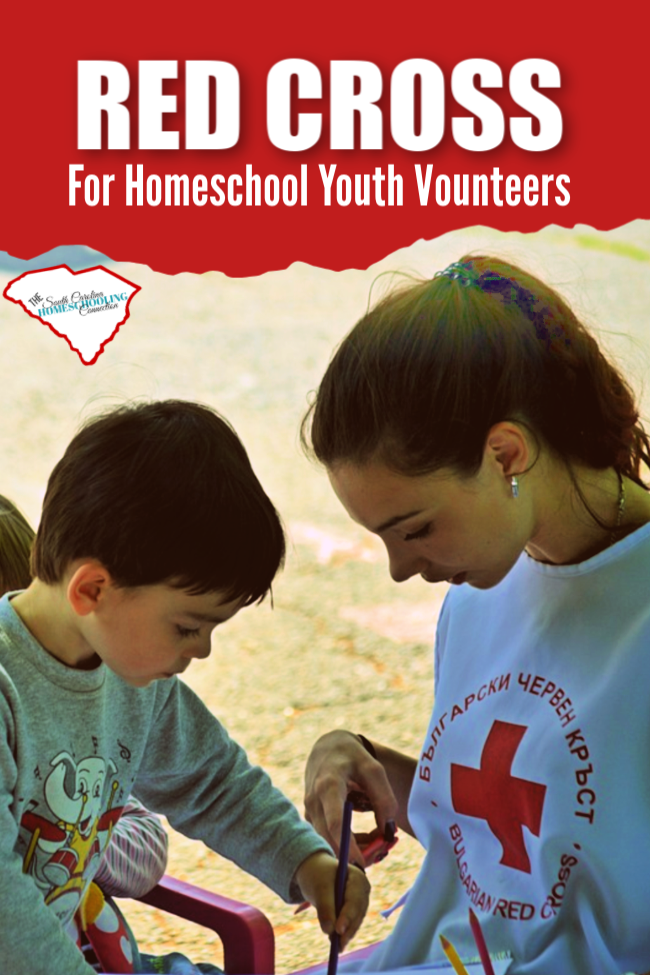 All Volunteers for age 13+ must be registered in the Volunteer Connection system. Within the Volunteer Connection system, youth volunteers (ages 13-17) apply the same as adult volunteers. Applicants sign a code of conduct and ethics agreement, submit media release waiver and complete the Intellectual Property Agreement. In addition, youth participants must have a parental consent form. (Note: adult applicants also submit to a background check, but youth under 17 do not.)
Youth volunteers under the age of 13 can still support the organization and be recognized as a volunteer. Any volunteers under 13 must have a parental consent form and be accompanied by an adult. This makes it an ideal volunteer situation for homeschoolers–so the parent and child can volunteer together!
The first step to getting involved with Red Cross is to sign up as a volunteer. I just did it and it took me less than 15 minutes. Once you are in the volunteer system, you will be notified of ongoing and upcoming volunteer opportunities. Some volunteer projects will require special training in order to participate. You'll also be notified of the upcoming training workshops too.
Red Cross Opportunities for Youth Volunteer
Disaster Preparation: The Red Cross mission is to alleviate human suffering caused by disasters. They work year-round to better prepare individuals and families for life's emergencies.
Pillow Case Project: This project is designed to teach 3rd-5th graders about disaster preparation. In this class, students are provided with a pillow case they can personalize as their own preparedness kit. The program is free and offers region-specific disasters, including the nation's greatest disaster threat–home fires.
Monster Guard App: This free app is designed to teach children ages 7-11 to prepare for real-life emergencies. Knowledge about natural hazards empowers children to take preparedness actions–and share the information with others.
You could schedule a presenter to come teach the pillow case project. Volunteers 14+ can be trained to be presenters. The Pillow Case Presenter  provides a 40-60 minute presentation that includes emergency preparedness education to youth (age 8-11) in group setting.
Hands Only CPR: This 30-minute training project is available to schools for practical use by staff and students. It's easy to learn, easy to teach, and can help your faculty and students save a life. This hands only CPR does not include certificate, but is low or no-cost. Children as young as age 10 can learn the technique and become presenters.
Home Fire Preparedness Campaign: The Home Fire Campaign helps save lives by installing free smoke alarms in homes that don't have them, and by educating people about home fire safety. Groups of volunteers are needed to do neighborhood campaigns. Volunteers 16+ are trained to install smoke alarms and educate residents.
"Sound the Alarm" teams canvas a neighborhood with hang tags 1 week prior to the install. Youth under 16 may participate in the hang-tag initiative. Then, install teams of 2-3 visit the next week to residents who requested smoke detectors. Smoke detectors are also provided.
Service to Armed Forces: Students of all ages can write cards and prepare care packages for soldiers and retired vets. Supplies are included, they just need volunteers to write notes. Also, volunteers are needed to write Valentine's for retired vets who live in retirement facilities.
Red Cross Club: Challenge your friends to make a difference and get involved.  There's opportunities for training and leadership development, and flexibility to choose mission-related activities that address your community's needs. Student clubs can host fundraiser, blood drives and preparedness classes. Start a Red Cross Club with 3-6 people at your homeschool group. Red Cross also has a scholarship program for high schools that host at least on blood drive during the year.
Individual Volunteers are also needed to do data entry, fundraising, social media, press releases and more. Any High school Junior or Senior who is interested in journalism and public relations could job shadow or serve as an intern. Plus, earn volunteer hours that look good on your college application and job resume.
Connect to our Red Cross of SC on Facebook 
Contact: Kathryn Pratt, Volunteer Services Specialist
Check out the variety of educational opportunities to develop your own skills–and contribute volunteer time to community service. Something for all ages too. The Red Cross is a great resource for homeschool families to learn and work together. Now you just need to register as a volunteer!


More activity and community service ideas with SC's 4-H: