In a previous post, we looked at homeschool days and deals. Are you looking for sensory friendly events for your homeschooler? Well, there's a few specifically for homeschoolers. But, there's many more that are for all families seeking sensory friendly opportunities.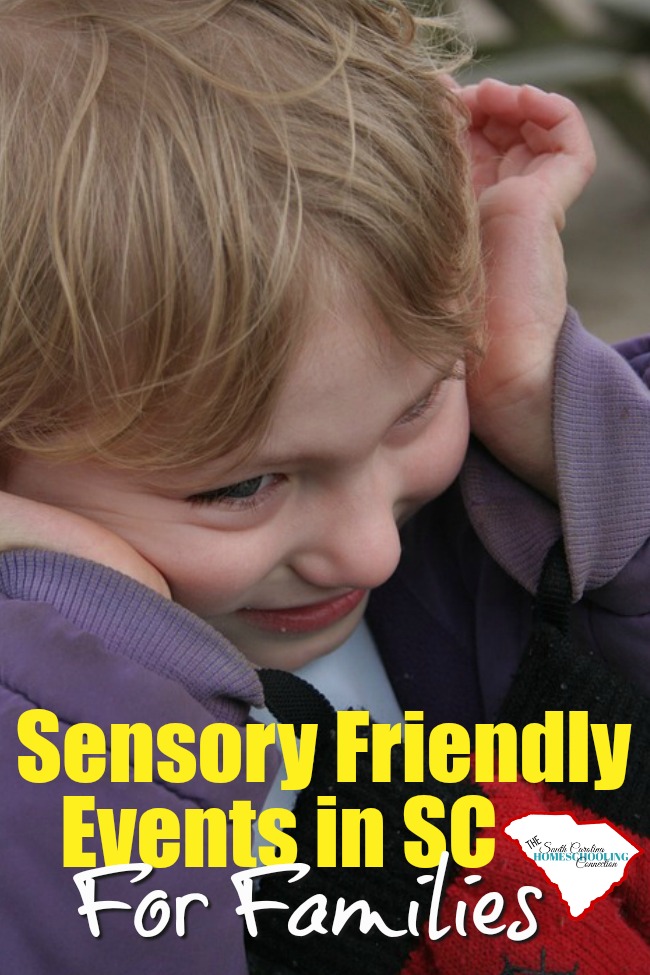 We have lots of sensory-friendly family opportunities in South Carolina. Whether or not you homeschool, these are great resources to accommodate your sensory issues. Let me know if you have other events/activities to recommend and promote (send the information to [email protected]).
Sensory Friendly Events
AMC Theaters, various locations
Sensory Friendly Film program is available on the second and fourth Saturday (family-friendly) and Tuesday evenings (mature audiences) of every month. Please check your local theatre listings for specific showtimes, and don't forget to share your family fun with #AMCSensoryFriendly.
Ausome Gym, Columbia/Irmo
The first and only sensory integration gym in the Midlands. The facility features areas and activities specifically designed for your child's needs. Homeschool Explorers gather on Thursdays and Fridays from 1PM to 3PM.  Cost $7 per child, ages 5 and older can be unattended/dropped off.  Younger siblings welcome too, parent or responsible person will have to stay with them.
Borealis Boarding Stables, Hopkins/Columbia
Borealis Boarding Stables offers a wide variety of learning experiences for all different ages and riding abilities. Also offers rental space for events, clinics, and senior pictures.
Charleston Children's Museum, Charleston
The Children's Museum is open before hours from 10:00am – 12:00pm on the second and fourth Sundays of every month for children with special needs and their families to visit the Museum for FREE.  Children are able to explore and play in the Museum without the crowds and over-stimulation.  This program is FREE, but registration is required below.
Contact Meghan Fisher
Chuck E. Cheese, Charleston, Florence, Greenville, Augusta, Charlotte
Participating locations will open two hours early on the first Sunday of each month for families with children who are autistic or have other special needs. Visitors can expect reduced crowds, noise, dimmed lighting, limited appearances by Chuck E. and for show music turned off or down.
Dave and Buster's, Myrtle Beach
Lights up, sounds down event hosted by Champion Autism Network
EdVenture EdCeptional Kids, Columbia
Children with Autism Spectrum Disorders and sensory processing differences are invited to join us for a sensory-friendly time, the first hour of operation (9-10 a.m.), the first Sunday of every month. Guests will have the opportunity to explore the museum in a safe and accepting environment, and enjoy interactive, hands-on activities. Open house twice a year and also specialty camp each summer.
Miss Amy's Yoga, Greenville
YOGA-2-GO brings fun, multi-sensory children's yoga classes to  schools, day cares, after school programs, libraries, troop meetings, parties, homes and more. Miss Amy specializes in yoga for ALL children, customizing therapeutic, educational and sensory-based yoga classes for children of  all ages and ability levels.
Myrtle Beach Bowl, Myrtle Beach
Sensory friendly family bowling once a month birthday bash. Music down, lights up and room to move around. $1.00 per game per person and $1.00 for shoes.
Pump It Up Playgroup hosted by Shape of Behavior, Greenville
The Shape of Behavior is an organization dedicated to providing behavior analytic services to children with autism and other special needs. Offers a safe, fun, and sensory-friendly playgroup one Saturday each month. This event is entirely free and the whole family is encouraged to attend.
RSVP to: RSVP@shapeofbehavior.com
Plex HiWire, Columbia locations
One hour reserved for our special needs community and their caregivers who would like to come out and jump and play in a sensory friendly environment.
SC State Museum, Columbia
SC State Museum has several permanent exhibits to explore–homeschoolers get free admission with your accountability group letter or member card. Additional fees for changing exhibits, planetarium and 4-D theater. Check the calendar for special sensory friendly events.
Stone Theaters, Indian Land, Myrtle Beach
A special monthly event for families affected by Autism and other developmental delays. This is a special opportunity to enjoy their favorite film in a safe & accepting environment. The movie auditorium will have the lights brought up and the sound turned down. Audience members are welcome to get up, sing, walk, dance, shout – in other words, everyone can be just who they are.
Surfside Beach–multiple participating businesses
The CAN card was created by Champion Autism Network to provide families with a quiet, dignified way to let participating businesses know you're an Autism family to ensure proper service and support. Surfside Beach is the 1st autism-friendly city–come visit!
Thyme and Play, Greenville/Spartanburg
Thyme and Play offers safe and inclusive events for atypical families to tell their story, connect, engage and receive help navigating through resources. The goal is to increase the quality of life of "disabled", "atypical" or "special need" families by offering them a hand up

Velocity Air, Charleston
This hour is reserved for special needs community and their caregivers who would like to come out and jump and play in a sensory friendly environment. Waiver required to jump.
YMCA Spectrum Sundays, Simpsonville/Greenville
Monthly activities for families affected by autism is held at Adams Mill Program Center or Hollingsworth Outdoor Center.
More Learning Disabilities Resources: