In a previous post, we explored the regions of South Carolina. Today, let's look at some special opportunities for homeschools. If you know of any other Homeschool Days deals and special events we should include, let me know at [email protected].
Updated 10/10/2021.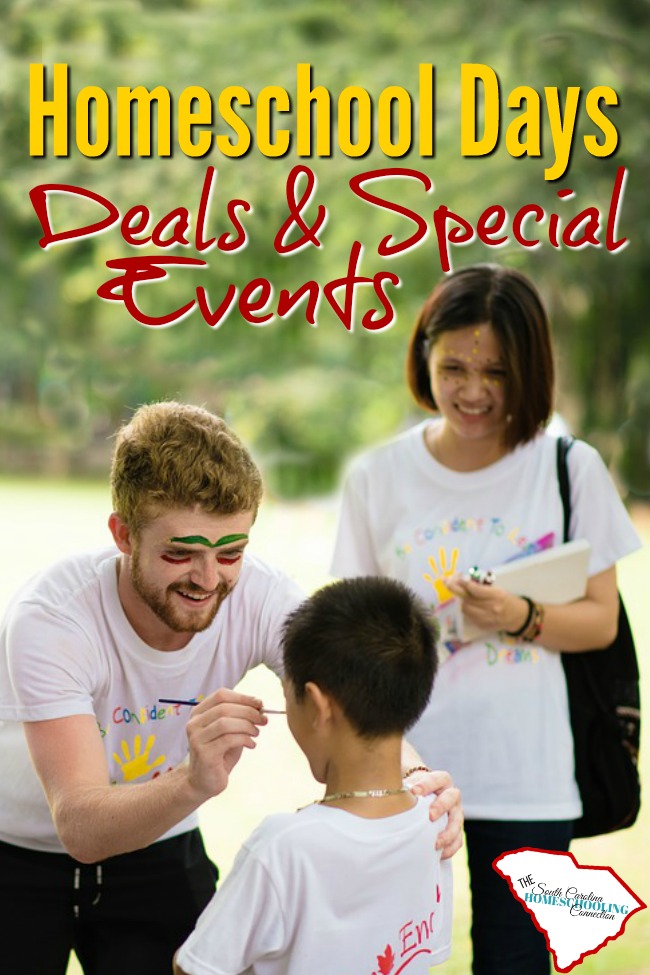 As homeschoolers the world is our classroom. We get to explore more places and take lots of field trips. Some programs put on extra special events and offer "Homeschool Days" deals.
Homeschool Days Deals
These events are open to the public. Any homeschooler from any group or association can participate. Some programs will require proof that you're a homeschooler (either your membership letter or card) so you can get this discount. Some programs require pre-registration (with or without a fee).
Air Jump, Spartanburg
Enjoy an AWESOME, HEALTHY, & FUN time with other homeschooling families in the area. come out and get a chance to learn the physics of bounce and flight at Big Air.
Asheville Museum of Science, Asheville NC
The Asheville Museum of Science is a brand new science destination for the whole family.  Virtual Lessons currently available. Group field trip discount rate.
Asheville Treetops Adventure Park, Asheville NC
The Adventure Park is an aerial challenge course in the trees with 60 unique climbing, rolling, walking, jumping, swinging, and rappelling elements in a wooded park. Enjoy two hours of adventure for ages 4 and over (trail restrictions/escorts ages 4-12).
Kid Zip is one of America's first zipline adventures designed for kids 4-10 years old. It includes 9 ziplines and 4 fun climbing elements in a park area. It is a self-guided tour except for an adult escort.  The ziplines range from 50 feet to 250 feet long.  They range in height from 25 feet high to ground level. Enjoy 1 ½- 2 hours of adventure.
Biltmore Estates, Asheville
Biltmore offer dozens of programs for students, including experiential educational, customized Biltmore House tours, and a homeschool festival. Download our full Education Program for details.
Bricks4Kidz, Columbia, Charleston, Greenville, Aiken, Beaufort, Fort Mill
Bricks 4 Kidz® is devoted to developing programs for children ages 3-12 that provides an extraordinary atmosphere where students learn to build unique creations with LEGO® Bricks. Camps, Robotics, Scouts, parties and classes. Check the location near you for homeschool workshops (or schedule one for your group). 
Carolina Aviation Museum, Charlotte, NC
Offers quartely events geared towards homeschool families, these days feature discounted rates and a museum full of hands-on STEM stations. Each day presents a different STEM and aviation-themed adventure. For grades K-12.
Carolina Raptor Center, Huntersville, NC
Carolina Raptor Center homeschool days several times per year. Activities include: Meet the Raptors Presentation,Walk the Raptor Trail, a scavenger hunt and a Raptor craft.
Charleston Museum, Charleston
Home School History Days on the third Friday each month include a special tour or class, an activity, and a chance to go through the Museum. These classes are designed to meet a variety of ages. Home School History Workshops are a 4-part series designed for older homeschool students to go more in-depth with a specific subject than our regular homeschool days program. Each series includes hands-on time with collection items, an off-site visit, and a project to be presented during the final class.
Charlotte Museum of History, Charlotte
Learn about technology, medicine, spring renewal, and the wonderful world of spring. Participants will receive a scavenger hunt with clues to help them locate each of the different learning experiences.  Students are welcome to move through at their own pace to maximize the hands-on experience.
Children's Museum of the Upstate, Greenville
Group field trip discount rates available.
Chimney Rock State Park, Chimney Rock, NC
Annual Spring Homeschool Day is a wonderful way to start the warmer season with a day full of learning. Programs are designed to meet the curriculum needs and interests of your students. Advance registration is required. Cost includes Park admission for the day.
Climb@Blue Ridge, Taylors/Greenville
Offers Homeschool Days on 2nd Monday of the month. Also offers group rates at your schedule.
Climb Upstate, Spartanburg
Climb Upstate is perfect for climbers of all ages and skill levels! Currently closed for open gym. But, accepts group registrations for team-building challenge ages 6+.
Columbia Ballet Educational Performances, Columbia
Seasonal productions especially for education outreach. Performances last approximately an hour and include a Q&A. Performances are narrated so each student has a clear understanding of the story and can fully appreciate the professional ballet of the Columbia City Ballet.
Columbia Museum of Art, Columbia
offers an educator's discount on the annual solo membership, which already allows the children under 18 in your household free museum admission. Also has free admission during Teacher Appreciation Week and 10% discount on purchases in the CMA Shop.
Confederate Relic Room, Columbia
The SC Confederate Relic Room and Military Museum's mission has been to collect and preserve the military history of this state. When you enter Columbia's oldest museum, you uncover the state's martial tradition from the Revolutionary War to the present War on Terror. "Homeschool Fridays" are a FREE program offered on the second Friday of each month during the academic year. Sessions are at 10:00AM and 11:00AM (the same lesson is taught, both hours). The programs are geared toward students of all ages, and include lectures and activities.
Dollywood Homeschool Days, TN
Dollywood once again hosts Homeschool Days from Aug. 2 – Sept. 22, 2021.   And as a special gift, Dolly provides a free lunch to all students visiting during our Homeschool Days.*
Dollywood offers fun, interactive learning in a beautiful outdoor setting. Dollywood's rides represent principles of physics that thrill students in more ways than one. The park is home to the country's largest collection of non-releasable bald eagles. Dozens of craft demonstrations daily: glass blowing, candy making, blacksmithing, leather crafting, candle making, wood carving and pottery.
EdVenture, Columbia
Add EdVenture's signature programming to your curriculum! Currently offering group field trips.
Greenville Zoo, Greenville
Once a month theme classes especially for homeschoolers. Pre-registration required (and classes fill up quickly). Also offers Homeschool Hikes, an educational walking tour led by zoo staff. Pre-register at Family Nature Club. Pouch Academy subscription service is a once-a-month activity pack delivered to your home (for ages 5-11). Then, connect virtually with a zoo employee to do one an activity together.
Historic Columbia, Columbia
Homeschool Friday programs are cancelled during this time. Students can still experience history at home with our Hands-on History kits! Our Hands-on History kits feature a themed lesson each month, a themed activity and craft, craft supplies, and instructions. Looking for more ways to explore our museums from home? Reserve an online tour or virtual traveling trunk today!
Jamestown Settlement, Williamsburg VA
Discover the sights and sounds of the 17th- and 18th-centuries while learning about our nation's history. Parents will love the variety of curriculum-based education programs offered for a range of grade levels – all taught by trained museum educators during "Homeschool Program Days."
Liberty Live Southern Campaign 1780, Kershaw SC
Revolutionary War Education Day, Friday November 12, 2021, FREE. Also offers mobile classes delivered to your site throughout the year (various fees). Contact: [email protected]
Medieval Times, Myrtle Beach
Educational Matinees include 90-minute show, a 4-course lunch and an educational presentation. Reserve space for just your family or bring a group.
Museum of York County, Rock Hill/Charlotte
The Museum of York County offers six monthly programs for Homeschoolers: Explore the wonders of space in our Settlemyre Planetarium, and let curiosity direct you in search of answers in the Naturalist Center Lab, where you can get up close and personal with fossils, minerals and rocks, skulls, skins, and mounted animals from the Carolina Piedmont, Africa and beyond.
Ripley's Aquarium, Myrtle Beach
Ripley's Aquarium loves homeschooling families. Show your homeschool registration for admission discount any day. You can also schedule a field trip for your homeschool group. They have a variety of other activities not specifically geared at homeschoolers: Family with Sleepover with the Sharks, Camps, and Scouts programs.
Riverbanks Zoo, Columbia
Homeschool Mondays classes for ages 5–13 (with an adult) that will focus on a particular topic, including hands-on activities and feature live animal encounters or guided Zoo tours. Junior Master Gardeners Homeschool classes for ages 7–12 to interact and bond with nature through hands-on gardening, scientific experiments and arts.
Roper Mountain Science Center, Greenville
Roper Mountain is currently scheduling group field trips. Virtual tours are also available.
SC State Museum, Columbia
SC State Museum has suspended homeschool day. You can still get into the museum any day for FREE with proof of homeschool registration.
SC Aquarium, Charleston
Homeschool Explorers Club currently suspended. Group field trip rates are available. Virtual programs also available.
Upstate Museum of History, Furman University/
Each Homeschool Day (once/month on Friday) includes a guided experience in one of the museum's galleries, hands-on activities in our classrooms, and all day admission to the Museum. Programs are multidisciplinary and support South Carolina state standards for social studies.
US National Whitewater Center, Asheville
Homeschool Adventures combine elements of STEM topic-based programming with a US National Whitewater Center Day Pass. From team building to science experiments, our programs are specifically designed for the homeschool community. Come on a pre-scheduled homeschool day or plan a field trip for your homeschool group.
WonderWorks, Myrtle Beach
WonderWorks offers discounted rates to NC and SC homeschoolers during their annual Homeschool Days in going on September 2020 thru November 2020.  Students will explore over 100 interactive educational exhibits and build confidence on our indoor ropes course challenge.  Classroom activities, lesson plans and scavenger hunts are available. Other educational promotions and events throughout the year.
Which of these Homeschool Days Deals have you done?
Let me know in the comments. 
The Agritourism Passport has more fun and educational places to visit: