Consider the doors of opportunity available at Technical Colleges in South Carolina. South Carolina has 16 Technical Colleges. In another post, I discuss why your homeschool grad might choose a Technical college.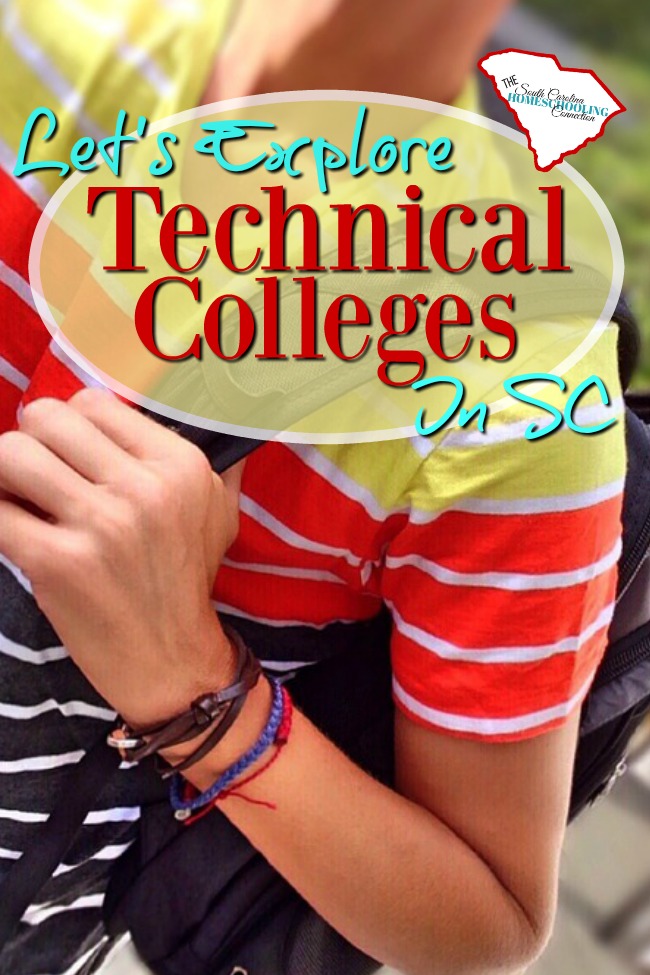 I highly recommend that you and your student take a look at the Tech Colleges near you. Even if you know you want to get a 4-year degree–go see what Tech can do to help you get to that goal. Even if you know you don't want to go to college at all–go see what Tech can do to help you jump start a career.
As Midlands Tech says, "You can get anywhere from here." I love that about Tech!
Take a look at the website to familiarize yourself with:
the location (or locations) of the campus
the cost of tuition and local/regional scholarships available
their degree programs and certificates
how to transfer to a 4-year program or institution later
when there are open house visits and/or how to schedule your own visit
Take time to go personally visit the campus. Talk to an admissions counselor about your specific goals after high school. They may have more information than what you can find on the website. You get a feel for the college in a way that you just can't get from perusing their website.
Technical Colleges in South Carolina
Aiken Tech Serving: Aiken county
Their motto is: Start Here…Succeed Anywhere. See more about the programs of study and High School Dual Enrollment
Contact: (803) 508-7246 [email protected] to Schedule a tour

Central Carolina Serving: Clarendon, Kershaw, Lee, and Sumter counties
Choose from more than 50 programs of study. CCTC offers associate degrees, diplomas and certificates, and has cooperative agreements with other four-year colleges and universities for a smooth transfer. High school Dual Enrollment and Early College opportunities.
Take a virtual tour. Contact 803-778-1961 or [email protected] to schedule an individual visit or group visit.
Denmark Technical College Serving: Allendale, Bamberg, and Barnwell counties
Their motto is: Where great things ARE happening! See more about the programs of study and High School Dual Enrollment
DTC also offers High school Summer Initiative Courses
Contact: [email protected] 803-793-5109
Florence-Darlington Technical College Serving: Darlington, Florence, and Marion counties
Choose from more than 85 programs including diplomas, certificates, and degrees. FDTC partners with businesses in the region to design academic programs that are directly applicable to real-world jobs. High School Early College and SC Virtual College courses are available.
Take a virtual tour. Contact [email protected] or use contact form to Schedule a tour
Greenville Technical College Serving: Greenville county
Their motto is : Start. Stay. Succeed.  Open house visits include Quick Jobs with a Future: Discover short-term job training programs for in-demand careers at our monthly Quick Jobs Open House. These information sessions last about 90 minutes. Center for Manufacturing Innovation Tour: Learn more about education and training programs in robotics, 3D printing, mechatronics and CNC machining. Monthly Tour.
High School Early College, Summer Camps for 6th-8th grade and Online Learning options.
Click here to schedule a tour
Horry Georgetown Technical College Serving: Georgetown and Horry counties
HGTC offers more than 65 associate degree, diploma, and certificate programs for students who are either seeking quick entry into the workforce or desiring to transfer to a senior institution to pursue a bachelor's degree. High School Dual Enrollment/PACE and Early College options.
Take a virtual Tour. Click here to schedule a tour
Explore more colleges with the free school finder tool at Princeton Review:

Midlands Technical College Serving: Fairfield, Lexington, and Richland counties
Their motto is: You can get anywhere from here. MTC offers offers more than 120 degree, diploma and certificate programs across six campuses.
Open House Days include Quick Start Day to become an MTC student this Spring Semester and Senior Day, another great way to get started on the Midlands Technical College admissions process. High School Dual Enrollment/Early College 
Click here to Schedule a tour.
Northeastern Technical College Serving: Chesterfield, Dillon, and Marlboro counties
NTC offers 21 college degrees, 30 career-oriented certificates and diplomas, and 200-plus continuing education classes.
Offers Dual Enrollment or Dual Credits for High School
Contact [email protected] for more information or Contact Form
Orangeburg-Calhoun Technical College Serving: Calhoun and Orangeburg counties
OTC is a comprehensive two-year technical college that provides training for jobs in new and expanding industries, upgrading programs for workers already employed and university transfer opportunities.
Summer Camps for elementary, middle and high school. Dual Credit/Early College for high school.
Take a virtual tour or Schedule a visit
Piedmont Technical College Serving: Abbeville, Edgefield, Greenwood, Laurens, McCormick, Newberry, and Saluda
PTC offers 80+ Associate Degrees, Diplomas and Certificates. Affordable tuition, flexible class scheduling and convenient locations make the advantages of a college education work for everyone. Dual Enrollment for High School.
Choose a campus and schedule a visit
Spartanburg Community College Serving: Cherokee, Spartanburg, and Union counties
SCC offers more than 70 programs of study that lead to high-demand, high-growth careers and take as little as 4 months to complete. Imagine the possibilities. Bring your story to life!
Summer Camps for all ages. Early College/Dual Credits for high school.
Schedule a tour
Technical College of the Lowcountry Serving: Beaufort, Colleton, Hampton, and Jasper counties
It's all in the name. Technical: Career-oriented education for today's high-skill jobs. College: 80+ accredited academic programs and transfer degree options. Lowcountry: Community-directed and locally focused. Early College Credit Opportunities for high schoolers.
Contact [email protected] to request a tour
Tri-County Technical College Serving: Anderson, Oconee, and Pickens counties
TCTC offers more than 70 majors across four campuses. Class ratio is 19:1. Career Pathways and Dual Enrollment for High school
Schedule a Tour
Trident Technical College  Serving: Berkeley, Charleston, and Dorchester counties
TTC offers more than 150 programs of study, including transfer programs for those continuing at four-year colleges and beyond. Students prepare for careers in business; industrial and engineering technology; aeronautical studies; health care; hospitality, tourism and culinary arts; film, media and visual arts; law-related studies; community, family and child studies; humanities and social sciences; and science and mathematics.
Dual Credits and Early Admit for High School Students.
Explore TTC's Kids' College (Ages 7-11) and Teen University (Ages 12-17) classes that are offered on weekends during the school year as well as weeklong weekday spring break camps and summer camps.
Take a Video Tour or Schedule a tour
Williamsburg Technical College Serving: Williamsburg County
WTC  is committed to helping students discover their abilities and interests while developing them to the fullest extent. Dual Enrollment and distance learning for High school
See more with this video promo and contact [email protected]
York Technical College  Serving: Chester, Lancaster, and York counties
York Tech offers nearly 80 academic programs that provides skills necessary for a great job, usually in two years or less. Explore career cluster options based on the desired industry or field to work in. Early graduates from High school
Take a virtual tour or Schedule a visit
There you have it. Lots of opportunities to explore at Technical Colleges in South Carolina. You can get anywhere from there!
Read more about Why Choose Tech: