The doors of opportunity open if you choose technical college. Tech is a great option for your homeschool grad to consider. In a previous post, I listed the 16 Technical Colleges we have in South Carolina.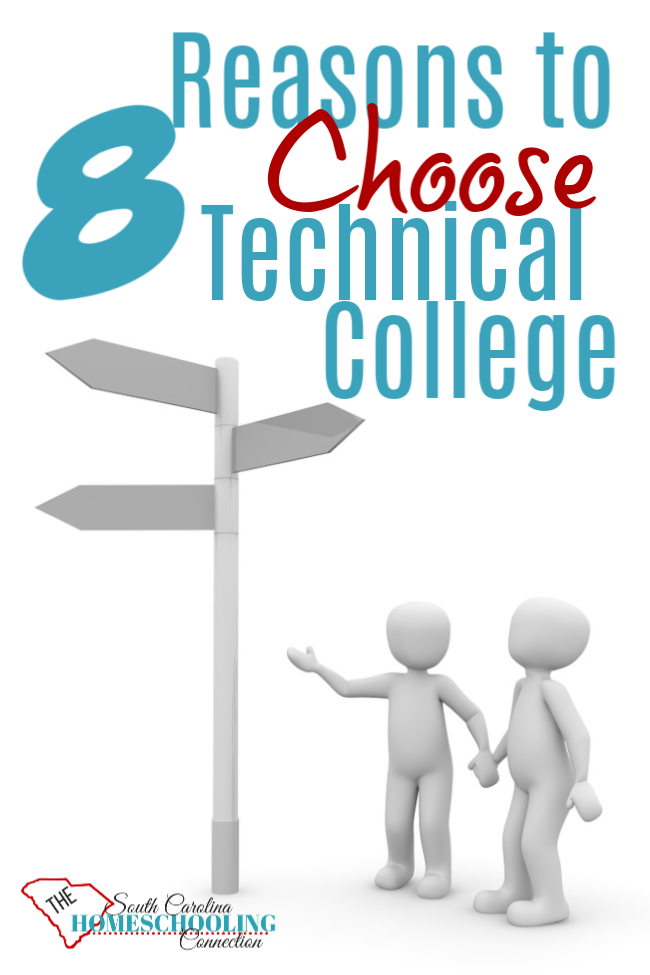 Why choose Technical college? Let's take a look at some of the reasons why you might go to Tech after graduating from high school. It's a great way to open the doors of opportunity!
My homeschool grads both chose to go to local Technical college. I know many others who chose this route as well. Consider some of the reasons why your homeschool grad might choose Tech, too.
8 Reasons to Choose Technical College
Certificate and Associate Degrees Available
Maybe your student doesn't want to go to school for a 4-year degree. Or maybe they don't know what they want to do for a degree. The idea of spending a bunch of time and money on a career that you don't know if you really to do. There's 1 year and 2 year programs to consider at your local Technical College.
Or jump start your student into a career with a quick jobs certificate program in less than a year. Just to name a few: Audio Engineer, Landscaper/Horticulturist, Photographer, Call Center Professional, Forklift Operator, Welding, Small Engine Mechanic, Computer Technician and Administrative Office Specialist. Earn one of these degrees to get a job that pays better than just a high school diploma/transcript.
Admissions Requirements
As you are trying to map out the high school credits that your student needs to take, it's helpful if the student knows what college they prefer. You can tailor the high school credits to suit that goal. But, maybe your student is undecided or prone to change their mind at the last minute.
Now, in the senior year, he has his heart set on a specific school and degree program there. Many 4-year colleges have rigorous admissions requirements above and beyond the basic High School diploma standard. By the time you realize that your student wants to go to Clemson (for example), it may be too late to acquire the recommended 3 years of foreign language credits that they prefer for admissions.
Your student can go to Tech instead. Earn some credits that will transfer into the degree program. Then apply to the 4-year institution in a year or two as a transfer student.
LIFE Scholarship Eligibility
LIFE is a state scholarship for $5,000 for the year ($2,500 per semester). When you submit your final, official high school transcript, the financial aid office should automatically qualify and apply the scholarship to your account.
The eligibility requirements for students entering a 2-year institution is a B average (3.0 GPA). Whereas, the eligibility requirements for students entering a 4-year institution is the B average AND either top 30% rank or 1100 GPA.
Also, bear in mind that the student can take a gap year (or more) and still be eligible for LIFE. So long as your student does not take any college credits at all during the gap year.
Tuition is more affordable
The overall tuition fees are cheaper at Tech. So, your scholarship and grant monies go farther. If you student lives at home, that's even better to save the room and board fees. College expenses really add up. Affordability is something to seriously consider about Tech.
My son got LIFE scholarship and Pell grant money that covered his entire tuition and books at Tech. Some of the Pell grant money was leftover. It went on a Visa Card that he could use for gas money, computer, rent, etc. When he transferred to USC, the scholarship/grant money didn't cover all the tuition. But, the bill was low enough that he was able to pay for that with money he earned at a part-time job. He graduated without any student loans.
B Average in High School
The South Carolina Uniform Grade Scale (SC UGS) is weighted so that honors, AP and dual enrollment credits bump up your GPA. There is some peer pressure in homeschooling that we somehow need to all have prodigy-students in order to prove ourselves as excellent.
But, we don't. It is not necessary for your student (or you) to push that hard in high school.
Many of us have average students. I sometimes joke that our homeschool should have been called the Andrysczyk Academy of Average. Part of the point of why we chose to homeschool was to enjoy ourselves along the way. We just didn't want to push so hard with a rigorous honors track.
Your transcript should be an accurate reflection of your student's abilities and accomplishments. If your association ranks, your B-average student may fall in the bottom of the rank. Ranking helps a few at the top of the list, but it doesn't hinder the others. The doors of opportunity will open for the B Average students (no matter what the class rank).
ACT/SAT is Optional
ACT/SAT optional. If your student did not take the ACT or SAT. Or if they did not score well on the test, they can still meet admissions requirements without ACT/SAT. The Tech colleges have placement tests to determine if your student is academically ready to succeed in college. They don't want your student to flunk out. So there are remedial level courses that they can take or retake the placement tests.
Campus and Classroom Size
Maybe your student is overwhelmed by the big university campus and dorm life. Scheduling out classes. Getting student ID and parking stickers. Ordering books for classes. It's a lot of new responsibilities to coordinate. Some students are just not ready to launch out on their own, yet.
The smaller, local feel of the Tech school is a good way to gear up toward a bigger university campus and program later. My daughter had considered going out of state for college. So this was one of the reasons we chose to do dual enrollment credits during High School. Primarily for her to get the initial college experience closer to home. If you haven't done dual enrollment credits, Tech may be a good place for your homeschool grad to transition into college life.
Credits transfer to 4-Year College or University
Midland's Tech motto is "you can get anywhere from here." I suspect any Tech college could say the same thing. The doors of opportunity open as a transfer student that might not have been open as a freshman applicant.
Maybe your student knows exactly what they want to do and what 4-year college they want to attend. But, you may be missing some of the admissions requirements to get into the 4-year college as a freshman. Maybe the ACT/SAT test score requirement isn't high enough. Or maybe more foreign language or science credits are needed than you realized.
Tech admissions requirements are a bit easier. Tech counselors will guide your student to take courses that will transfer to the degree program at the 4-year institution you want to attend next. Transferring is another way to get to that desired degree at the 4-year institution of your dreams.
Note: You *do not* need to earn a certificate or Associate's degree in order to transfer. Just pick and choose the courses that make sense to your student's goals.
Read more about High School Record-Keeping: