Elections are coming up and we need to vote wisely. Bear in mind, that we aren't necessarily trying to choose candidates who will think for us or think like us. We cannot get comfortable and ignore the issues anymore. We ultimately want to elect candidates who will consider our voice and our perspective. Who will communicate with us?
The local elections may have more of an impact on homeschool rights. The laws and policies about homeschooling are specific to SC–and are determined by our County representatives. Be sure to research what your county rep thinks of homeschooling.
So, let's conduct some research before we vote. Here's some links to get you started, along with some links to contact the candidates directly. Ask them where they stand on certain issues. Someone in their campaign should be able to answer you, if the candidate doesn't answer directly.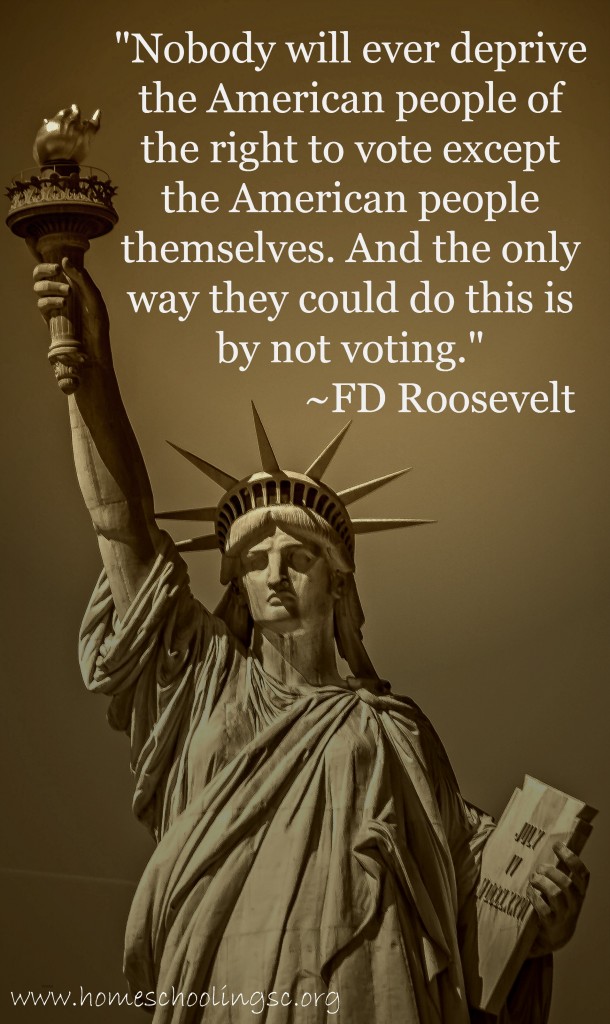 Ballotpedia: Input your address and find all the candidates you'll have on your ballot

SC Votes: Select specific offices or districts to find lists of candidates, even school board candidates. List includes candidates who were already defeated in primaries or have dropped out. Voter FAQ's is a great resource to teach your students about voting. Find out the election results here, too.
Politics 1: Lists all the candidates in all elections State and County races. Includes direct links to candidate websites.
SC House of Representives: Lists current SC House representatives, voting records and contact information.
SC Senate: Lists current SC Senators, voting records and contact information.
On the Issues: Includes voting records and statements from candidates on various issues.
ivoterguide.com:   Includes presidential candidates stands on various issues, in his or her own words.
It could be a great homeschool project to get the kids involved in the research, too. Vote wisely! 
What resources have you found helpful or what feedback have you gotten from the candidates? Let us know.
Read more about the Legislation Process in SC: