In a previous post, we discussed the minimum requirements of the law are enough. But, I also believe in inspiring excellence in one another, above and beyond the minimums of what the law require.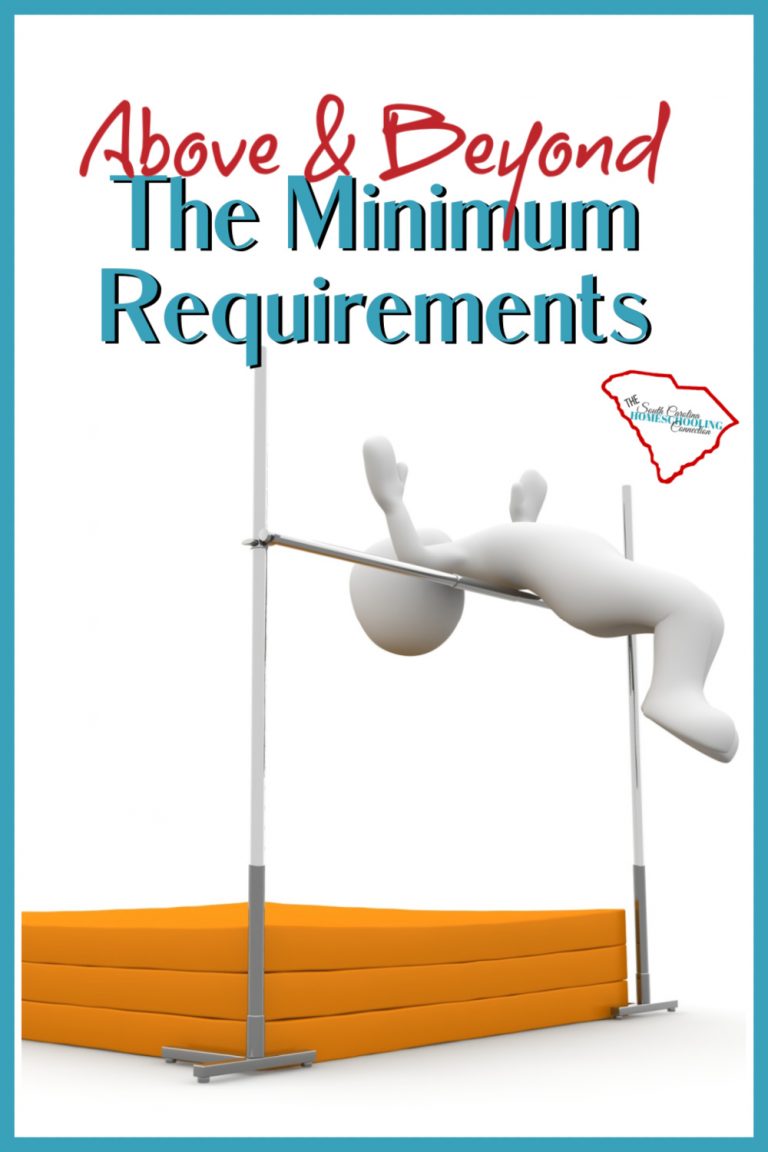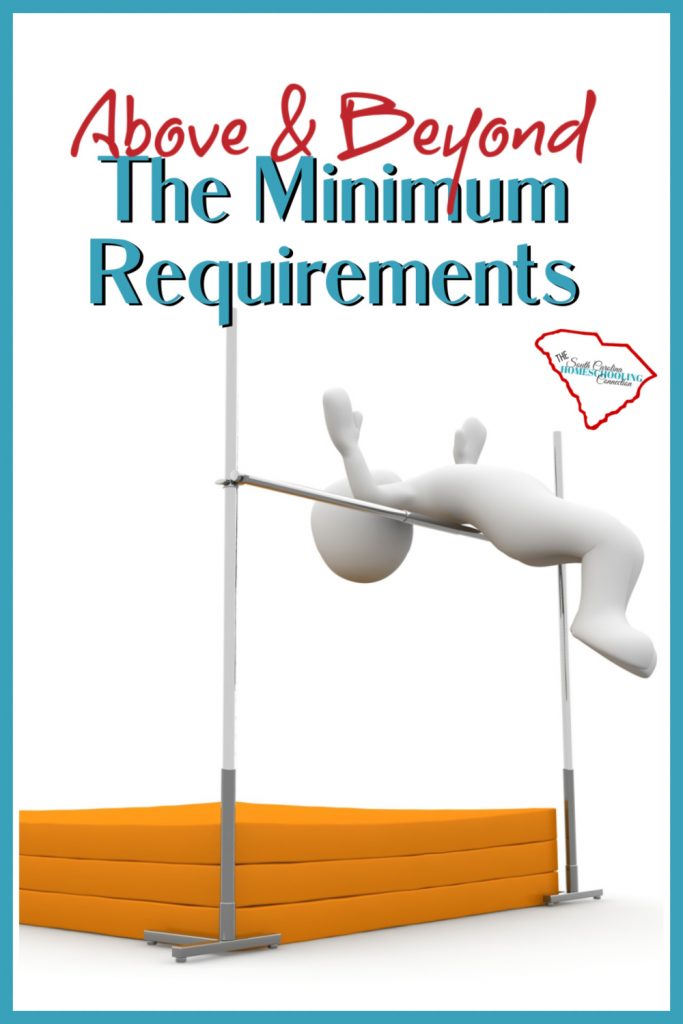 In my opinion, the homeschool law is very common sense stuff that you would want to do anyway. Even if the law didn't say you have to do it. Similar to the seat belt law. Apparently there are people who don't do it, so it is a law. There are people who still don't do it, even though it is a law. There are reminders to click it or ticket.
But, for most of us–like me–we do it for our own reasons. It makes good sense why I would want to buckle my seatbelt. I'm not looking over my shoulder wondering who's going to catch me if I don't. The beeping noise in the car reminds me to buckle up. And I comply with that.
That's what I think of the homeschool law. It makes good sense that you should want to do it. In SC, we have accountability associations that are like that beeping noise to remind you along the way. Checklists usually.
You verify that you're complying with the law. It's simple.
Minimums Only 
MINIMUM is a very low bar to set though. We should not need a law to tell us to do better for our own children. The minimum speeds are set on the highway, and I sure don't drive at that minimum. I'm certainly not aiming for the minimums in my child's education either.
However, I have heard some homeschool discussions that recommend doing only the minimums, nothing above and beyond what the law requires. I've even seen some warnings about associations with policies and procedures that "require more than the law." It's portrayed as an overstep of individual personal rights and freedoms.
It's true that associations may have different policies and procedures for holding their members accountable to the law. Many accountability associations set policies that assist members with a variety of services. Some of the associations services are optional, but some are not optional. This is all part of the accountability agreement when you sign up. You have to comply with those policies, so definitely chose an association that offers the services you desire.
It concerns me when fellow homeschoolers disrespect other associations for their services or policies. Association directors are our allies. Many of them go above and beyond assisting homeschool grads from years ago who chose associations that have closed, not just their own members and graduates. We're on the same team, trying to preserve the future of homeschooling.
Let's not forget that we have real enemies who would like to see homeschooling be limited or discontinued. We face opposition that refuses to accept parent-made transcripts and diplomas. We have to stand together with our allies. I believe that inspiring excellence is the way to safeguard the future of homeschooling in general. But, it might also preserve the future opportunities for your own child.
Above and Beyond the Minimums
We can defend a parent's right to do the minimum–and nothing more than the minimum requirements. We can defend the parent's right to DIY your child's education, choose the course of study and set the pace. We can defend a parent's right (and responsiblity) to maintain their own records, with minimal intrusion from the state.
Overreach is when a state official requires more than what the law requires. Overreach is not when your accountability partner sets policies and procedures to verify your requirements. Let's take a closer look at these policies above and beyond what the law specifies:
Records checks
Subjects and Course of Study
Transcripts
We should also be willing to defend our homeschool associations policies for inspiring excellence. Let's consider a couple of ways that you might want to do more than what the law specifies. That way, you can decide if you want to join an association that offers or requires services to assist you with that goal.
Record-Keeping Requirements by Law
The SC homeschool law specifies some basic records that every homeschool parent needs to maintain. This record-keeping is "under the auspices of an association for home schools." (source SC Code 59-65-47)
We're required to have a daily log of learning activities, some samples of the student's work, and periodically look back to see what's working/what's not working. These records will remind yourself of all the things you are accomplishing. When you feel like you're falling behind, you can see that there's progress.
Many new homeschoolers struggle with format and details of their records. Others are completely unaware they're supposed to be doing record-keeping at all. Your accountability association is there for clarification and assistance with your record-keeping questions.
Policies about Record-Keeping
Under the auspices of an association means the association can determine their own policies about how to verify that members are doing the record requirements. Deadlines, forms and procedures will vary from one association to another.
Some associations provide "records checks", where they will actually meet in person to thumb through your records and offer feedback. This is a procedure that is required under Option 1–where an official designated by the district office physically evaluates the records.
It's not an overreach for the association to set expectations for how they will hold the members accountable. As times change, associations may also modify their policies from year to year.
I often get pulled aside at park meet-ups so I can look at a daily log/lesson planner. Many new homeschoolers want that kind of feedback and reassurance from an experienced home educator.
Even if you don't need anyone to check your records, others do. When you comply with the association policies about records checks, you're helping maintain the integrity of homeschooling.
Subjects and Course of Study 
 The SC law specifies minimum subjects to be covered: reading/writing, math, science and social studies. And the record-keeping must include those subjects and attendance of 180 days.
You might think that must limit the subjects to include only those required–nothing more. But, I think it's also a good idea to include other subjects for your own reasons. The point of record-keeping isn't about proving your child's progress to anyone else but yourself.
We all suffer from CRS (Can't Remember Squat). Then, you're the one laying awake at night worrying if you're screwing this whole thing up. Your mind runs away with you and you think they're going to be professional window lickers. If you keep track above and beyond–in subjects and/or attendance days, you'll be able to encourage yourself of the learning progress.
Policies about Curriculum Counseling
Some associations may ask for curriculum and course of to be stated on the membership application. This is a procedure that is required under Option 1–where the school board has to approve the course of study. Parents do not have to use the district's curriculum. They can choose their own. But, the course of study must be approved.
A few associations include curriculum counseling as part of the membership process. The parent states what course of study and curriculum they are planning to utilize. But, the association may offer recommendations and supplements.
Especially when the student gets to high school. The course of study differs depending on your goals for after graduation. College admissions requirements vary and it's confusing. Many homeschool families seek out advice about the course of study and curriculum recommendations.
Even if you don't need anyone to advise about curriculum, others do. It's not an overreach when associations offer (or require) this service for their members.
 Policies about Transcript Preparation and Ranking
The law doesn't require the parent to do a transcript. That's true. Yo might think that it's really not necessary to make a transcript.
It's an educational resume that demonstrates your child's abilities and accomplishments. It's a forever document that will open the doors of opportunity, even years down the road. I think that it's still a good idea to do anyway.
I frequently deal with people that need a transcript from a decade ago when it wasn't a big deal. Especially if the student wasn't going to college. It's becoming a big deal now that they have changed their mind and do want to go to college. I am trying to help avoid some of the mistakes that others have made in the past.
The parent is the official record-keeper but many associations offer transcript assistance. Association directors are able to attend the same workshops that public school guidance counselors attend. We have access to the most up-to-date direct information from the Commission on Higher Education, the College Board and the Department of Education.
The association should not have the only copy of that document. The parent should have an official final copy of your own, too.
You can make your own parent-made transcript or find an association that offers transcript assistance. You can also decide whether to join an association that ranks or doesn't rank. It's also very helpful to have a back up copy stored with a friend or with an accountability association.
Even if you don't need or want to make a transcript, others do. It's not an overreach when associations offer (or require) transcript services.
Inspiring Excellence
Homeschooling is a DIY way to education. So, it stands to reason that many people want as much freedom to do it their own way. You have the right to do that.  But, many people want extra layers of accountability and assistance.
Associations have developed their policies to meet the various needs of homeschool families. The policies in a given association may have changed over the years. A decade ago, they didn't offer transcript assistance. They changed to make it optional. Now, maybe it's required.
Because they adapted as the need of their members have changed over the years.
The homeschool community has asked for more from their associations. Homeschool associations are rising to meet those expectations. We're inspiring excellence in one another, above and beyond the minimums of what the law requires.
Read more about why Associations have different policies: