Some of our Facebook support groups allow you to buy/sell used homeschool books with the local participants. But, sometimes we just want to see the books first…and browse in person.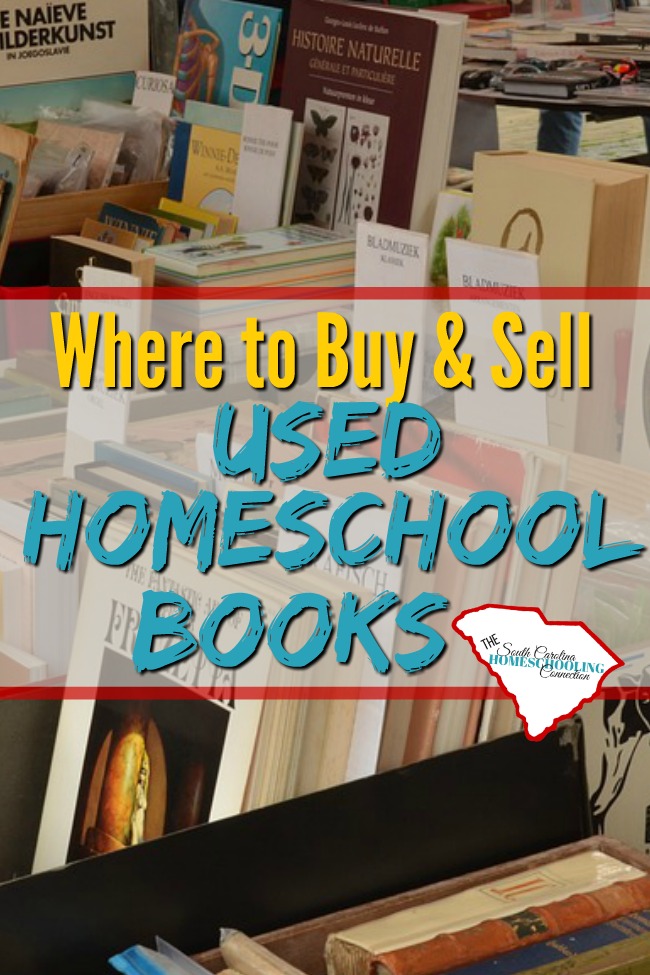 Where can you buy/sell used homeschool books and curriculum? It's a hobby or an obsession for some of us that we can't pass up a book sale. I've sniffed out as many as I can find. Let me know of any others that we should add to our list (message me at [email protected])
Buying Used Books: Ýou're a new homeschooler looking to find a deal. You'll get to see what others are using…and talk to them about the program. You can get an idea what their personality and homeschool style is. And what kind of curriculum they use that fits that style.
Save money on books you know you want to use right now. Stock up on some back-up programs that you might supplement this year. Stockpile some items that you'll plan to use in future years. Grab up some deals while you can!
Selling Used Books: You're finished with curriculum or decided not to use it. All the kids have outgrown that level. It's time to downsize the collection–so you can reinvest in more materials you need this year.
Buy/Sell Used Homeschool Books
Homeschool Books for Less takes books on consignment–anytime. If you're looking to sell, the shop is located in the Aiken area. But, they will also arrange to meet up in Columbia (possibly elsewhere too). If you're looking to buy, they can mail out the items you need. Search what's in stock by age category, key word from a title, author's last name, or ISBN. Store hours by appointment only. 4081 Wagener Road, Aiken, SC 29805
Call (803) 643-5621 or contact form here
Arrows Academy hosts a pretty big consignment sale every year in Columbia in May. You drop off your books with your prices you want, they sell them, and then you pick up what's left…and they send you a check later. The sale is organized by subject area and grade level. Contact: [email protected]
Then, you can take what's left over to the Homeschool Expo hosted by Cola City.
The Homeschool Expo in Columbia is hosted by Cola City Homeschooler has used curriculum sale every year in June. You come sell it yourself…kind of like big yard sale under one roof. It has expanded from only used books. But there are still lots of people that only have used books. It's also a great place to promote your home business. Mompreneurs and Kidpreneurs are also welcome!
Contact: [email protected] 
Learning Cycle is a homeschool store in Greenville, SC selling curricula, books and educational materials to families dedicated to providing the best education for their children. Looking for something? Send your wishlist to have them assist you. Consignment is easy, just drop off your items. They will review, tag and shelf your items–contact you to pick up.
Contact: [email protected]
Lowcountry Christian Home Educators Association (LCHEA) hosts an annual used book sale in Charleston. Used Curriculum, books, equipment (lab, art, etc.), manipulatives, games, art supplies, resource materials, videos, audios. Anything used to teach or used by students in a homeschool setting. This is not a yard, house ware, clothing, craft, or bake sale. Cash recommended for purchases.
Contact: [email protected].
Simply Homeschooling is a resource center in Pickens (conveniently located for the foothills of South Carolina). Sells curriculum new and used on consignment, toys, games and manipulatives. Provides support and resources for families to boost confidence in their homeschool journey.
Contact: [email protected]
Upstate Educators hosts an Annual Consignment Sale in Spartanburg. This ONE DAY event with a large selection of curriculum, books, classroom furniture and other educational materials and supplies. Admission is free; Cash only sale. Contact form
Books N Things Fair is hosted by the Aiken Branch of the American Association of University Women. The proceeds give back to our community in the form of scholarships and grants which promote literacy and education. Shoppers will find at least 50,000 books on every topic imaginable.  Books are sorted by category and alphabetically by author, so if you are hunting a particular book, odds are that you will find it.
Friends of the Library booksales at a county library near you. Check the listing to see dates and locations. Though not specifically homeschool books–it's always worth a look. Volunteers are often needed (and can earn shopping credit for time!)
Trunk Sales tend to pop-up sporadically on social media, too. A dozen or so friends meet at a local parking lot (at a church or park) and exchange books and materials with each other. Or will invite shoppers from their local groups to come too. When I hear of them, I'll pass along the info on my Facebook Page. So be sure to follow me on Facebook too!
Donate Used Homeschool Books
If you're still looking to downsize your collection. Consider donating the books. Your local Goodwill or Salvation Army thrift store can take your items. But, you could support one of these projects:
Father to Father Project in Charleston helps low-income dads make a long-lasting, positive impact in the lives of their children. Kids need their dads! Wish list of donatable items includes: children's books, educational toys, used technology, furniture and more.
Promising Pages in Charlotte helps promote literacy to underprivileged children. They are always in need of children's books in any condition, especially those for kindergarten through third grade. Coordinate a book drive for your group or simply donate the books your family has outgrown.
Little Free Library places book-sharing boxes where they can be a catalyst for improving reading motivation and deepening community connectedness. Find a location near your…or start one. You can donate books…and find new ones!
Operation Paperback provides recycled reading for our military. Sign up as a volunteer shipper–at no cost to you. Input the genres you have on hand and our system will generate a customized address list for you. Send the books directly to someone in need.
Find more Homeschool Bookstores and Curriculum Resources: