Today, I'm starting a series about Facebook hacks for homeschooling. I've learned these tricks along the way…to help improve my involvement on Facebook. So, if you're new to Facebook, these hacks will help you navigate like a pro.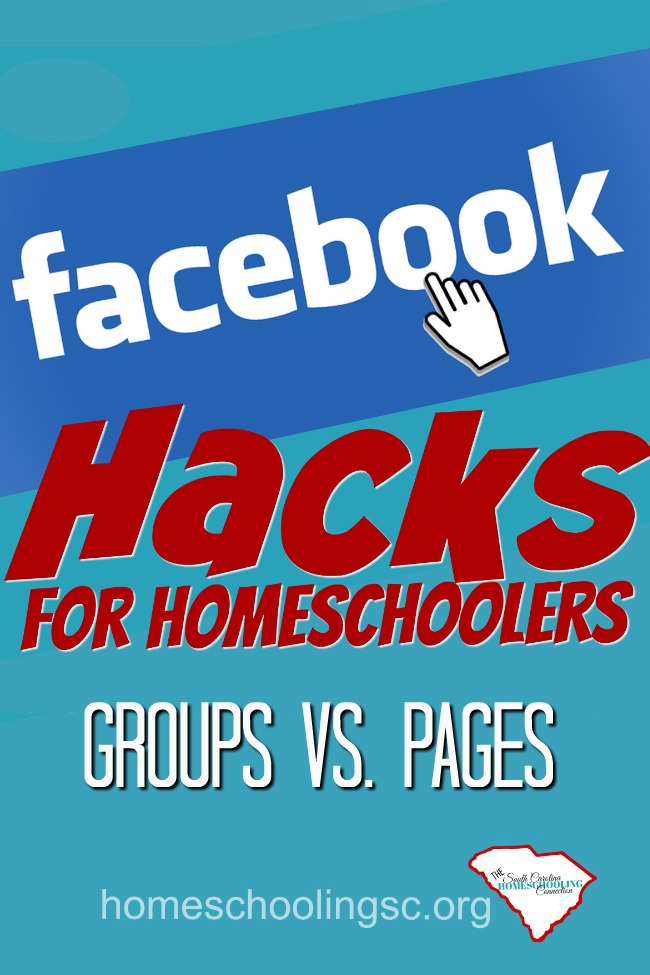 This post contains affiliate links. Any purchases thru the links will pay me a small commission.
Facebook is a great tool. It's a natural for us to incorporate our homeschooling.
We love it. We love that it's free. We love the convenience.
But we also hate it. We hate it when it changes. We hate that the echo chamber is always the same.
Nevertheless, many of us are hooked on Facebook! So before we quit Facebook entirely…let's try some of these Facebook hacks to help improve our relationship with Facebook.
Format of Groups vs. Pages

This basic understanding is important for all the other hacks. Hack hint: know the difference between Groups and Pages formats. I've seen homeschoolers create a page to send out reminders to weekly meet-up participants. But, it didn't work effectively, because the participants never saw the post in their newsfeed. The same memo in a group would have been more effective.
Facebook Group is like a meeting room with a message board. Only the group members can see the messages to each other. You interact with the same people each time you go into that room.
Facebook Page is more like a street performer (sometimes with a donation money collection jar). You can stop by, listen and interact with the show–at that moment, with the others who also stopped by at that moment.
Groups act more like places for like-minded communication. People who share common interests and want to express their opinions in a safe forum will either join or become part of a group for these purposes.
Pages act more like a personal profile for businesses, public figures, and organizations. The intent is for the actual page to become the entity rather than the person behind a profile.
~Cara Pring @The Social Skinny
Facebook Groups
Facebook Groups function like a discussion forum. You "join" a group. Membership can be "closed" or "secret" so only the participants in that discussion group will see the discussion. Homeschool groups are a great place to connect with other homeschoolers. You can post your own questions to get advice and encouragement from other homeschoolers.
Pros: 
This is great for homeschool groups that meet-up in real life to post weekly reminders (ie: "Bring scissors this week"). It's an alternative to emails and phone calls.
Groups can also be a great place to "meet" people that you don't ever see in real life. The relationship and connection can be every bit as authentic and genuine as real-life relationships. (ie: you're the only one doing Charlotte Mason style homeschooling–so you join a Charlotte Mason support group online).
All posts (by members and admins) post into the center column–equal territory in a group, equal voice.
Cons: 
There's always a few people who just didn't see the memo about bringing scissors. Some people don't check into Facebook regularly (or at all)…just like they don't check their email or answer their phone.
The threads scroll in groups–so that the most recent conversations bump up to the top of the feed. Other conversations could have stayed at the top, while the scissors reminder slipped down out of sight.

Hack Hint: You can put an asterisk (*) in the search panel 

to put all the conversations in chronological order.

Discussions can get argumentative–about political, educational, and religious beliefs. Homeschoolers get very passionate about their choices. The mama-bear comes out in us sometimes.
Hack Hint:  Group admins can adjust moderator settings to approve all posts or allow all members to freely post. Some groups will set rules about controversial topics; then, remove posts or ban members who do not comply.
Bonus Hack: get your ink or toner at a discount on
Zuma.com–my favorite office supplier!
Closed or Secret Groups:
Your group members comments and discussion is private with either Closed or Secret groups. Potential members can search for your "closed" group–in order to request to join your group. "Secret" Groups cannot be found by search. The only way to add a member is when a member of the group adds a friend to it. This secret setting will mean you're probably not interested in growing your membership. And you would have to be personal friends in order to add members.
Hack Hint for Group Admins: If your co-op or support group is dwindling in members, check your group settings to make sure you're on "closed" instead of "secret" so potential members can find you. I have compiled a directory of Facebook Groups, where you can connect to local homeschoolers here in South Carolina. You can also add your group to this directory.
Click here for Homeschool Facebook Groups in SC: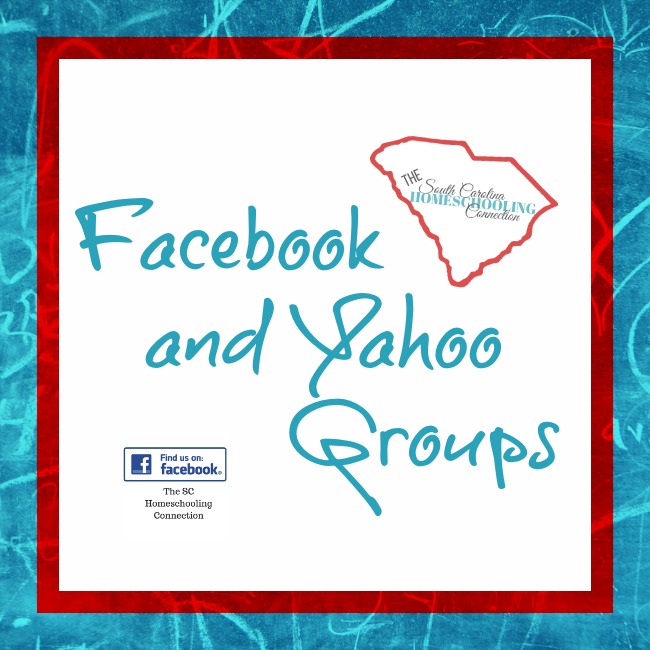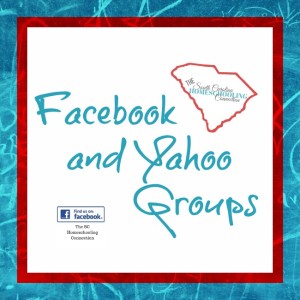 Facebook Pages
Facebook Pages work like an ad channel for a blogger or business to promote themselves. You "follow" a page. The posts and discussion are all public, so anyone can comment without "joining" so you primarily are interacting with the page manager. It's a way for the blogger or business to reach more of their target audience–like you as a homeschooler. They can also pay for Facebook to boost the post in to more newsfeeds.
As homeschoolers, we love FREE stuff. Hack Hint for your Group: You can reach potential members for your Homeschool Group with a Facebook Page. You don't have to pay for boosted posts on your page. You just have to post regularly in order to get traction on Facebook. If you have a business or group that you want to promote publicly, then a page is a good option. For example, a co-op class or resource center may have a closed group to post messages and reminders to their current participants. But, they may also want a Facebook page to promote their program for potential participants for next semester.
Pros:
It's free advertising space for your group or program

Pages are searchable on Facebook, so potential participants can find you

Page managers can control the topics and focus of the discussion…and build interest in their program. 

Page managers can schedule out the posts to regularly post when more followers will likely be online.
Cons:
Page admins posts will appear on the center column. Followers can initiate a thread on a page. But, it goes into a smaller side feed where very few people will notice it. Sometimes even the page admin doesn't notice it. 

Hack Hint: Followers need to comment, like, and share posts in order to keep seeing the posts from the page. Or else the page stagnates. 

Pages must post often in order to get noticed by Facebook's algorithm. Nobody wants to hear "look at me, look at me" all the time. So, pages should fill in more content than just themselves. 
Hack Hint for Pages Admins: Pages are great, free advertising. But, you've gotta be consistent for them to be effective for your group's growth and Facebook reach. Look for ways to cross-promote other pages to boost your reach. Fill your page with great content that you would want to see in your newsfeed.
Hack Hint: Posts from Groups and Pages will show up in your newsfeed. The more you like or comment in a group or on a page, the more it will automatically show up in your newsfeed. Facebook is intuitive like that. Once you understand the difference between group and page, you can adjust the notification settings to control what shows up in your newsfeed. But, notification settings is a Hack for another day.
 We're in a relationship with Facebook. And it's complicated. With these Facebook hacks for homeschoolers, we just might improve our involvement with Facebook…and improve our communication with each other. 
Click here for more Hacks to Homeschool like a PRO