When do homeschoolers socialize? Don't you miss out of fun things like Proms and Dances? Nope…not at all.
We have lots of homeschool proms and dances going on.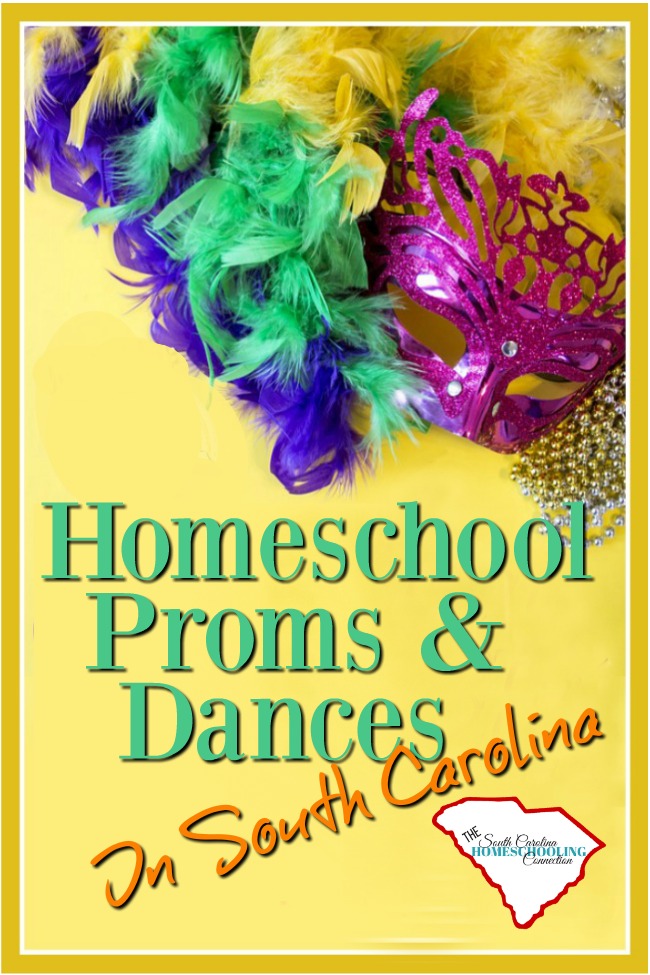 Here's a list of groups and events going on. I'm including some details about the local group that is hosting the event, too. Most of the events are open to all homeschoolers, even if you aren't already part of their program. So, go ahead and check out any group event. Pre-registration and pre-payment is required.
Homeschool Proms & Dances
Excelsior Academy, Columbia
Hosts a High School Formal in the Spring This year's formal is April 13th from 7:30-11:00pm. Modest formal attire (specific length requirements).
Homeschool Gossip, Huntersville/Charlotte NC
Posted a Galactic Gala costume dance in March. Our South Carolina residents from Rock Hill and York County may be interested to keep an eye out for upcoming opportunities.
Kershaw County Classical Conversations and Homeschool Events of the Midlands, Camden
Hosts annual dance in Fall. This year's event was so popular they added a Spring Formal also. Contact Jennifer Brazell at hemevents@yahoo.com
Lexington Homeschool Co-op, Lexington/Columbia
Presents 'An Enchanted Evening' PROM 2018 open to all Homeschool high school students, ages 14+. Modest formal attire.
Lowcountry Christian Home Educators' Association, Charleston/Beaufort
Has a high school prom for group members. Limited information is available on their site. Contact them directly for more information.
Lowcountry Homeschool Association, Beaufort
Hosts a formal for high schoolers 9-12th grade. This event is strictly for homeschooling high schoolers and their guest. 2018 Lowcountry Soiree is May 12, preregistration going on till April 15.
REACH homeschool support group, Columbia
Hosts a family dance with a variety of music, games and activities for the whole family. All ages. Formal/Semi-formal/Sunday best attire and masks. 2018's Masquerade Ball was in January.
SC GEEKS, Columbia
GEEKS is a co-op Group of Exemplary, Extraordinary Kids Succeeding. The 2018 Prom is for teens ages 13+, May 13th. Modest, semi-formal attire is required.
Shanan Classical Co-op, Charlotte, NC
This year's prom theme is "Rustic Elegance." 9th – 12th grade homeschoolers and guests must be 14 years of age through age 20. Students are not required to bring a "prom date". Come and enjoy the night with friends.
SHEILD homeschool support group, Lexington/Columbia
Hosts an annual Winter Formal for high schoolers 9th-12th grade. DJ, photographer and heavy hors-d'oeuvres.
Upstate Homeschool Information Hub, Inman/Greenville
Posted Southern Nights Prom for Inman/Greenville area. Formal attire or Sunday best. Hosted by individuals (I didn't see any other group names attached). So, sometimes you just have to know the right people to find out about these events.
I'm sure I'm missing a few more–but I just can't find the details at the moment. If you can think of any other groups and events to include…let me know! Or if you are organizing one, I'd be happy to include your event as well!
So, homeschoolers aren't missing out on the formal dances and proms. We have these social opportunities too.
Find more socialization opportunities in our Support Group Directory: