When do homeschoolers socialize? Don't you miss out of fun things like Proms and Dances? Nope…not at all.
We have lots of homeschool proms and dances going on. Updated 3/13/2023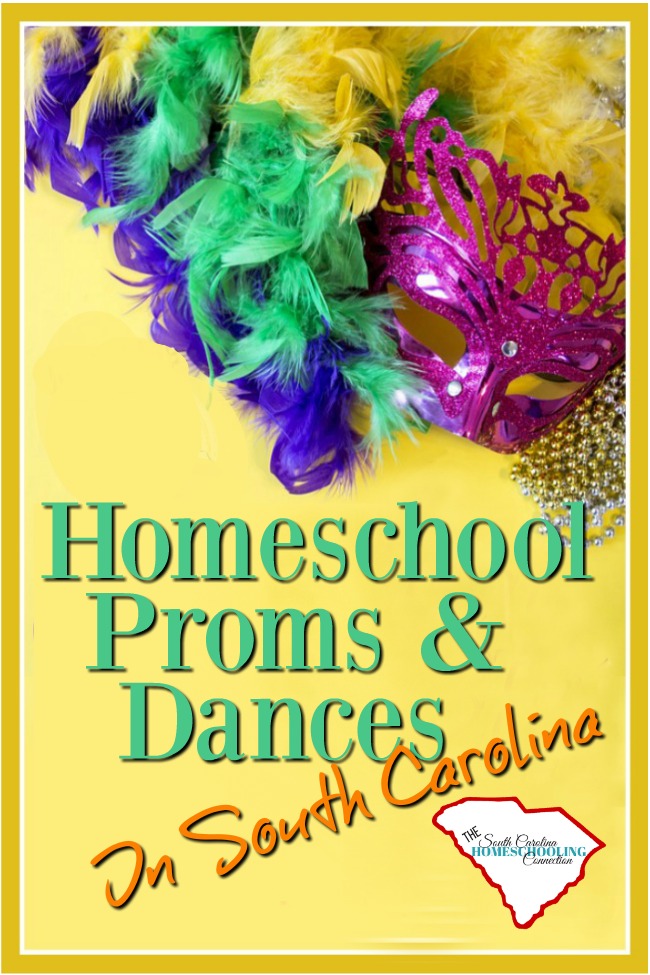 Here's a list of groups and events going on. I'm including some details about the local group that is hosting the event, too. Most of the events are open to all homeschoolers, even if you aren't already part of their program. So, go ahead and check out any group event. Pre-registration and pre-payment is required.
Homeschool Proms & Dances
CSRA Homeschool Prom, April 15, 2023, Grovetown, GA. The CSRA Home Education Association is a Christian association of homeschoolers seeking to encourage one another in the privilege of training up their children to love and serve the Lord their God.
Got Options, Myrtle Beach/Conway hosts a formal dance for 8th-12th graders.
Registration information for Saturday, April 15, 2023
PAC Panthers, Columbia SC
Offers yearly Homecoming Dance in the Fall and Prom in the Spring. Open to all homeschoolers, 9-12th grade whether you're an athlete or not.
Contact: [email protected]
Prom Night for Homeschoolers, Greenville
The Homeschool Prom is a Greenville community prom that strives to honor God in all we do, to serve Him while helping our students feel special on this memorable prom night.
LIT (Lexington Interacting Teens) Homeschool, Columbia/Midlands
Hosts teen dances throughout the year.
Lowcountry Christian Home Educators' Association, Charleston/Beaufort
Has a high school prom for group members. Limited information is available on their site. Contact them directly for more information.
Homeschool Gossip, Huntersville/Charlotte NC
Periodically posts about local dances. Our South Carolina residents from Rock Hill and York County may be interested to keep an eye out for upcoming opportunities.
I'm sure I'm missing a few more–but I just can't find the details at the moment. If you can think of any other groups and events to include…let me know! Or if you are organizing one, I'd be happy to include your event as well!
So, homeschoolers aren't missing out on the formal dances and proms. We have these social opportunities too.
Find more socialization opportunities in our Support Group Directory: