In a previous post, we discussed whether the minimum standards are enough. Today, I'd like to take a look at the opposite criticism that SC Homeschool laws are invasive.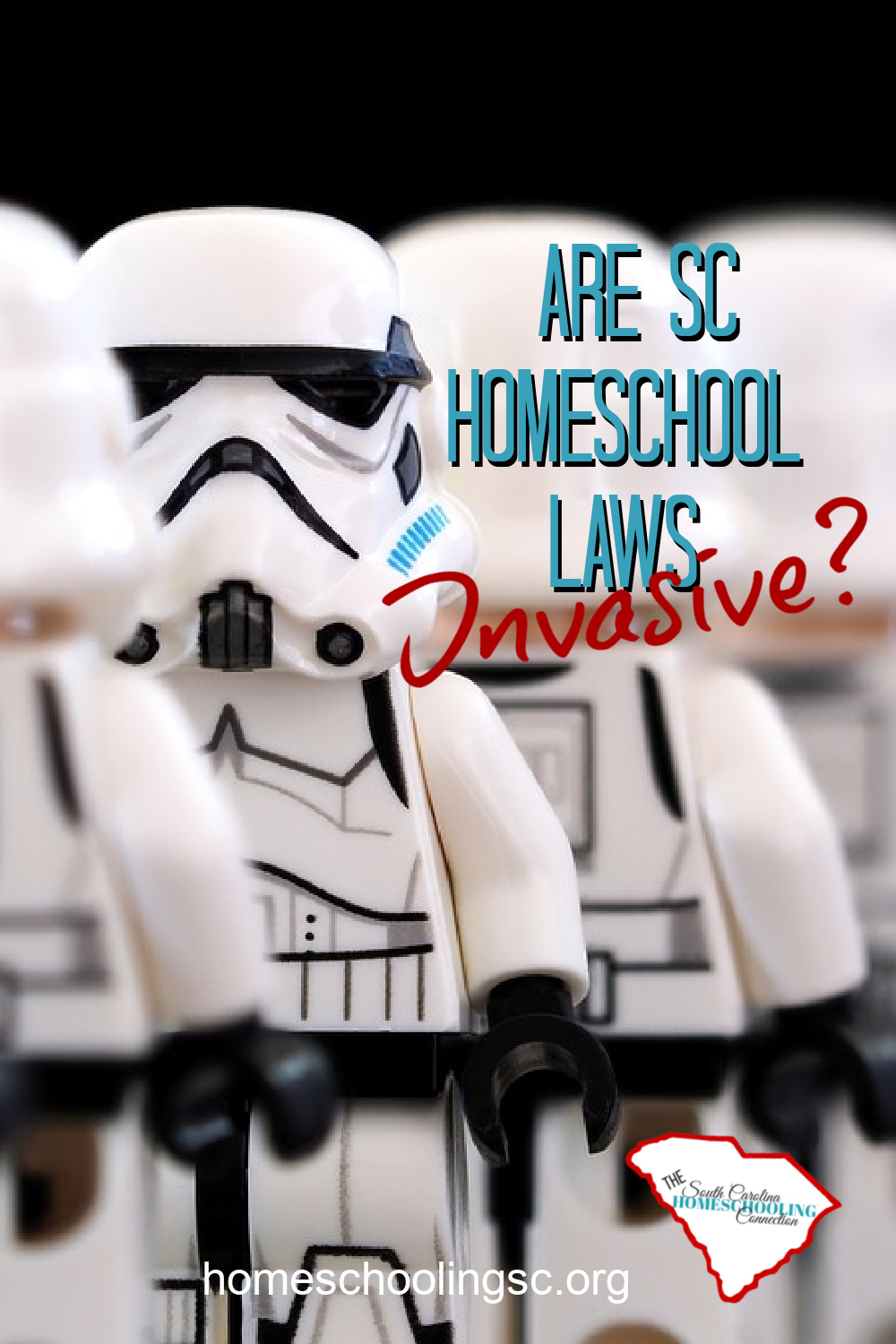 Are SC Homeschool Laws Invasive?
New residents in SC who have homeschooled elsewhere sometimes express how strict our homeschool laws are compared to where they lived before. Nowadays, we're also seeing more political advocates concerned about government intrusion. Here's a few of the sentiments recently circulating:
"There's so many more homeschool regulations in South Carolina than where I lived before."
"The government doesn't need to be telling us what to teach our children and having us keep a daily log of it for them."
"I shouldn't have to sign up for anything that is reported to the state."
Let's unpack some of these concerns. Because I think the rules are really practical stuff that you would want to do anyway, even if the law didn't say so. South Carolina is a GREAT place to homeschool with lots of freedoms.
Are Officials Intrusive? 
I spend most of my days coaching new homeschoolers about the freedoms we have in educating our own children. This much freedom feels overwhelming, and they're looking for an adultier adult to keep tabs on them. So it's ironic to hear others who feel that the regulations and policies are restrictive.
No. The officials who you're accountable to are not government officials. If you register with an accountability association, that's a privately run organization. The director is your advocate and ally in educating your children.
Associations do have different policies about how they verify the members are doing the record-keeping requirements. They also offer a variety of services which might be optional or included in their fees. But, it's not intrusive for your accountability partner to make sure you're doing alright.
Are the Records Intrusive?
The record keeping requirements in South Carolina are somewhat specific. Moreso than what other states include in their homeschool laws. But, it's really practical stuff that you would want to do even if the law didn't say so.
It makes really good sense to me that I should buckle up my seatbelt. It's somewhat annoying to wear my seatbelt, but I do it for my own reasons. I'm not ever worried who's going to catch me because I generally do it.
It makes sense to keep some basic records so you can see your child's progress. It's for YOU, so you can figure out what's working and what's not working. It's not intrusive to keep your own notes and pictures from your learning activities. It can even be fun to do your homeschool record-keeping.
Is the Registry Intrusive?
The associations file an annual standards assurance form with the Department of Education. The association and the director is listed for the public registry. Individual families are not published like that.
In comparison, individual families register with the State Department in North Carolina. This registry is available to the public: NC Home School Administrator Search. Other states don't have a public registry at all.
The associations report attendance numbers in each grade level to the respective districts in January. So the State collects an overall attendance count of homeschoolers in South Carolina. But, the homeschool law does not intrude on individual privacy.
The homeschool regulations in SC are specific and detailed, but not restrictive.
Parents control the learning materials, the schedule/pace of the assignments and keep track of the progress, not the government.
Individual privacy is protected under SC Homeschool law.
When we take on the full responsibility for educating our kids, we need to keep track of the student's progress. I don't think our laws are too invasive nor too lax. I hope you agree that South Carolina is a great place to homeschool!
Read more about Policy Differences for Associations: