As part of my giving thanks campaign–let's talk about our association directors. Today, I'm revealing a few secrets about association directors. Things your association director wants you to know…but, probably won't tell you.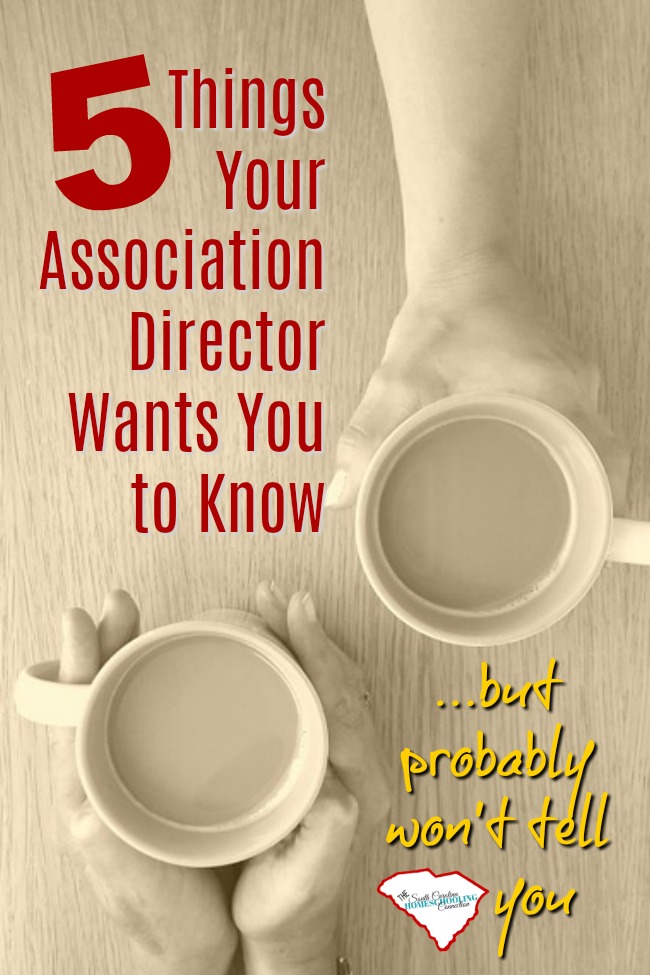 If you're new to South Carolina or new to homeschooling, you're probably trying to figure out what Accountability Associations are all about. There is a person behind the association–a director.
Directors here in South Carolina work very hard to advocate for homeschooling rights and for the individual members in their groups. So often we approach them with a problem or a complaint. What if we take this chance to appreciate them instead? Let's say thanks for all that your director does!
Your Association Director Wants You to Know
 #1. Your director is your ally. 
Your director is on your side. They may charge fees, but I don't know any director who's in this for the money. They do this job because they care about homeschooling and they care about their members.
I think it's one of the best things about homeschooling in South Carolina. You have a designated ally to hold you accountable to the law. Someone who's able to verify for officials that you are compliant and assist with important documents you may need.
Many directors offer additional services, like workshops and transcript assistance. They provide encouragement and resources to help you along the way. They're our local experts in homeschooling. All you have to do is ask for help!
#2. Summer is busy. Really busy.
While you're traveling and enjoying the summer, your association director is closing out the files for last year–and issuing new membership packets for the coming school year. It's A LOT of work!
Many associations have automated and instant registration online. But, there is still a person on the end who has to process the application. That part is not instant.
The schools have become very specific about paperwork they want from homeschools. With members who are coming or going from the public school system, this has some extra hoops to jump thru for that. Please be patient with your director during this busy time.
# 3. Your paperwork is important. File it. Keep it.
Once you get your membership papers, it's your responsiblity to keep up with that. It's your proof of legal compliance. I recommend that you keep these membership documents for years to come as part of your permanent records.
Whatever information comes with the membership documents…please read it. There are policies and procedures that vary from one association to another. Be sure you know what your association director expects from you.
The paperwork is important, even years later. We've had graduates from years past come looking for verification of their enrollment status. They have no idea where they were registered 10 years ago. So, keep your membership papers to find your ally again when you need to.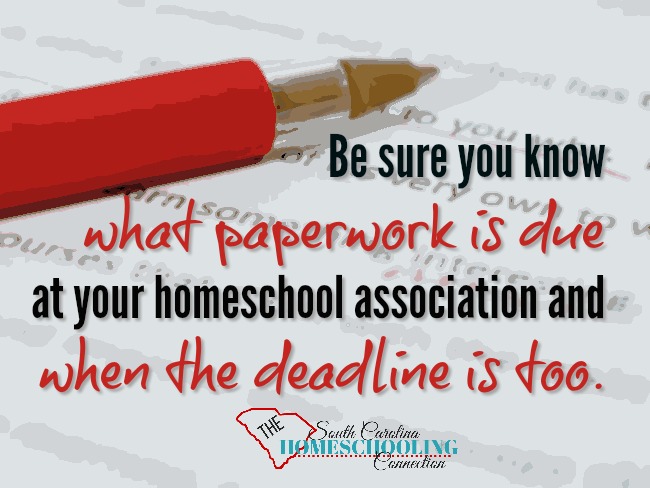 #4. Deadlines and procedures matter.
Each director will set the deadlines and procedures for their own associations. There's flexibility on some things. But, some things are not. The end of year reports really aren't flexible.
Some of ya'll are like herding cats. When your director has to track down your end of year reports, it's more work during the busy time.
Even if you are switching associations or sending your child back to school or you're moving out of state–you still need to close out your file for the year. Be sure to close out your home school year. Send in your 180 day report form.
#5. Directors are people.
Directors have lives of their own. Life gets busy and messy and complicated sometimes. You never know some of the personal struggles going on.
Then, they still take your call or answer your email. Remember #1, your director is on your side. Kindness matters–say thanks.
Loyalty online is great. But be sure to say it to your director too. I declare today as thank-an-association-director day. Quick, while there's a lull in membership applications!
Who's your association director?
Tell us why you appreciate her in the comments!
Read more about the Important Documents from your Association