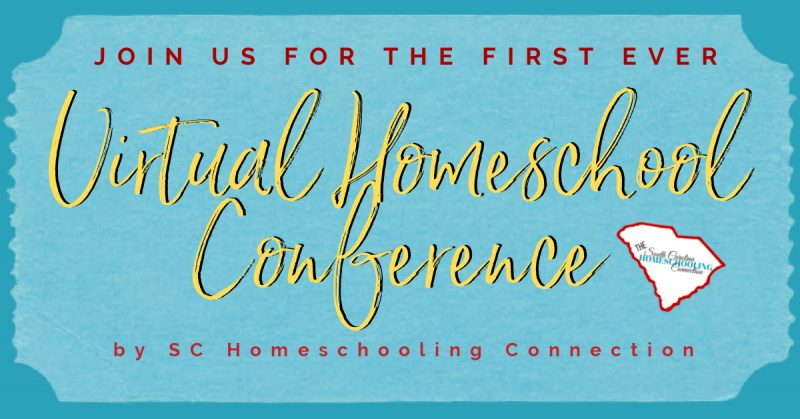 This uniquely local Virtual Homeschool Conference is coming this summer. We're gathering a variety of presentations and panel discussions to equip, encourage and empower you wherever you are on your homeschool journey.
Topics include:
Getting Started, Record-keeping, Choosing Curriculum, Homeschool styles, Assigning grades
Special Needs, High school, Preschool, Career Explorations
Storytelling,  Gameschooling, Poetry Tea, Literature/Martial Arts Connections
Secular homeschooling, School Choice Options, Environmental Education Resources
Starting/Running a Co-op/Resource Center, Watching Legislation, Socialization
AND MORE!! Over 30 workshops with over 15 hours of content, plus lots of free printables to jump start your school year!
Panelists and presenters include association directors and other experienced homeschool leaders in South Carolina (and beyond). All the workshops are prerecorded, available to watch at your own pace. You'll have at least 3 months to access it, so you have time to watch it all.
SC Virtual Homeschool Conference
June 29-July 16
Registration: $35 (That's $1/session!)
Register TODAY! Use the code "earlybird" by July 17 to get $10 off discount. 
Did you miss the conference? You can still watch all the sessions with the all-access pass anytime. Lots of great information and resources–all packaged up in one place for you!
What attendees are saying: 
"That was such an EXCELLENT virtual conference! It was well put together and thought out." ~Tiera H.
"I finally had time to look at the online homeschool conference. I'm blown away. It's outstanding. Amazing work on your part!" ~Laura C.
"This was a well put together

conference

with great information! Thank you!" ~Sheena G.
Be sure to check out the Homeschool Expo at Jamil Temple in Columbia. This in-person vendor fair and used book sale is gearing up to be a must-see event! Mark your calendars for June 25, 2022