What are the mask and vax policies of Homeschool Associations in SC? I've asked the accountability directors to clarify their policies and practices–and verify which ones are still accepting new members for 2021-2022 school year.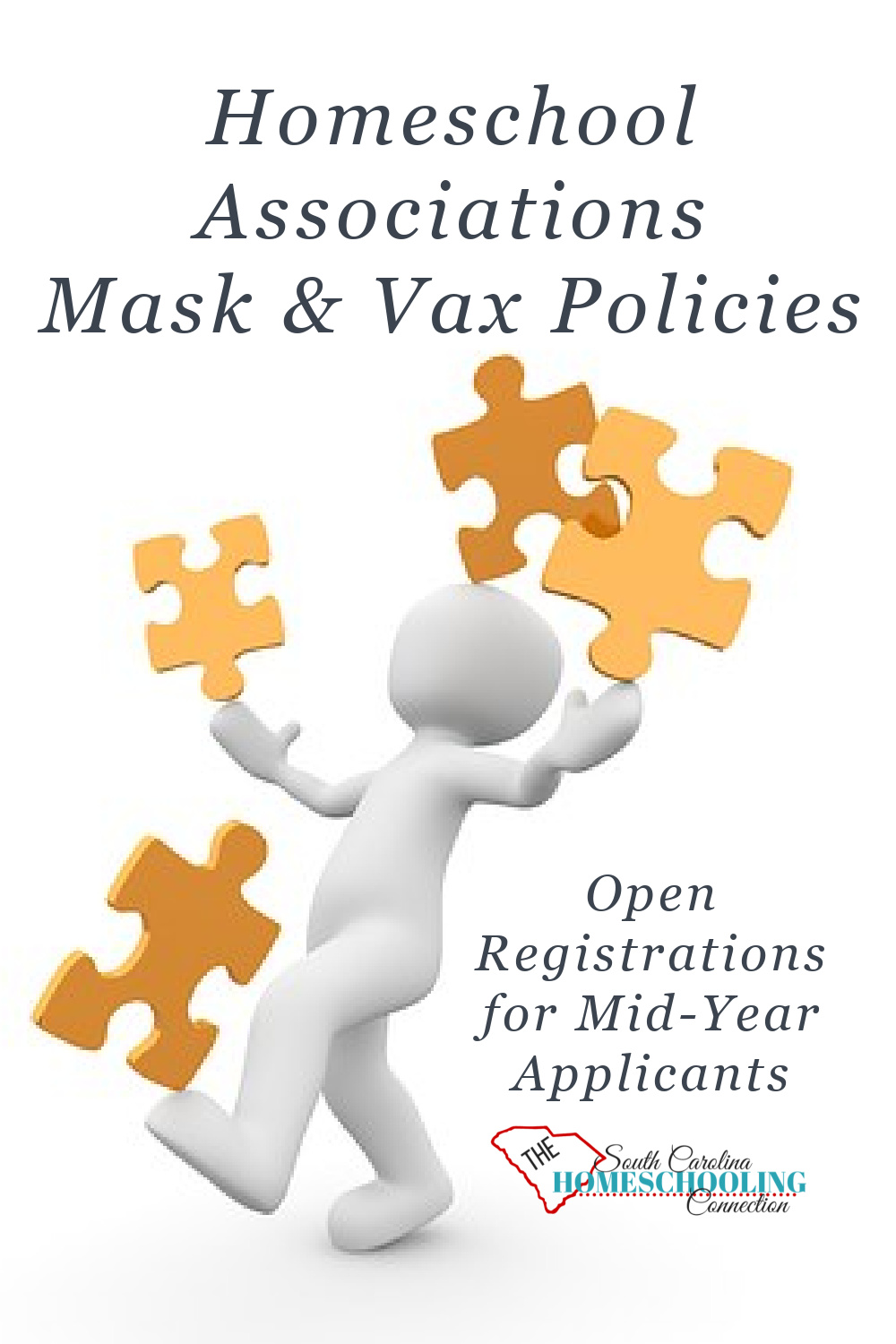 If you're considering homeschooling because of the shifting policies at your local schools, you'll need to register with an accountability association. This establishes the parent or legal guardian as the official responsible for the child's education.
We have more than 35 associations that are registered with the State of SC for you to choose from. These are privately run organizations who support the parents educational choices and privacy. Whether you're here for a little while or ready to stick with it–we have lots of associations with the expertise and experience to help you get started.
Mask & Vax Policies
I asked the directors if they're still accepting registrations for 2021-2022 and to clarify their mask & vax policies. Here's what the association directors want you to know about mid-year registrations:
HEART Homeschool Association: "We have members with preferences on both sides and accept new homeschoolers transferring from public school during the year."
Carol Brownwell, director
SC TOP Association: "We're open to all homeschoolers, regardless of religious preference, political affiliation, ethnic background, family structure or educational philosophy."
Kim Andrysczyk, director
Encompass Homeschool: "We are taking new members and while I have my own views on vaccines/masks, it doesn't come up whatsoever with the association."
Christie Cochran, director
Palmetto Homeschool Association: "We are still accepting new members. We do not ask for vaccination records and do not ask vaccination status on any vaccines. I will wear a mask if someone wants me to, but I do not require masks. For graduation, we will follow the requirements of the venue."
Denise French, director
Foothills Accountability Association: "We accept new homeschoolers until January 30th, and transferring veteran homeschoolers year-round. We do face to face records checkoff. If someone wants to wear a mask, that's their prerogative. We believe in the freedom as Americans to wear or not wear–up to you. Our volunteers don't wear them. Hand sanitizer is placed at the entrance for those who wish to use it."
Kimberly Williams, director
Royal Scholars Academy: "Our accountabiliy is open year round now and doesn't have any requirements regarding masks or vaccines. Optional field trips and in-person co-op may have a requirement depending on the place we are meeting to follow their guidelines."
Felicia Wright-McCoy, Co-director
If you're tired of fighting with the school officials and the system about their policies, I invite you to consider one of these accountability associations. The directors are your ally for what's in the best interest of children. Every one of them has a heart for homeschooling and cares about their members.
Whether you're here for a little while or ready to stick with it–we have lots of associations with the expertise and experience to help you get started.  If you have high schoolers, you might also want an association that offers transcript assistance and can advise about the course of study.
Are you ready to get started homeschooling?
READ more how to withdraw from another school: