In a previous post, we talked about the state scholarships available in SC. But, college tuition is often more than that. So, let's take a look at a few quick and easy scholarship opportunities for you to consider.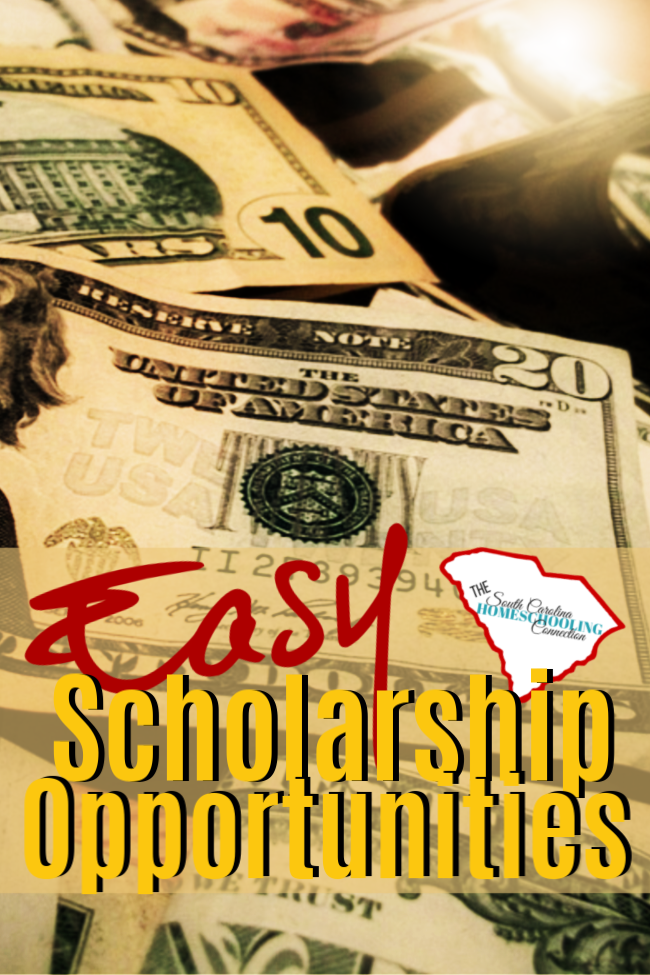 There are hundreds of scholarship programs around. Many of them require a bit of time and effort to enter. Some have lengthy application and essays.
But, here are a few quick and easy scholarships you can do.
Easy Scholarship Opportunities
FAFSA: This is a Free Application for Federal Student Aid. Applications open in October. It's a free application. (There are some places that you can pay to get assistance filling out the form, so be sure you're getting to the free application).
You use the parents' and student's income tax returns for the previous year determine your eligibility for Federal Grant money. That's money you do not have to pay back. The FAFSA also has some loan programs that you can utilize.
Ok, that's a fairly detailed application. But, there are several scholarships that you could be eligible for because of the FAFSA. So, it's an important one to do.
Many public and private higher learning institutions utilize FAFSA to allocate need-based scholarships. They distribute these scholarships on a first come first serve basis.
If you have a high school senior, the sooner you can complete this application the better. As close to October 1st as possible. Even if your haven't decided which school to attend yet. You can name several colleges in the FAFSA. Then, any scholarship money you are eligible for, can be available.
You have to do FAFSA application again every year you are going to college. Those need-based scholarships are distributed each year on a first come, first serve basis.
College Board Scholarship Opportunities: College Board has a launched a new scholarship opportunity. Just going thru the necessary steps to college admissions can earn rewards in scholarship money. No test score. No essay. No GPA requirements. Just complete the tasks you would be doing anyway. 
These scholarships can go for any institution. Half of the scholarships are designated for students from families with less than $60,000. Opportunities open in December 2020 for Juniors (class of 2021). Opt in to the program from your college board account. 
Complete these tasks to be eligible for multiple drawings:
Go to BigFuture™ and save six colleges to your list
Practice SAT on Khan Academy for at least six hours (not all in one session)
Increase your SAT score by 100 points. From PSAT to SAT also counts (and is easier way to get the 100 point increase)
Check back into BigFuture™ to update your college list
Fill out your FAFSA
Apply to the schools you want to attend
***If you do all six steps, you are eligible for the bonus scholarship category of worth $40,000
You can go ahead and start doing these steps before your junior year. When the opt-in is available, you will already have some of the boxes checked off. If you're a senior, you can still get in on a few drawings available for your class.
South Carolina Student Loan: I know this one sounds like a trick–because it's a loan program. But, you can enter the $1K College Giveaway for a chance to win this scholarship. You can enter if you're a High school Junior or Senior, college or grad student…OR a parent. That's right, both parents can enter for a chance to win this scholarship for your student!
If you don't win this month, they will ask if you want to enter again next month.
SC Student Loan is private non-profit loan provider. They specialize in providing funds for college tuition. SC Student Loan can help you fill out the FAFSA and assist you with loan advice (even if you don't choose their loan program). They have financial literacy free resources for high schoolers too.
They are seriously interested in YOUR SUCCESS. Your success is their goal. Check out my other post about SC Student Loan.
Are you looking for ways to make college more affordable?
Get started right now on some of the quick and easy scholarship opportunities!
Consider Technical College for an affordable option: