One of our favorite holiday traditions is building and decorating gingerbread houses. In another post, I explain a holiday engineering challenge. But, we also love to host a gingerbread decorating party. It's a great activity for family, friends…and even our homeschool class or even the whole group.
I have done this gingerbread decorating party for school groups, sunday school class, kid's parties and just our family. It's so much fun! Our homeschool group does this as a groupwide event each year. Last year's event we had 120 participants! That maxed out our facility–but, you'd be amazed at how smoothly it all went.
Here's how you can host your own decorating party. Start smaller scale with 10-25 participants. You can do this! Supplies needed:
1 Graham Cracker House per guest
1/4-1/2 cup of royal icing per guest
roll of waxed paper (for placemats)
disposable plates (I prefer dessert size)
Guests will bring the candy decorations to share potluck style
A couple of wash cloths can also help for wiping down tables/chairs at the end
Pre-build the Houses
Count how many houses you need to make ahead of time. Sometimes, we already have a class with a set number of participants coming. Other times we do a sign up sheet ahead of time or invitations with RSVP.
I make my houses several days up to a week ahead. This allows the houses time to dry so I can transport them to the party location. If I have more than 30 to make, I also recruit a couple helpers to pre-build the houses.
The houses can be stacked in a box for easy transporting. If I have several layers of houses, I will cushion between the layers with some waxed paper. That way they don't chip and break on the way.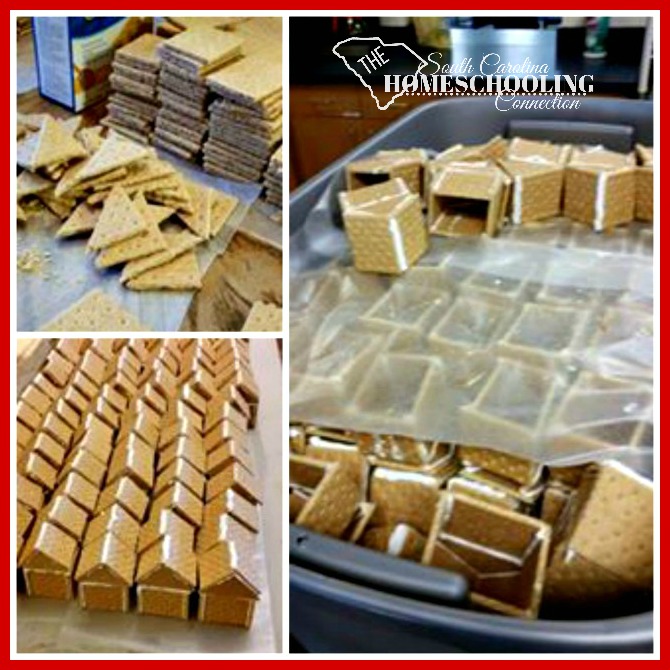 Set Up at the Party Location
Have each guest bring a bag of colorful candy or other decorative item. M&M's, Skittles, Smarties, licorice whips, gum drops, red hots, Sixlets, Starburst, Fruit Stripe gum, Necco wafers, gummy bears, Starlight mints, candy canes and lots more. Marshmallows, chocolate chips, cereal, pretzels, even leftover Halloween candy works.
I arrive early to set up tables and chairs for seating. At each seat, I set out a waxed paper placemat, a small cup of royal icing, a popcicle stick, and a graham cracker house (affixed to a foam plate). As guests arrive, they can sit at the table, but they should not touch the supplies at their station yet.
Also I set up a location to set out the assorted candy. It's sort of a potluck of candy and decorations. It works best if adults distribute candy to the work stations. A few kids can share one plate of decorations. Once everyone has been through the line, individuals can come back for more of any specific item they want.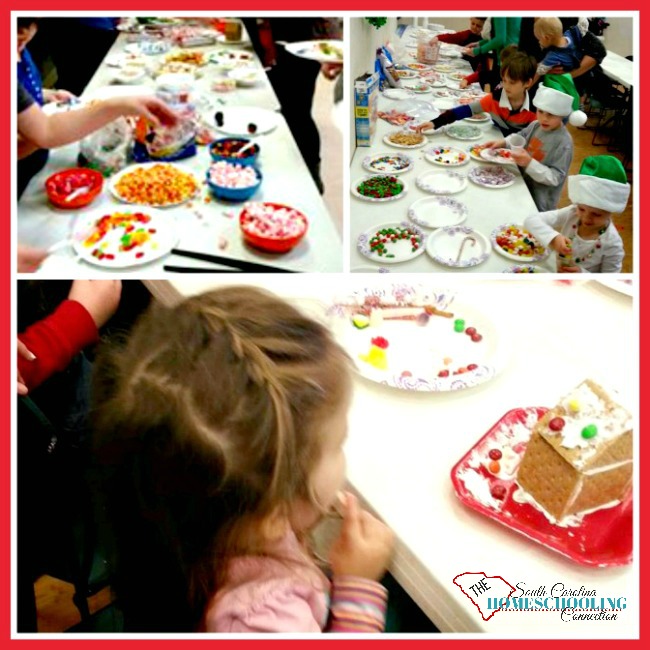 Gingerbread Decorating Party Time!
Once everyone has arrived, I explain a little bit about using the royal icing. Because royal icing dries pretty quickly. So, you can dab a little icing on each piece of candy as you stick it to the house. Or you can spread icing on a section of the house to stick the candies. But, don't try to do a large section or it may dry out before you get there…and you'll have to add more icing.
Don't forget to decorate the yard. Make a fence or a pathway. Trees or shrubs. A sled. If anyone needs refills of icing, I leave some at the "potluck" table.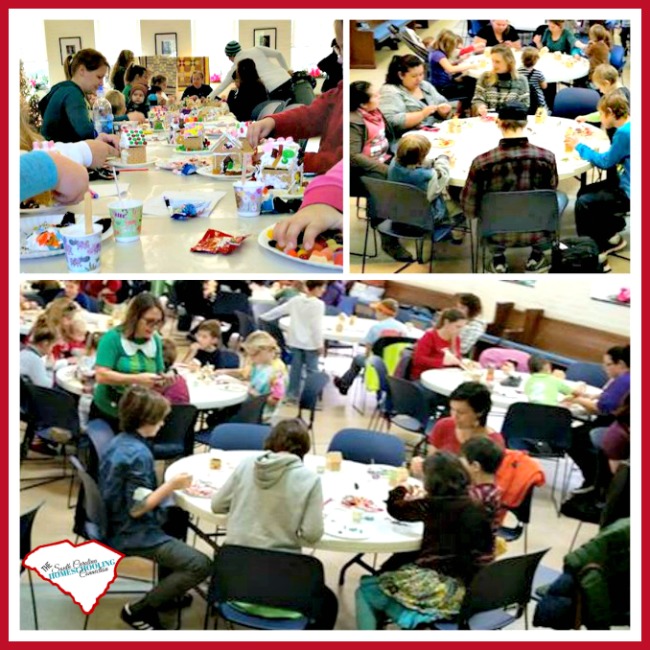 Finished Graham Cracker Houses
These cracker houses are the perfect size for one person to decorate. Some of the "real gingerbread" houses can be so big that it's more than one person can manage. But, no matter how young or old–this is the right size.
Older kids will spend more time on patterns and details. Littler ones may spend more time eating candy and icing than putting it on the house. I saw one toddler who took a bite out of every piece of candy before he put it on the house!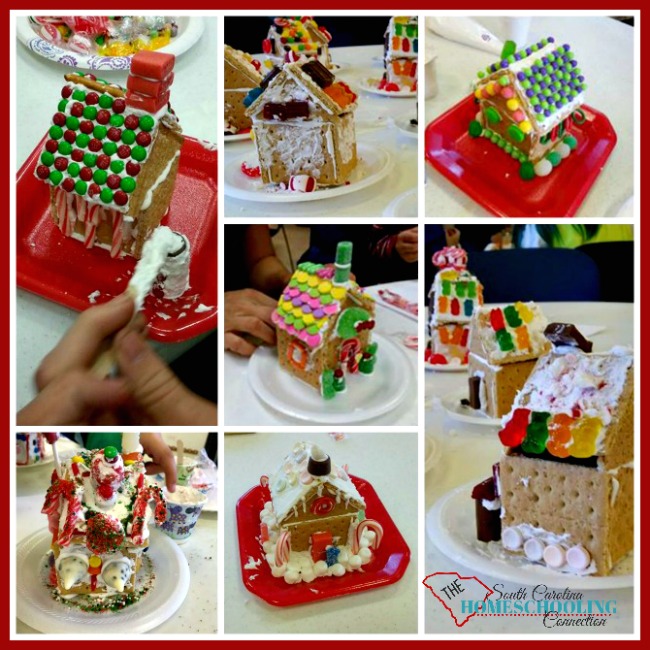 Taking the Houses Home
I recommend that guests bring a box to carry home their projects. Some people will take a little stash of decorations and a cup of icing too. They can make repairs if the project is damaged on the ride home.
Every so often we have someone drop theirs while carrying it to the car. You know, moms only have two hands. And that's why the kids may be carrying their own project. So, try to get lots of pictures before that. Just in case your house becomes a memory very quickly.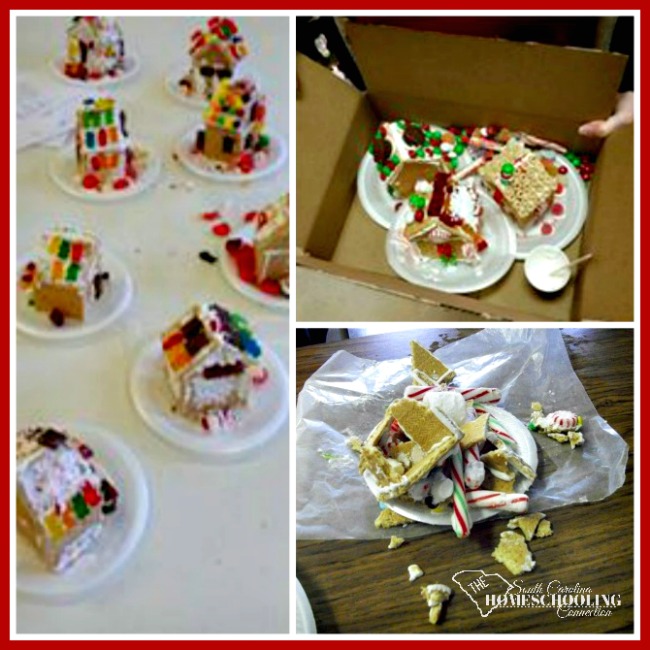 I usually have a few extra houses that I can send an undecorated one to replace it. The last of the candy and some more icing–so they can have a do-over at home. If they want. Sometimes they're too upset though.
And if all else fails they can stick a dinosaur toy in the rubble pile and pretend that's how they meant it to be!
Clean up after the party is easy with most of the icing mess on the waxed paper placemats. Wipe down the tables and chairs. Then, bask in the lingering delight of a great holiday event!
Are you ready to host your own gingerbread decorating party?
Let me know in the comments!
Try this Holiday Party Game too: